What we know about a deal so far
President Joe Biden, House Speaker Kevin McCarthy and their negotiators have reached a tentative agreement to raise the debt ceiling
A source familiar with the agreement said it includes a two-year appropriations deal and a two-year debt limit extension, effectively resolving the issue until after the 2024 election. It'll include work requirements for federal aid like SNAP for Americans up to 54, with exceptions for homeless people and veterans.
The deal still has to be converted into legislative language and pass both the Republican-led House and Democratic-controlled Senate
Republicans had demanded that any deal must cut federal spending
Treasury Secretary Janet Yellen has repeatedly warned that without an increase to debt ceiling, the United States could run out of cash to pay the bills. On Friday, she said the deadline was now June 5
Live coverage of the debt ceiling negotiations continue here
Key House Republican praises debt deal
Rep. Dave Joyce, R-Ohio, chair of the Republican Governance Group, one of "Five Families" in the House GOP conference said he's "glad" that Biden and McCarthy "were able to come to an agreement that puts our country first."
"Speaker McCarthy championed responsible policy, incorporating key economic and permitting reforms while limiting spending, and rescinding COVID funds. The Speaker keeps making government work better for every day for every American," he added.
Jim Jordan seems to praise deal's cuts on House GOP call
Rep. Jim Jordan, R-Ohio, seemed to praise the deal's spending cuts in a call with other House Republicans.
Jordan said he still wants to "see final language," according to a source on the call, but added, "If I understand, for first time in U.S. history, we're spending less money than the year before. That seems like a pretty darn good deal to me."
McCarthy speaking to White House again after GOP call: source
McCarthy told Republican lawmakers that after he outlined the contours of the deal to them, he was going to speak with the White House again around 10:30 p..m., according a source on the GOP member call.
McCarthy defends deal: 'We cut the woke out'
Addressing one voice of criticism on the call between Republican leaders and members, Speaker McCarthy defended the agreement with the White House.
In addition to work requirements for assistance programs like food stamps and capping government spending, according to a source on the call, McCarthy told his members: "We cut the woke out."
Moderate Rep. Bacon says deal is 'reasonable and responsible'
Moderate Rep. Don Bacon, R-Neb., praised the deal, saying in a text message: "There are a dozen areas of agreement that are improvements from where we're at now. This is a reasonable and responsible handshake that cuts spending and does not raise taxes."
U.S. Chamber of Commerce urges lawmakers to pass the deal
The U.S. Chamber of Commerce, the head of the largest business lobbying group in Washington, praised news of a deal — and urged members of Congress to pass it.
In a statement, the Chamber warned lawmakers that it viewed this as a "key vote," or a measure used to determine whether its political arm would support members for re-election.
"Americans deserve a government that works," Suzanne Clark, the group's president and CEO, said. "With the news of a deal to avert a debt ceiling crisis, the President and congressional leaders have shown they can come together on a bipartisan basis and act in the best interests of our country."
Biden on deal: 'Not everyone gets what they want'
President Biden — who is at Camp David — took to Twitter to comment on the tentative deal.
"The agreement represents a compromise, which means not everyone gets what they want. That's the responsibility of governing," he wrote.
"It is an important step forward that reduces spending while protecting critical programs for working people and growing the economy for everyone."
Committee for a Responsible Federal Budget praises deal
Maya MacGuineas, president of the Committee for a Responsible Federal Budget, praised the agreement, calling it "the first major deficit-reducing budget agreement in almost a dozen years."
"This agreement came too late, but better late than never," MacGuineas said in a statement Saturday night. "The House and Senate should move quickly to make sure we reduce deficits and raise the debt limit in a timely manner. Then, they should work to build on this success. The process was tense, risky and ugly, but in the end, we have a plan to enact savings and lift the debt ceiling, and that is what is needed."
Conservative critics quickly emerge
McCarthy was always at risk of losing the hardliners in his caucus if he cut any kind of deal with Biden.
Rep. Bob Good, R-Va., tweeted what he said he was hearing about the deal — and said he would be against it.
Deal would would fully fund medical care for veterans, including toxic burn pit benefits
The deal with fully fund medical care for veterans, according to a Democratic source familiar with the negotiations, including funding for the PACT Act, a law signed last year that provides health care benefits for veterans exposed to toxic burn pits.
Veterans groups had called out Republicans for not specifying in their debt ceiling bill that the toxic burn pit funds would be protected, warning that broad cuts to federal spending could endanger the new program.
Hardliners are balking at the deal, sources say
Conservative members of Congress in both the House and Senate, along with conservative outside groups, are plotting ways to gum up passage of the bill or add amendments to make it more appealing to hardliners, a source familiar with the talks said.
A Republican aide said late tonight that conservatives are on edge and pessimistic about the agreement as they await more details from Speaker McCarthy.
Deal would avoid another government shutdown until after the next election
If passed, tonight's deal will not only extend the debt ceiling, but it also includes an agreement to fund the government for the next two years, according to a Democratic source familiar with the negotiations.
That would mean Congress will bypass a government shutdown fight that was expected to happen this fall and kick the next funding fight past the 2024 elections.
Democrats to be briefed on deal at 5 p.m. Sunday
Democrats will be briefed by White House officials in a virtual meeting on Sunday at 5 p.m., according to a notice that was circulated and obtained by NBC News.
McCarthy says the deal includes 'historic reductions in spending'
McCarthy refrained detailing the agreement, saying he wants to talk to his members first.
But he offered a brief summary: "It has historic reductions in spending, consequential reforms that will lift people out of poverty into the workforce, reign in government overreach. There are no new taxes, no new government programs. There's a lot more within the bill."
House will vote Wednesday to raise the debt ceiling, McCarthy says
Text of the debt ceiling agreement will be available to members tomorrow, McCarthy said at in a brief presser just now, and the House will vote on it on Wednesday.
"I expect to finish the writing of the bill, checking with the White House and speaking to the president again, tomorrow afternoon, and then posting the text of it tomorrow," he said.
McCarthy says there is 'still a lot of work to do'
Speaker McCarthy gave brief remarks announcing an "agreement in principle" but warned, "we still have a lot of work to do."
72-hour clock could start tonight, with deadline nine days away
McCarthy has promised House Republicans that they'll have 72 hours to view any debt ceiling deal before they have to vote on it. If the agreement is released tonight, which is possible, that clock will start, leading to a House vote to raise the debt ceiling as early as Tuesday night.
The Senate can take its time in voting on legislation, however, with individual members empowered to slow down the process. Sen. Mike Lee, R-Utah, has suggested he'll do so.
Still, last week's Treasury announcement that the real deadline is now June 5 gives Congress some time to get this done.
Speaker McCarthy: 'We've come to an agreement in principle'
Speaker McCarthy took to Twitter to announce the deal, saying, "We've come to an agreement in principle that is worthy of the American people."
White House, Republicans reach tentative debt ceiling deal
Key negotiators struck an agreement in principle Saturday night to extend the debt ceiling and avert a catastrophic default, just days before the Treasury Department says the U.S. could run out of money, according to three Republican sources.
The deal — which will raise the federal debt limit in exchange for cuts to spending — still has to be converted into legislative language and pass both the Republican-led House and Democratic-controlled Senate. It follows weeks of negotiations led by President Joe Biden and Speaker Kevin McCarthy, amid demands by the GOP to extract spending cuts in exchange for allowing the nation to continue to pay the bills.
In averting the crisis, the White House sidestepped a potential default that threatened to wipe out millions of jobs and devastate the American economy, rocking faith in Biden's leadership as he embarks on a reelection bid.
McCarthy will speak soon
McCarthy is expected to give remarks at 9:10 p.m. ET.
Biden and McCarthy reach a tentative deal to raise the debt ceiling
President Joe Biden and House Speaker Kevin McCarthy reached a tentative agreement Saturday to raise the nation's debt ceiling in exchange for cuts to federal spending, according to three Republican sources — a deal that, if approved by Congress in time, could avert economic calamity.
Democratic sources said the final details are still being confirmed. Republican lawmakers are expected to hold a call to hear the details.
House Republicans will hold a call for members in about an hour
Republican leadership will hold at least one call tonight at around 9:30 p.m. ET to brief members on a potential emerging deal, two sources familiar with plans tell NBC News.
The briefing comes after Biden and McCarthy spoke by phone tonight and after the president spoke earlier to House Minority Leader Hakeem Jeffries and Senate Majority Leader Chuck Schumer.
Though the sides have not said if they've reached a deal, McCarthy did say earlier in the day that should a deal be struck, members would learn about it first.
Biden and McCarthy end hour and a half long call
President Biden spoke with Speaker McCarthy from Camp David on Saturday night to work towards a debt ceiling deal. The call ended after an hour and a half.
Biden and McCarthy were scheduled to speak at 6 p.m.
Biden and McCarthy were scheduled to speak at 6 p.m., according to a source — a positive sign for momentum toward getting an agreement.
Biden already spoke with Leaders Hakeem Jeffries and Chuck Schumer earlier today, the source added.
"We'll see how it goes," McHenry told reporters before the call.
House GOP whip on chances of a Saturday deal: 'We'll see what the president says'
Emmer sounded pessimistic as he left his office to greet Capitol Police on Saturday evening amid ongoing debt ceiling negotiations.
"We have a bill that we passed, that's what our members are looking at," Emmer said, in reference to the House-passed Limit, Save, Grow Act, which was approved along partisan lines and is a non-starter for Democrats.
Asked if negotiators expect to have a deal on Saturday, Emmer responded: "We'll see what the president says."
"We actually passed a bill," he said. "You never know what the White House will decide."
The Republican push to add work requirements to social safety net programs has been a source of contention throughout the talks. Asked if work requirements remain a sticking point, Emmer said: "We'll find out soon if the president is really interested in making sure we do not default,"
Pressed on whether talk of the Republican debt bill rather than a negotiated compromise indicated a step backward, Emmer said: "I'll push whatever bill solves the problem."
"We're constantly in touch with our members, letting them know that 'what is being reported you should not accept — there is no agreement,'" Emmer added.
McCarthy aide says negotiators should cancel their dinner plans
Following a day of debt ceiling negotiations, an aide to McCarthy said "yes" when asked by reporters whether negotiators should cancel their dinner plans.
GOP whip spotted entering McCarthy's office
House Majority Whip Tom Emmer, R-Minn., was spotted by NBC News entering McCarthy's office around 2:30 p.m.
The moment suggests movement in negotiations. Once a deal is struck, the whip will be responsible for corralling any unruly GOP members to get behind it.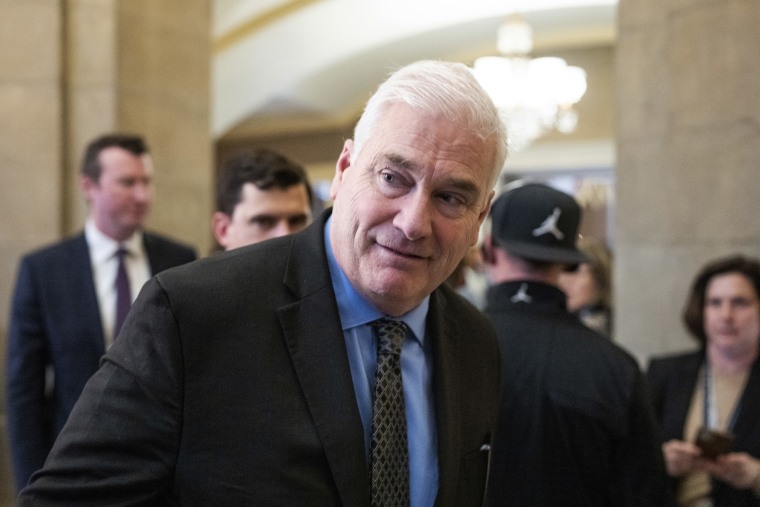 At around 8 p.m. Friday night, Emmer held a roughly one-hour call with Republican members on what to expect after a deal is announced, a source familiar with the call told NBC News. Members were told last night that the vote counting process would begin immediately after a deal is struck.
Other members of Emmer's whip team were also seen sneaking into the speaker's office around 3 p.m., including deputy whip Rep. Guy Reschenthaler, R-Pa., as well as Rep. Dusty Johnson, R-S.D., a close McCarthy ally.
The Republican whip members left McCarthy's office around 3:30 p.m. "It's a beautiful Saturday," Emmer told reporters as he walked out. Then, he entered his office with Reschenthaler.
Key White House negotiator attends Xavier University graduation as deadline looms
As negotiations to avert a default continue, key White House debt limit negotiator Shalanda Young is in Louisiana attending Xavier University's graduation as a guest speaker.
Some of the talks on Saturday are virtual or are taking place only by phone as both sides work toward finalizing an agreement.
McCarthy says he's 'hopeful' of a Saturday deal
Speaking to reporters as he returned to the Capitol with Chipotle around noon, McCarthy said he called the White House this morning and was awaiting a call back.
Asked if a deal could come this afternoon, McCarthy said: "I am always hopeful."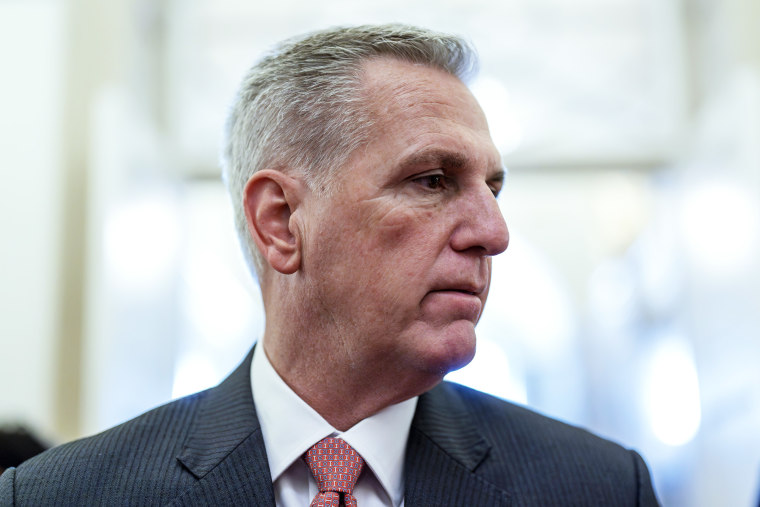 Could a deal be cut today? 'Still possible,' Democratic source says
A Democratic source familiar with negotiations has told NBC News: "We're very close but not done yet."
It is "still possible" that negotiators could cut a deal on Saturday, but there are currently no plans of an imminent announcement, the source said.
The source pointed to comments made by Biden on Friday night before he departed Washington in which he expressed his optimism for a deal to come together soon.
The president is expected to be at Camp David until Sunday, and he will remain "engaged" in debt ceiling talks from there, the source said, adding that negotiators will keep talking by phone and virtually, and continue working into the weekend as needed. 
McCarthy: Is this bill 'everything I wanted? No, it has to pass the Senate'
McCarthy told reporters on Saturday morning that negotiators have made progress toward a deal but "are not there yet."
"I feel closer to an agreement now than I did a long time before," the speaker said, adding that there are "some things we just have to finish out."
McCarthy said energy-permitting reform is still on the table and he seemed confident about delivering a bill the Republican conference could get behind. 
"I'm not fearful of this bill," he said. "Now is it everything I wanted? No, it has to pass the Senate and get signed by the president."
Democratic Rep. Ritchie Torres says he's 'cautiously optimistic'
Rep. Ritchie Torres said he remains "cautiously optimistic" that Congress will avoid a potentially disastrous debt default in an interview on The Saturday Show.
The New York Democrat stressed that work requirements are a non-negotiable for him, saying that "it would be a death sentence" for his district.
Torres expects to be called back to Washington next week: "There is nothing to celebrate here. I mean, this is purely a self-inflicted wound if there ever was one."
Top GOP negotiator says deal could come in 'hours or days'
Rep. Patrick McHenry of North Carolina, one of the lead negotiators for House Republicans, told reporters on Saturday morning that a deal could be struck in "hours or days."
"You know, this is not how I anticipated the final hours, days would go. But we're getting to a very narrow set of issues that has to be dealt with," he said. "We've had a long list for a long time. What I didn't anticipate is we'd have a very short list for a very long time." 
McHenry — who for some time has described the final issues in play as the "most thorny" — declined to put a timeline on when a deal could be reached.
McHenry said the new June 5 deadline certainly gives negotiators breathing room, but he also said it makes it very clear that the work needs to be done soon: "I think this clarifies that our timeline is very tight."
The Republican lawmaker added that while negotiations have been tough and everyone is fatigued, that won't stop them from finishing the job.
"I think we're all tired. But that doesn't mean that we're willing to just take something that we think is not acceptable," he said.
Debt ceiling deadline moved to June 5
Treasury Secretary Janet Yellen Friday moved the deadline to act or risk breaching the debt ceiling to June 5 after repeatedly warning that the United States could run out of cash to pay the bills as early as June 1.
"Based on the most recent available data, we now estimate that Treasury will have insufficient resources to satisfy the government's obligations if Congress has not raised or suspended the debt limit by June 5," Yellen wrote on Friday to congressional leaders.
The Treasury Department reached the statutory borrowing limit in January and has been using "extraordinary measures" to pay the country's bills since then, she said.
The June 5 deadline is more precise than her earlier estimation that the debt ceiling could be breached "potentially as early as June 1."