The latest news on the race to elect a new House speaker:
Rep. Steve Scalise, of Louisiana, defeated Rep. Jim Jordan, of Ohio, for the Republican nomination to be speaker and replace Rep. Kevin McCarthy, R-Calif.
House Republicans met last night to hear from the two candidates at a closed-door forum. They also met privately this morning to vote by secret ballot ahead of an eventual floor vote.
Democrats are backing House Minority Leader Hakeem Jeffries, of New York — a formality, because they lack the votes to pick the speaker.
The race was triggered last week when Rep. Matt Gaetz, R-Fla., made a motion to vacate the chair of speaker and won a majority vote when all Democrats and eight Republicans voted against McCarthy.
The House has been left leaderless as a brutal attack by Hamas against Israel unfolded and quickly escalated into a war, leaving Congress unable to mobilize any aid or response.
Coverage on this live blog has ended. Follow the latest updates from NBC News here.
No speaker vote in the House today
There will be no more votes tonight, according to more than half a dozen GOP lawmakers and staff members from both parties.
Lawmakers are expected to return to the Capitol tomorrow.
What's going on in the House right now?
First things first: We don't know yet for sure when the House will vote on a speaker.
The pause comes down to the fact that Scalise doesn't have the votes to get to 217 right now. We can count several lawmakers who say they're against Scalise, including Boebert, Good, Roy, Massie, Cloud, Max Miller, Greene and Luna.
That's more than the four Scalise can afford to lose. Some are harder in their "noes" than others, but the numbers aren't where Scalise needs them to be regardless.
There's a number of reasons these members are against him. Some don't like that he's associated with the "status quo," having served as House majority leader under McCarthy. Some don't think he has an adequate plan for funding the government. Others don't like how quickly he tried to move to the floor for a vote.
Democratic leadership sources told us they believe they'll get an hour's heads-up from Republicans when it's time to bring the vote to the floor, but nothing is certain. McHenry told members after the closed-door election this morning that they could get 15 minutes lead time or an hour.
Rep. Lloyd Smucker says he will vote for Jordan on the House floor
Rep. Lloyd Smucker, R-Pa., posted on X that he plans to vote for Jordan when the speaker vote comes to the floor.
He wrote: "The House GOP Conference is broken. So we oust Kevin McCarthy and all other leaders are rewarded with promotions? How does that make sense or change anything?"
Rep. Anna Paulina Luna says she'll back Scalise for speaker
Rep. Anna Paulina Luna, R-Fla., told reporters today that she will support Scalise for speaker when the formal vote takes place on the House floor.
"After talking to Representative Scalise, I feel very confident that he's going to allow me to aggressively pursue justice for this country in this nation," Luna said after she said her priorities include investigating special counsel Jack Smith, holding an impeachment vote and subpoenaing Hunter Biden.
"And so I'll be supporting him on the floor," she said of Scalise. "But again, that is because he will be aggressively allowing me to pursue and do my job."
McCarthy says Scalise has his support
McCarthy said Scalise has his support when the speaker vote comes to the floor.
He also said Scalise will need to talk to fellow GOP lawmakers beforehand.
"Look, Steve's going to have to talk to them all, see what the concerns are," McCarthy told reporters. "But I'm supporting Steve."
Texas Republican says he doesn't want to 'rush to the floor' for a vote
Rep. Chip Roy, R-Texas, said this afternoon that he's in no hurry for a House floor vote in the speaker's race.
"I did not want this to go to the floor before we're united, and we should have done that this morning. It was not done," Roy told reporters in the Capitol.
Asked about his support for Scalise, Roy said that he was "very open-minded to figuring out how we can come and unite" but that the rush to vote Scalise forward last night and this morning caused a "setback" in his support.
"So we'll go now have some conversations and go figure out where we're going to go," Roy said.
Rep. Burchett says he will vote for Scalise
Rep. Tim Burchett of Tennessee, one of the eight Republicans who voted to remove McCarthy last week, says he will vote for Scalise as the new speaker.
"He understands fiscal conservatism. He has a track record of handling tough legislation in the past, and I think that's going to serve him very well," Burchett said.
House is in recess
The House went into recess — which means it could come back into session at any time.
Jordan will vote for Scalise on the floor
A source with direct knowledge the situation said Jordan plans to vote for Scalise on the floor and is encouraging his colleagues to do the same. 
A spokesperson said earlier this afternoon that Jordan plans to give the nomination speech for Scalise on the floor.
Karine Jean-Pierre hopes GOP 'stops the chaos'
White House press secretary Karine Jean-Pierre said at a news briefing that she hopes the House GOP "gets their affairs in order and stops the chaos" when she was asked to weigh in on the speaker race.
"We want to see the chaos be done with" so the administration can deliver for the American people, she added.
House gavels in for pro forma session
The House has come into session, and Rep. Patrick McHenry has hit the gavel. The House isn't expected to vote or conduct any official business.
House won't vote on speaker when it returns at 3 p.m.
There will not be a vote for speaker on the House floor at 3 p.m. today as was previously planned, four sources tell NBC News.
It is unclear whether there could be a vote later today or another day.
Republicans are trying to avoid a protracted floor vote like what occurred in January.
Jordan will give the nomination speech for Scalise on the floor
A spokesperson for Jordan told NBC that the Ohio Republican has offered to give a nominating speech on the floor on behalf of Scalise.
Jordan told reporters on his way out of a meeting with Scalise this afternoon that he wants to unify the conference, and is not gunning for speaker votes.
He said he has not yet spoken to his colleagues, but a move to give a nomination speech for Scalise will be a signal to Jordan's allies, many of whom have said they will still vote for him on the floor.
"The conference is divided, we need to come together," Jordan said.
He said that his meeting with Scalise was "good" and that he is not interested in running for majority leader.
Scalise: The House is open and doing the people's business
Scalise addressed reporters this afternoon, saying, "The House is open and doing the people's business."
He said that his "first order of business" as speaker will be to pass a resolution in support of Israel, and that Congress needs to "get back to work."
"The conversations we've been having with my colleagues over the last few days, leading up to this, show that there's a resolve that we need to get back to work," Scalise said.
"There's a lot of busy work to do, a lot of important work to do, on behalf of people who are struggling not only here in America, but who are concerned all around the world," he added.
Jordan won't encourage supporters to keep voting for him
A Jordan spokesperson said he will not be whipping votes — meaning he's not going to actively lobby members to keep voting for him.
Gimenez says he's still going to vote for McCarthy
Rep. Carlos Gimenez, R-Fla., told reporters that he still wants to support McCarthy as speaker.
"I was going to vote for Kevin McCarthy and I'm going to continue to vote for Kevin McCarthy until he calls me and says otherwise," he said.
Gimenez said McCarthy's ouster last Tuesday was an "injustice," and that McCarthy was doing his job.
"If you look at what the plans are for both Steve Scalise and Jim Jordan has to have resolutions, etc., to keep their government running, that's, what Kevin McCarthy did. So there is nothing different from the path that Kevin McCarthy had taken," Gimenez said.
"That in itself, you know, leads me to believe that what happened here was personal," he added.
Massie: Scalise 'doesn't have the votes'
Talking to reporters after the GOP conference meeting, Massie of Kentucky said that Scalise does not have the votes to be elected speaker and that the party should "resolve that before we go" for a vote.
Gaetz says he will support Scalise
Gaetz said he will support Scalise in the House floor vote.
When asked in what ways he thinks Scalise would be an upgrade from McCarthy, he replied, "all of them."
He said there was "renewed excitement" in the GOP about the speaker nominee.
"We've got the legend from Louisiana who's gonna lead us, and I think that he'll be invigorating to our activists," Gaetz told reporters. "I think he'll be a great communicator to the country, and I think he'll do a great job uniting the Republican conference."
Good says Scalise is 'status quo' to McCarthy
Rep. Bob Good, R-Va., said he is undecided on whether he'll support Scalise on the floor, calling him the "status quo" of McCarthy.
"It's hard to envision that he will be a change agent. I think the country recognizes the Congress needs to be changed," he said.
Speaker vote could happen as early as 3 p.m.
The vote for speaker could take place as early as 3 p.m., according to Hern.
Hern will run for majority leader
Oklahoma Rep. Kevin Hern posted on X congratulating Scalise on winning the internal GOP vote for speaker. Hern was briefly a candidate for speaker but withdrew from consideration.
Hern quickly announced that he will be running for majority leader — a post that will be vacant if Scalise is able to secure the speaker post.
Stefanik tweets congratulations to Scalise
Rep. Elise Stefanik tweeted her congratulations to Scalise with a picture of the two lawmakers hugging.
"Congratulations Speaker-designate @SteveScalise," she posted.
Several lawmakers say they'll still back Jordan
Despite Scalise winning the GOP conference vote, several lawmakers told NBC News they still plan to support Jordan on the House floor. Among the lawmakers pledging continued support for the Ohio Republican are Reps. Lauren Boebert and Max Miller.
Boebert says she'll vote for Jordan, despite Scalise nomination
After Scalise was nominated, Rep. Lauren Boebert said she would still vote for Jordan.
"I'm voting for Jim Jordan on the floor," she said.
Scalise wins Republican conference vote for speaker
Scalise has won the Republican nomination to be speaker, Rep. Darrell Issa said as he left the room. The vote was 113-99, Issa said.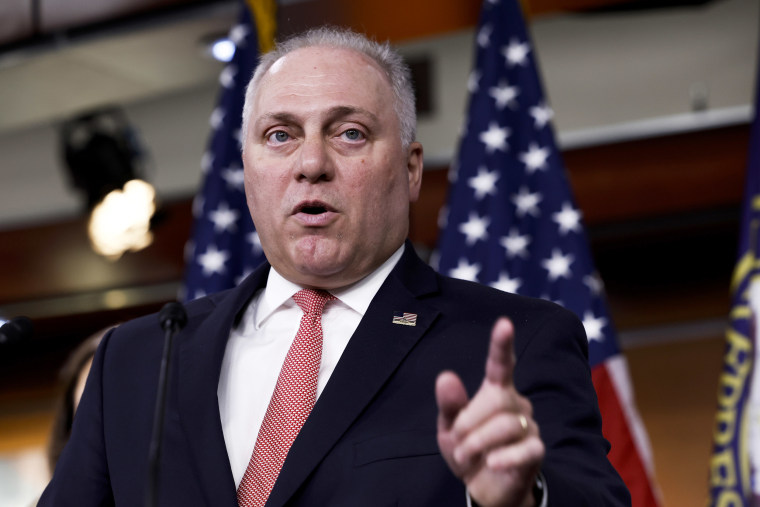 Applause heard inside the meeting
There was a burst of applause heard inside the meeting room just now.
GOP lawmaker unsure caucus unifies behind nominee
Rep. Troy Nehls, R-Texas, says he's not sure Republicans will unify behind their speaker nominee, or that the loser would go quietly.
He said he's supporting Jordan and won't commit to supporting Scalise if he wins internally.
He added that he wants House floor votes on a speaker regardless of whether a candidate has enough votes to win.
Votes being tallied in Republican speaker nomination
Two Republicans who departed the meeting confirmed that the ballots are now being counted.
In other meeting news: Republicans to introduce resolution to expel Santos
A group of House Republicans from New York are introducing a resolution to expel Rep. George Santos, R-N.Y., from Congress.
"Today, I'll be introducing an expulsion resolution to rid the People's House of fraudster George Santos," Rep. Anthony D'Esposito, R-N.Y., said in a post on the social media platform X.
He said the resolution will be co-sponsored by fellow New York House Republicans Nick LaLota, Mike Lawler, Marc Molinaro, Nick Langworthy and Brandon Williams.
Gaetz no longer expected to appear at Trump event in Florida tonight
The Trump campaign has confirmed to NBC News that Gaetz is no longer expected to appear at an event featuring the former president tonight. Gaetz was scheduled to appear at the Palm Beach event before the speakership vote was scheduled. Gaetz's office has not responded to requests for comment.
House Republicans voting now on next speaker
House Republicans are voting behind closed doors now on Jordan vs. Scalise.
Womack motions to sink rule change
Rep. Steve Womack, R-Ark., confirmed to reporters that he offered a motion to table or kill the proposed rules change that would raise the threshold needed by a speaker candidate to head to the floor.
The motion was successful, Rep. Ken Buck said, so either Scalise or Jordan can win the nomination with just a simple majority of the GOP Conference, or 111 votes.
How the House will elect a new speaker: What to know ahead of the vote
House Republicans met privately this morning to choose a nominee to be the next speaker, more than a week after McCarthy was ousted from the chamber's top job.
Rep. Patrick McHenry, R-N.C., has been serving in an acting capacity as speaker pro tempore.
If Republicans can reach consensus about their preferred nominee, the full House will then vote on who the next speaker will be.
Read the story here on the process of electing a new speaker.
Here are the nominating speakers for both candidates
Scalise will be nominated with speeches by Reps. Frank Lucas, R-Okla., Ashley Hinson, R-Iowa, and John James, R-Mich.
Jordan will be nominated with speeches by Reps. Kelly Armstrong, R-N.D., Erin Houchin, R-Ind., and Mike Carey, R-Ohio.
Meeting appears underway
Most members seem to have arrived at the closed-door meeting and it seems to be underway.
Where is the closed-door meeting being held?
House Republicans are meeting behind closed doors in a large hearing room in the Longworth House Office Building.
While the room has been used primarily by the Ways and Means Committee since the 1930s, it was also the meeting place for the full House in 1949 and 1950 during construction in the House chamber. 
Scalise says his first order of business if elected speaker is an Israel resolution
Scalise told reporters this morning that under "Speaker Scalise," the first order of business would be a "strong resolution expressing support for Israel."
"We've got a very bipartisan bill. The McCall-Meeks resolution is ready to go right away to express our support for Israel now. We got to get back to work today," he said.  
Stefanik pushes for GOP unity
Rep. Elise Stefanik, R-N.Y., pushed for Republican unity amid the speakership nomination process, in a post on X.
"As Conference Chair, my goal is to ensure we unify to elect a Speaker to deliver legislative results for the American people to save the country," she wrote.
Jordan enters the meeting
Jordan has entered this morning's meeting. When asked if he would support Scalise for speaker, he said, "I'll support anyone who can get 217 votes."
The two lawmakers are pitted against each other for the GOP speakership nomination.
Bilirakus backs Scalise
Rep. Gus Bilirakus, R-Fla., heading into this morning's meeting says he's backing Scalise and opposes the rules change:
"You don't change the rules in the middle of the game"
Jordan pitches Republicans on a plan for government funding
In a closed-door meeting last night, Jordan proposed a novel plan to avert a government shutdown next month and pass spending bills if he becomes House speaker.
He said Congress should pass a bill to extend current funding levels through April, when a 1% across-the-board cut would automatically take effect, suggesting that would give Republicans leverage on appropriations bills in negotiations with Democrats.
His remarks were confirmed to NBC News by Rep. Thomas Massie, R-Ky., Rep. Dan Bishop, R-N.C., and a third source familiar with the talks.
House Republicans are considering an internal rule change
Republicans are expected to vote on a change to the rules crafted by Reps. Chip Roy, R-Texas, and Brian Fitzpatrick, R-Pa., that would temporarily require a Republican candidate to receive 217 votes — almost the entire 221-person GOP conference — to be considered the GOP nominee for speaker.
If a candidate gets at least 185, but not 217 votes, on the House floor, the rules change would also poll members on whether they would support a candidate receiving a majority of votes on the House floor and move to a roll call vote, rather than a secret ballot after a certain number of rounds.
It's unclear whether this rule change has the votes to pass. 
House GOP to meet at 10 a.m.
The House Republicans will start their closed-door process of picking the next speaker at 10 a.m. The meeting was originally scheduled for 9 a.m. but got pushed to accommodate a different briefing.
The 'McCarthy rule' may change the speaker process
House Republicans have scheduled a closed-door vote for 10 a.m., but it remains unclear how long it will take lawmakers to actually head to the House floor and formally vote for a new leader.
When McCarthy was nominated in January, the process ground to a halt when he lacked the needed votes to win on the House floor. It took 15 rounds of voting before he could secure victory.
This time, Republicans say they won't do the same and are instituting what may henceforth be known as the "McCarthy rule" — requiring that 217 House Republicans sign off behind closed doors.
And that means that while one candidate may have a majority of Republicans after one vote, the process could drag on while they try to wrangle 217 votes before emerging to make it official.
McCarthy tells allies not to nominate him for speaker again
McCarthy might be hinting he's willing to take the job back, but he's been telling his allies not to nominate or vote for him today.
Scalise or Jordan? Republicans will try to nominate their next speaker
House Republicans will huddle behind closed doors today and vote to nominate a successor to McCarthy — but many remained pessimistic that the full chamber will quickly elect the winner.
Whoever wins the secret ballot vote for the nomination will face the arduous task of uniting the party behind them. The nominee will still need to secure a simple majority of all House members, which will translate to getting the votes of at least 217 of the 221 GOP members. Democrats are expected to rally behind Jeffries.
"I put it at 2%," Rep. Thomas Massie, R-Ky., said last night when he was asked whether Republicans would settle on a speaker this morning.
Former Ohio State University wrestlers say Jordan betrayed them and shouldn't be House speaker
Four of the former Ohio State University wrestlers who have accused Jordan of failing to protect them from a sexual predator when he was the team's assistant coach in the 1980s and '90s said yesterday that he has no business being the next speaker of the House.
"Do you really want a guy in that job who chose not to stand up for his guys?" said former OSU wrestler Mike Schyck, one of the hundreds of former athletes and students who say they were sexually abused by school doctor Richard Strauss and have sued the university. "Is that the kind of character trait you want for a House speaker?"
The wrestlers' decisions to weigh in adds a new dimension to the speaker race, bringing in a controversial part of Jordan's past that continues to hang over the Ohio Republican and staunch ally of former President Donald Trump.