What you need to know
The House of Representatives adjourned until Wednesday without electing a speaker after Republicans failed to unite behind a candidate.
It's the first time in more than a century that the House has failed to elect a new speaker on the first ballot — forcing the chamber to hold multiple votes.
Rep. Kevin McCarthy of California received support from an overwhelming majority of Republicans in three rounds of votes but was still short of the 218 needed to win a simple majority of the 434 House members present.
Opposition to McCarthy has been fueled by his right flank, who have coalesced to cast their votes for Rep. Jim Jordan of Ohio, even though he continues to back McCarthy.
Democrats have remained united, casting all of their votes for Minority Leader Hakeem Jeffries of New York.
Speaker standoff highlights deep GOP divisions
A stunning inability to elect a speaker Tuesday highlighted fissures within the Republican Party over strategy and vision, grinding the House to a halt and raising fresh questions about the future of the GOP.
"We have to make a choice today: Are we going to be the party of the radical 2%? Because that's what it comes down to," a frustrated Rep. Kat Cammack, R-Fla., said after a caucus meeting. "Kevin McCarthy will be the speaker of the House — and I don't care if it's the first ballot or the 97th ballot."
The standoff was demoralizing for a party that had hoped to use the new majority to show Americans how it would govern — before it asks voters to give the GOP control of the White House and the Senate in the 2024 elections. Instead, the displays of dysfunction threaten to further alienate independent and center-right voters, who drifted toward Democrats in 2022, causing the GOP's underperformance in the midterm elections and its current paper-thin margin.
"I think it's a problem for the party. It absolutely is," said former Rep. Mick Mulvaney, R-S.C., a co-founder of the House Freedom Caucus, home to the rebels. "How is it not a problem for the party if we can't even decide on who our leader's going to be?"
Stacks of pizza make their way to McCarthy's office
A stack of pizza boxes was seen Tuesday evening being carted to the speaker's office — where McCarthy moved in earlier in the day before he was thrice denied the speaker's job in votes on the House floor.
After the pizza arrived, another staffer was seen carrying in a bag of food from Chick-fil-A.
A crowd of reporters waited outside the door, where they have seen staff members come and go but, so far, no other lawmakers.
Children slumber while stuck in House during speaker vote
Lawmakers often bring their children to the first day of the new Congress, allowing them to join them on the floor during their swearing-in ceremonies. But this year, the unresolved speaker's vote meant many were stuck with their parents for hours.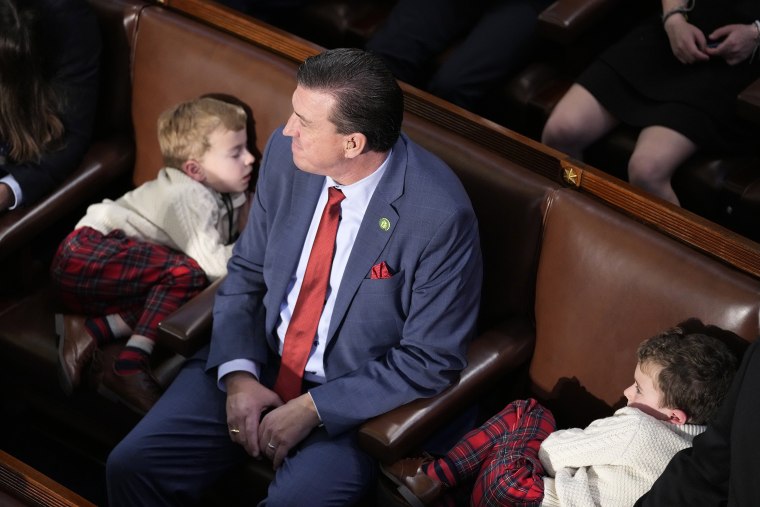 Newly elected Democrat plans to take oath on Superman comic book
Rep.-elect Robert Garcia, D-Calif., whose swearing in to Congress was delayed Tuesday by the deadlocked House speaker vote, tweeted about a collection of memorabilia that he wanted to take his oath on, including a comic book.
Garcia, who is gay, came to the U.S. from Peru as a child. He became the first LGBTQ immigrant elected to Congress in November.
Marjorie Taylor Greene chastises Republicans who opposed McCarthy
Rep. Marjorie Taylor Greene of Georgia chastised fellow Republicans who opposed McCarthy for speaker, noting that Jordan is supporting McCarthy and has said he wants to be chair of the Judiciary Committee.
"How did 19 Republicans not respect that?" Greene asked reporters after the House adjourned. Nineteen Republicans voted for Jordan on the second ballot, and 20 backed him in the third vote.
"I think 19, or 20 now, should respect Jim Jordan's wishes," Greene said of the conservatives who voted for Jordan instead of McCarthy.
She also pointed out that Jordan had boosted McCarthy's candidacy "over and over" by nominating him for speaker and voting in his favor.
Jordan says he is 'focused on' becoming committee chair
Jordan, who emerged Tuesday as McCarthy's top GOP contender for speaker even though he's backing McCarthy, said he's focusing his efforts on becoming the next chair of the Judiciary Committee.
"I like this ability to cross-examine witnesses and get the get the truth for the country. So that's what I'm focused on," he told reporters after the third ballot failed to produce a speaker.
Asked whether there was any chance he would be speaker, Jordan said, "No."
Jordan was the ranking member of the Judiciary Committee in the previous Congress. In the third vote for speaker on Tuesday, 20 conservative Republicans voted for him. McCarthy, meanwhile, won 202 votes, falling short of the 218 needed to win.
Exclusive: Trump mum on whether he still supports McCarthy for speaker
Former President Donald Trump, who'd endorsed Rep. Kevin McCarthy's bid for House speaker, declined to say Tuesday whether he still supports his longtime ally after he failed to clinch the job in three separate votes.
"We'll see what happens," Trump said when asked directly whether he was sticking with McCarthy, the GOP leader, in a brief phone conversation. 
"I got everybody calling me wanting my support. But let's see what happens and we'll go — I got everybody calling, wanting my support," he said. "That's all I can say. But we'll see what happens. We'll see how it all works out."
Trump had repeatedly backed McCarthy and urged his allies in the ultraconservative Freedom Caucus to back him, as well, telling Breitbart in an interview last month: "I'm friendly with a lot of those people who are against Kevin. I think almost every one of them are very much inclined toward Trump, and me toward them. But I have to tell them, and I have told them, you're playing a very dangerous game. You could end up with the worse situation."
Trump's distancing himself from McCarthy could prove fatal to his already imperiled bid for speaker. The House is expected to reconvene Wednesday.
House adjourns without speaker until Wednesday at noon
After the third vote failed to produce a speaker, Republican Rep. Tom Cole of Oklahoma moved to adjourn, sending the House out until noon Wednesday.
The motion was approved by a voice vote.
A chaotic speaker's race also took place Tuesday in Pennsylvania
As Congress convened Tuesday, unsure exactly who would become the next speaker of the House, legislators in Pennsylvania's statehouse faced a similar predicament.
Although Democrats won a narrow majority in the state House in November, for the first time in a decade, the balance of power was up in the air because one of the victorious lawmakers was dead — Anthony DeLuca, 85, died too close to the election to be replaced on the ballot — and two other Democrats resigned after being elected to higher office.
According to The Philadelphia Inquirer, Republicans walked into the speaker's vote Tuesday with a 101-99 edge. Yet in a surprise result, a Democrat, Mark Rozzi, ended up winning the top job. Democrats and a handful of Republicans joined to elect Rozzi, who was not a top contender for speaker. Many Democrats backed Rep. Joanna McClinton from Philadelphia, hoping to make her the first woman to hold the position. But it became clear that neither party would get the votes for their top picks.
The Associated Press reported that Rozzi was nominated by conservative Republicans from the western part of the state. After he won, Rozzi said he would no longer caucus with Democrats and would instead become Pennsylvania's first independent speaker.
Donalds urges GOP to 'recess and huddle' after opposing McCarthy in the third vote
Rep. Byron Donalds, R-Fla., said House Republicans should regroup after he broke from McCarthy during voting for the next speaker.
"The reality is Rep. Kevin McCarthy doesn't have the votes," Donalds tweeted after opposing McCarthy in favor of Jordan.
The Florida Republican told NBC News that McCarthy's failure to clinch 218 votes was "not a surprise."
"We knew — you know, that Kevin was short," Donalds said. "My concern has been like, look, it's been two months, bro, you got to close the deal. You got two months. And so at this point now is that if you can't close it, we got to find who can."
Donalds appealed to Republicans to hammer it out.
"This will take time, Democracy is messy at times, but we will be ready to govern on behalf of the American people. Debate is healthy."
The GOP House majority is one of the smallest in modern history
Why is the speaker vote so tight? It's a matter of math: The Republican majority in the House is too small for McCarthy to afford more than a handful of defections. In fact, this GOP majority is one of the smallest in the past century.
Republicans have a nine-seat margin in the House. According to data from the House of Representatives Office of the Historian, there have been only four other congressional sessions in the past 100 years with a majority margin of 10 seats or less: the 72nd Congress (1931-33), the 83rd Congress (1953-54), the 107th Congress (2001-2002), and the recently completed 117th Congress (2021-2022).
Third ballot vote has ended, no one elected speaker
With voting complete on the third ballot, 202 voted for McCarthy for speaker, 212 voted for Rep. Hakeem Jeffries, D-N.Y., and 20 voted for Rep. Jim Jordan, R-Ohio.
Conservatives opposed to McCarthy seen huddling in chamber during third vote
During the third ballot vote for speaker, several House Republicans who have opposed McCarthy to be speaker were seen huddling in the back of the chamber.
The conservatives huddling in the center aisle were Reps. Matt Gaetz of Florida, Scott Perry of Pennsylvania, Chip Roy of Texas and Lauren Boebert of Colorado.
McCarthy poised to fail a third time
A fourth vote was expected Tuesday afternoon as McCarthy appeared poised to fall short of the votes needed to seize the speakership for the third time on Tuesday.
McCarthy lost twice earlier in the day, with 19 conservatives casting their ballots for Rep. Jim Jordan, of Ohio, in the second round.
McCarthy's conservative colleagues continued to cast their ballots defiantly for Jordan during the third vote, with Democrats again rallying behind Rep. Hakeem Jeffries, of New York.
McCarthy was nominated the third time by Rep. Steve Scalise, of Louisiana, who has been seen as a potential rival for the job. Rep. Chip Roy, of Texas, nominated Jordan.
After twice voting for McCarthy, GOP congressman switches to Jordan
Rep. Byron Donalds, R-Fla., switched his vote for speaker from McCarthy to Rep. Jim Jordan, R-Ohio, during the third ballot vote.
Donalds voted for McCarthy during the first two ballot votes. Donalds represents Florida's 19th Congressional District and has served in the House since 2021.
There was a smattering of applause in the chamber when Donalds voted for Jordan.
Democrats mock Republicans over inability to elect House speaker
Now in the minority, House Democrats appeared to enjoy the GOP divisions over electing a speaker Tuesday.
Rep. Bill Pascrell, D-N.J., tweeted, "Update: after two rounds of voting the republicans still can't elect a leader on their first day in power." He then posted a gif from the 1937 Hindenburg disaster, showing an airship crashing into the ground.
"I could post cute kitten videos while we wait for the @HouseGOP to get their act together. What do you think?" tweeted Rep. Kathy Castor, D-Fla., while Rep. Steve Cohen, D-Tenn., tweeted an image of Gunther Gebel-Williams that said he was the world's greatest animal trainer from Ringling Bros. and Barnum & Bailey Circus: "Who Kevin McCarthy needs to emulate. Slim chance. Tigers are easier to organize than Republican conference!" he said.
In another tweet, Rep. Gerry Connolly, D-Va., mocked both McCarthy and incoming Rep. George Santos, R-N.Y., who recently admitted to lying about his background. Connolly wrote, "George Santos on the Speaker's race: 'Kevin McCarthy was by my side at Normandy, and I'll be by his today.'"
Democratic lawmaker jokes that his daughter can 'step in' as speaker
Rep. Josh Harder, D-Calif., joked that his daughter could "step in" to serve as House speaker in a tweet as fellow Californian Rep. Kevin McCarthy, a Republican, lost his second vote for the role on Tuesday.
The remark came as lawmakers appeared with their families for their swearing in to the 118th Congress on Tuesday.
"Lillian has agreed to step in as Speaker," Harder wrote. "But only if it comes with a lifetime supply of raspberries."
Pelosi reacts to Republicans' struggling to elect GOP speaker
As House Republicans struggled to elect their own speaker now that they have the majority, former House Speaker Nancy Pelosi, D-Calif., suggested the GOP is ruining Congress as an institution.
"For many of us here who have served in the Congress, we respect the institution, and it would have been my hope that out of respect for the institution, the other side could have resolved their differences because they have the majority. And really, the public impression of this is not as respectful of the institution," Pelosi told reporters as lawmakers spent hours trying to elect the speaker.
Asked what Pelosi would recommend to her GOP counterparts, she said, "It's up to them."
Pelosi stepped down as the Democratic leader after serving as House speaker twice. She has decided, however, to remain a rank-and-file member of Congress.
Speaker vote goes to multiple rounds for first time in 100 years
A band of ultraconservative rebels on Tuesday twice blocked House GOP Leader Kevin McCarthy from securing the speaker's gavel in the first votes of the new Republican majority, marking the first time the House has gone to multiple ballots to elect a speaker in 100 years.
In the dramatic televised vote on the House floor, McCarthy, of California, received support from an overwhelming majority of his GOP Conference, with 203 votes, but that was short of the 218 needed to win a simple majority of the 434 House members present. McCarthy lost a second round of voting by the same amount.
Nineteen conservatives cast their votes for other candidates in the first round, with the majority backing one of McCarthy's chief antagonists, former Freedom Caucus Chairman Andy Biggs, R-Ariz. Rep. Jim Jordan, R-Ohio, received six votes, while Rep. Jim Banks, R-Ind., former Rep. Lee Zeldin, R-N.Y., and Rep. Byron Donalds, R-Fla., each received one vote.
All 19 cast their ballots for Jordan in the second round.