The latest on a government shutdown:
Today was the last day for Congress to fund the government. A shutdown was set begin at 12:01 a.m. if Congress did not finish its work in time.
A last-minute agreement passed the House and Senate with overwhelming bipartisan majorities, sending a bill to keep government funded through Nov. 17 to the president's desk.
The bill, pushed by House Speaker Kevin McCarthy, R-Calif., includes disaster relief funds but does not include new aid for Ukraine.
McCarthy brought up the new bill after House Republicans failed to pass their short-term spending bill Thursday in an embarrassing defeat.
President Joe Biden signed the bill into law late Saturday night.
Biden signs the deal
The president signed the funding bill into law late Saturday night.
GOP senators say they voted no due to border security
GOP Sens. Roger Marshall and Bill Hagerty said they voted no on the CR because it didn't include additional funding for border security.
"The CR does nothing to address our most immediate national security threat- our open southern border & the fentanyl pouring in," Marshall said. "With a $33 trillion debt crisis, it's never been more clear America can't afford to continue these spending levels for one more day, let alone, 45."
"During negotiations around a Continuing Resolution, I made very clear that I wouldn't support any short-term funding bill that didn't include serious border-security measures to help put an end to the Biden Border crisis, & I'm keeping that commitment," said Hagerty.
U.S. can continue meeting Ukraine's needs 'for a bit longer,' per U.S. official
While DOD has exhausted much of its security assistance funding for Ukraine, there is enough Presidential Drawdown Authority available to meet Ukraine's battlefield needs "for a bit longer," a U.S. official tells NBC News. The White House expects another PDA soon on the normal cadence, the official said.
This person stressed, however, that the White House will need a Ukraine funding bill to pass "soon" and it's "imperative" that Speaker McCarthy keep his commitment to the people of Ukraine to ensure that happens.
We could very well be right back here in mid-November
Congress has until Nov. 17 to resolve their differences and avoid another shutdown, but it's not clear they will.
The House passed four appropriations bills (three of them just this week, with a fourth failing). All include deep spending cuts that Senate Democrats and Biden will never accept. The Senate had a bipartisan blueprint, which they're saying led to tonight's result — a clean CR — but it's hard to see the Republican-controlled House agreeing to 12 bipartisan funding bills in the next two months.
It's worth noting: Congress runs out of money every year on Sept. 30. This wasn't a surprise. They had nearly 10 months to fund the government and didn't.
Republicans in Congress had a deal with the White House on spending levels earlier this year that was supposed to avoid this whole crisis. Speaker McCarthy ripped it up to please his far-right flank — and some conservatives are still threatening his job.
Senate leaders urge more funding for Ukraine
Shortly after the vote, Schumer and McConnell released a statement urging the need to pass additional funding for Ukraine, which was left out of the SR. The statement was co-signed by Appropriations Committee Chair Patty Murray, D-Wash., Appropriations Committee Vice Chair Susan Collins, R-Maine, as well as Chris Coons of Delaware and Lindsey Graham of South Carolina, who head the Senate Appropriations Subcommittee on State, Foreign Operations and Related Programs.
"In the coming weeks, we expect the Senate will work to ensure the U.S. government continues to provide critical and sustained security and economic support for Ukraine," the statement said. "We support Ukraine's efforts to defend its sovereignty against Putin's brazen aggression, and we join a strong bipartisan majority of our colleagues in this essential work. With the eyes of our partners, allies, and adversaries upon us, we keenly understand the importance of American leadership and are committed to strengthening it from Europe to the Indo-Pacific."
Biden applauds CR, slams Republicans
President Joe Biden released a statement immediately following the Senate's CR passage, lauding the bill as "preventing an unnecessary crisis that would have inflicted needless pain on millions of hardworking Americans."
Directing his attention to McCarthy and House Republicans, he said. "But I want to be clear: we should never have been in this position in the first place. Just a few months ago, Speaker McCarthy and I reached a budget agreement to avoid precisely this type of manufactured crisis. For weeks, extreme House Republicans tried to walk away from that deal by demanding drastic cuts that would have been devastating for millions of Americans. They failed."
Biden added that while there is no new funding for Ukraine in the stopgap measure, "We cannot under any circumstances allow American support for Ukraine to be interrupted. I fully expect the Speaker will keep his commitment to the people of Ukraine and secure passage of the support needed to help Ukraine at this critical moment."
After no vote, Rand Paul criticizes Ukraine aid (which isn't part of the CR)
Just 3 hours before the deadline, Congress avoids a government shutdown
The Senate voted 88-9 on Saturday night to pass a short-term bill to keep the government open, averting a shutdown at the last minute after a dramatic turnaround in the waning hours.
The bill, which passed the House earlier by a substantial bipartisan vote of 335-91, now goes to President Joe Biden, who is expected to sign it into law.
The legislation keeps the government funded at existing levels through Nov. 17 and authorizes additional disaster relief money, giving Congress more time to reach a full-year funding agreement. That will still be a towering challenge ahead of the new November deadline, but it avoids for now a shutdown that would have put pay for millions of Americans in jeopardy.
The deal excludes aid to Ukraine, a provision from the bipartisan Senate bill that Speaker Kevin McCarthy axed, saying it should be considered separately at a time to be determined.
Here are the senators who voted against the CR
Nine Republican senators voted against the funding bill. They include: Sen. Marsha Blackburn and Bill Hagerty of Tennessee, Mike Braun of Indiana, Ted Cruz of Texas, Roger Marshall of Kansas, Mike Lee of Utah, Rand Paul of Kentucky and Eric Schmitt of Missouri.
Schumer celebrates after avoiding government shutdown
Schumer celebrated after the Senate passed the short-term bill funding the government.
"It's been a day full of twists and turns," he said. "The American people can breathe a sigh of relief: there will be no government shutdown."
Schumer also rebuked Speaker Kevin McCarthy and Republican hard-liners in the House.
"After trying to take our government hostage, MAGA Republicans won nothing," he said. "So one more time: it is good Speaker McCarthy finally heeded our message that bipartisanship was the only way. He could have made this decision weeks ago."
Senate passes CR, sending bill to Biden's desk
The Senate late Saturday night voted 88-9 to approve the House-passed CR which would fund the government until Nov. 17. The bill now heads to Biden's desk, where it is expected to be signed, narrowly avoiding a shutdown.
Every Democrat voted for the bill along with the majority of Republicans.
Among the yea votes: Sen. Michael Bennet, who reportedly held up vote over Ukraine
Sen. Michael Bennet, D-Colo., voted in the affirmative to pass the short-time bill to fund the government. Earlier Saturday, two Republican senators said that Bennet was holding up the Senate vote over the lack of Ukraine funding in the measure.
After voting, Bennet told reporters that "I think it was really, really important for us to send a signal to the world. We're gonna continue to work in a bipartisan way to get Ukraine the funds."
Citing his family's painful history during the Holocaust, he said the issue is personal for him.
"These votes on Ukraine are beyond politics," he said.
The Senate has enough votes to pass this CR
The vote is ongoing, but the Senate has cleared the 60-vote threshold to pass this CR and fund the government for another 45 days.
Senators can always change their votes before it's over, with 74 yeas so far, this will pass.
The Senate is now voting on the House CR
With roughly 3.5 hours to go until the government runs out of funds, the Senate is now voting on the House's short-term funding bill.
Nikki Haley criticizes pulling Ukraine funding
CLIVE, Iowa — During a campaign stop as Congress considered a continuing resolution that did not include funding for Ukraine, presidential candidate Nikki Haley weighed in saying she supported continued support in the war.
"What we have given is 3.5% of our defense budget," she said. "Eleven European countries have given more than us, as they should. That's a small price to pay to prevent war. Don't give up now. ... This is about our security. Don't ever allow America to get into the position that we are so arrogant that we don't think we need friends."
"We always need friends," she continued. "And we always need to have a president that has moral clarity — moral clarity to know the difference between right and wrong. Moral clarity and know the difference between good and evil."
Reps. Boebert and Hunt say removing McCarthy isn't their focus right now
Following today's successful vote in the House to avoid a shutdown, conservatives expressed frustration with the fact that Congress had passed another CR instead of completing all the appropriations bills on time.
But two who voted against the bill — Reps. Lauren Boebert, R-Colo., and Wesley Hunt, R-Texas, — both said they aren't focused on potentially ousting McCarthy from his job right now.
"We are not there right now. We just passed this," Hunt said, telling reporters that forcing a vote to oust McCarthy is a "conversation that I'm not even willing to have right now. We aren't there yet."
Boebert said her focus is getting full-year appropriations bills done to fund the government.
Asked if she'd vote to remove McCarthy as speaker, Boebert responded: "That isn't what we're talking about right now."
Schumer to speak shortly
We are expecting Senate Majority Leader Chuck Schumer, D-N.Y., to speak on the floor soon to deliver an update on the rest of the night.
Sen. Bennet outlined his concerns about Ukraine aid earlier today
In an interview with MSNBC earlier today, Sen. Michael Bennet, D-Colo., addressed his concerns regarding funding for Ukraine. Bennet is currently holding up the House-passed CR because it lacks aid for the country.
"I guess one thing I would worry a lot about is if we come back here in 45 days, and there is no way to get these right-wing, you know, extremists ... to support the continued funding for Ukraine, which is the whole world is watching this," Bennet said.
He continued to say that Vladimir Putin is watching, along with all of the United States' allies in Europe and Asia. He said in their view, it will look like House Republicans "can't even do the basic work of governing."
"Putin wins. Zhi Jing ping wins. Nobody here wins as a result of what they're doing," he added.
GOP Rep.: 'I don't worry about who the speaker is'
Rep. Tim Burchett, R-Tenn., one of the House Republicans who voted against the CR, told NBC News that "everybody's talking about" a motion to vacate, which would force a vote to remove McCarthy as speaker.
"I'd say it'll be filed at some point."
While he's unhappy with the way leadership went about averting this shutdown, Burchett said he has not thought about how he'd vote on ousting McCarthy.
"I worry about our country," he said. "I don't worry about who the speaker is. That's just a blip."
The White House called a lid for the night at 6:44 p.m. ET.
Dem Sen. Michael Bennet is holding up the funding bill, two GOP senators say
Sen. Michael Bennet, D-Colo., is holding up the Senate's vote on the House-passed CR, according to Sen. Chuck Grassley, R-Iowa, and Senate Minority Whip John Thune, R-S.D.
Thune said Bennet is holding up the bill because he's upset about the lack of Ukraine funding. Bennet's office didn't immediately respond to a request for comment.
Under Senate rules, any one senator can object to a time agreement to quickly vote on a bill, which the Senate needs to do in order to pass the House-passed CR before the midnight deadline.
A photo linked to Bowman pulling fire alarm circulates
A screen grab of security footage was distributed to officers so they could locate the person who pulled the fire alarm, per a person familiar with the matter.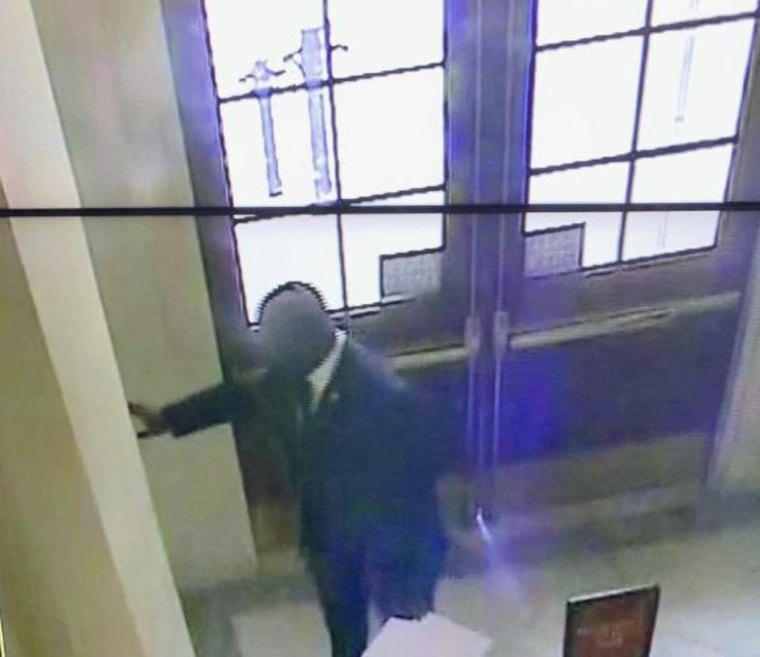 Nearly a third of federal workers are veterans
A government shutdown has a substantial impact on veterans. Veterans make up nearly a third of the federal workforce; their share of the federal workforce is more than five times that of the entire U.S. workforce.
Short-term funding bills like this one are becoming more common
Congress has increasingly relied on continuing resolutions in recent years, and they're growing longer. As partisanship has increased, it's just harder to come to a deal on 12 spending bills in both the House and Senate than it used to be.
These kinds of deadline crises now happen just about every year.
Manchin: Final Senate will vote 'within an hour'
Exiting the ongoing meeting of Senate Democrats, Sen. Joe Manchin, D-W.V., said the final Senate vote on the House-passed CR "should be within an hour."
Obama's Russia ambassador calls CR a 'big gift' to Putin
Former U.S. Ambassador to Russia Michael McFaul tweeted Saturday that the lack of Ukraine funding the House-passed bill is a "big gift" to Russian President Vladimir Putin.
McFaul served under President Barack Obama.
Capitol Police investigating fire alarm incident
U.S. Capitol Police are investigating after Rep. Jamaal Bowman, D-N.Y., pulled a fire alarm during votes earlier, though the agency did not name him in a statement Saturday.
"Today at 12:05 p.m., a fire alarm was activated on the 2nd floor of the Cannon House Office Building," a USCP spokesperson said in a statement. "The building was evacuated while USCP officers checked the building. The building was reopened after it was determined that there was not a threat. An investigation into what happened and why continues."
Senate Democrats are meeting, as they work to lock-in a vote
The Senate is now in recess, while Democrats meet in a room just off the floor. 
The Senate is running a hotline on the House-passed CR, per a Senate aide, which means they're working to lock in a vote on the bill and do it quickly.
White House sees 'big victory,' right not to meet with McCarthy last minute
Overall, the White House feels this outcome is a "big victory" on funding levels and keeping the government open for now, according to a senior administration official.
The White House was also clear that there was no need for a meeting between President Joe Biden and Speaker McCarthy and officials feel that was the right approach as well, White House officials said.
GOP Rep. says she'll try to expel Rep. Bowman from the House for fire alarm incident
Fellow New York Rep. Nicole Malliotakis, a Republican, said on X that she'll introduce a resolution to expel Democratic Rep. Jamaal Bowman from the House for pulling a fire alarm during today's votes.
"This action warrants expulsion & I'm introducing a resolution to do just that," she wrote.
Rep. Jeffries touts CR passage as accomplishing Democratic goals
Democratic Leader Rep. Hakeem Jeffries touted the 45-day stopgap measure as accomplishing what Democrats have been pushing.
"We went from devastating cuts that would have impacted the health, the safety and the economic well-being of the American people, in 24 hours to a spending agreement that meets the needs of the American people across the board, entirely consistent with what Democrats have said from the beginning is the only path forward, a bipartisan spending agreement that keeps government open, avoids a catastrophic government shutdown and meets the needs of the American people in every possible way," the New York Democrat told reporters.
Jeffries won't comment on Bowman fire alarm
Democratic Leader Hakeem Jeffries said he hasn't seen the video of Bowman pulling the fire alarm.
"Until I see the video, I have no further comment," he said.
McCarthy complains Democrats stalled (before bailing him out on CR vote)
Speaker McCarthy spoke at length at his press conference, complaining that Democrats stalled the vote to pass a 45-day stopgap measure and suggesting that they did so because they wanted to shut the government down.
But his griping — and suggesting that it was Democrats who really wanted to shut down that government — seemed to miss the fact that his bill wouldn't have passed with them.
Democrats kept saying they wanted more time to read the bill and know what was in it. Republicans kept saying that meant they opposed the bill.
Ultimately, Democrats delivered big time for the speaker. Of the 335 votes in favor of the measure, 209 were Democrats. Just 126 Republicans joined them, with 90 members of the GOP voting "no."
Senate Dems meeting any minute on path forward
Senate Democrats will meet today at 3:45 p.m. ET, a Senate Democratic aide says.
During that meeting they will discuss the path forward for voting on the House-passed CR, which could happen within the next two hours, Democratic senators leaving the floor said.
McCarthy: Ethics Committee should look into Rep. Bowman pulling fire alarm
McCarthy said the Ethics Committee should look into Rep. Jamaal Bowman, D-N.Y., pulling a fire alarm before the CR vote. "This is serious."
"I'm gonna have a discussion with the Democratic leader about it. But this should not go without punishment. This is an embarrassment," McCarthy said.
McCarthy dismisses concerns that some Republicans opposed stopgap measure
Speaker Kevin McCarthy sought to dismiss that it would be a problem for him within his caucus that he passed a stopgap measure with the overwhelming help of Democrats.
"I tried every possible way listening to every possible person in the caucus," McCarthy said.
He said he would have preferred the earlier version of the short-term spending bill that included funding for the border.
"I want to be part of the conservative group that wants to get things done," he said.
White House puts pressure on McCarthy to pass separate Ukraine bill
The White House reacted to the news of the House passing a clean short-term bill to fund the government by saying that the administration expects McCarthy to pass a separate Ukraine bill shortly.
"We fully expect Speaker McCarthy—who has stated his support for funding to support Ukraine in its fight against Russia's illegal and unjustified war of aggression—will bring a separate bill to the floor shortly," a White House official said in a statement.
What Happens Next in the Senate with the House-passed CR?
Now that the House has passed its 45-day stopgap funding bill and is sending it to the Senate, we expect Senate leadership on both sides of the aisle to ask their members if they would be okay expediting consideration to vote and pass it later Saturday. 
Any agreement to vote in the Senate on Saturday would require the agreement of every senator, but with the overwhelming support for the bill and the deadline approaching, the agreement is expected to come together. 
Stay tuned!
Senate Republicans overruled McConnell on Ukraine aid
Senate Republicans overruled Minority Leader Mitch McConnell on Ukraine aid during two separate closed-door lunch meetings yesterday and today, two sources with direct knowledge of conversations tell NBC News.
On Friday, McConnell successfully argued against Sen. Ron Johnson's clean, two-week CR because it did not include funding for Ukraine. 
But on Saturday, when he tried to make the same argument against proceeding with the House Republicans' clean, 45-day CR for the same reason, McConnell was overruled. 
Moments after the closed-door meeting, McConnell told reporters he instructed his members to vote against the bipartisan CR that included Ukraine aid and instead support the House effort.
This is significant for several reasons — McConnell typically has a firm grip on his conference, and they follow his lead. But this time, he was evidentially overruled. 
Sen. Lindsey Graham, R-S.C., a staunch supporter of more aid to the war-torn country, said Thursday he was not concerned that the exclusion of the aid would send a bad signal to European allies. 
He told me they would, eventually, pass the funding attached to some sort of border security provision.
Rep. Matt Gaetz tried to speak but was stymied by adjournment
Rep. Matt Gaetz, R-Fla., tried to get the attention of Rep. Steve Woman, R-Ark., who was acting as the speaker when the funding measure passed.
Gaetz shouted "Mr. Speaker" in an unsuccessful effort to be recognized and be allowed to speak on the floor.
But Womack recognized another member, who made a motion to adjourn and ended the day's session in the House.
The vote to keep the government open was exactly the kind of vote that Gaetz had warned would result in him trying outside McCarthy as the speaker — a spending bill passed with a majority of Democrats and not all of the Republicans.
House adjourns
After passing a 45-day stopgap measure with overwhelming bipartisan support, the House adjourned until Monday.
The ball is now in the Senate's court.
House passes 45-day measure to keep government open; sends bill to the Senate
In a surprising turn after seeming unable to collect enough support, the House voted 335 to 91 to pass a 45-day stopgap spending measure that would keep the government open beyond midnight.
The legislation passed with bipartisan support, with nearly every Democrat joining most Republicans despite the lack of support for Ukraine, which Democrats had made a priority.
The bill now heads to the Senate.
Democratic Coalition supports 45-day CR, says Ukraine funding still needed
Democratic Coalition Chair Annie Kuster said while her group will support the continuing resolution, aid for Ukraine is still needed.
"Speaker McCarthy and extreme House Republicans have refused to work in good faith with Democrats to fully fund the government, despite our continued calls to find a bipartisan path forward," she said in a statement. "While we support this measure to end this immediate crisis, we continue our calls for additional funding to support Ukraine in their fight for democracy and will work tirelessly to ensure they have the assistance required to win this war."
House has votes needed to pass 45-day spending measure; voting continues
The House vote on the 45-day continuing resolution needs a 2/3rds majority to pass. With 290 votes and counting cast in favor of it, there appears to be the support needed to pass the bill.
Voting continues and any member can change their vote before it concludes.
Jeffries told Democrats to vote for 45-day spending bill
Democratic Leader Hakeem Jeffries told his members to vote in favor of the 45-day continuing resolution put forward by House Republicans.
This means it is likely the 45-day "clean" CR will get a 2/3rds majority and pass the House.
Quiet from the White House...
There has been radio silence so far from the White House on whether President Biden would encourage Democrats to support or oppose a 45-day stopgap funding bill.
Behind-the-scenes, however, senior administration officials are closely monitoring the latest Hill developments and evaluating what's in the short-term CR in real-time, just like many lawmakers are doing.
The risks to the economy of a long-term shutdown
The most immediate impact of a shutdown will be furloughs and paused paychecks for hundreds of thousands of government employees and contractors.
Analysts don't expect to see major ripple effects across the U.S. economy if a shutdown lasts just a few weeks, but the longer the federal government stays closed, the greater the chances of broader fallout.
Here's a look at what to expect:
The House is voting now on a bill to avoid a shutdown for 45 days
The House is voting now on Speaker McCarthy's 45-day stopgap measure to avoid a shutdown.
Rep. Jamal Bowman allegedly pulls fire alarm in House building
Some reports began to emerge on Twitter that Rep. Jamaal Bowman, D-N.Y., was seen on camera pulling a fire alarm in the Cannon House office building earlier today around the time the House was supposed to begin voting on the new CR plan.
The House Administration Committee, which oversees the Capitol Police, posted a statement on X, formerly Twitter, from Chairman Bryan Steil, R-Wis.
"Rep Jamal Bowman pulled a fire alarm in Cannon this morning. An investigation into why it was pulled is underway. — Chairman Bryan Steil"
Neither Bowman nor the Capitol Police immediately returned requests for comment.
Democrats cheering as Jeffries promises news soon
Members have been coming back into the conference meeting and Democratic Leader Hakeem Jeffries, D-N.Y., came back a moment ago, saying he would have some news shortly.
We just heard cheers from the room.
McConnell says he is encouraging GOP to vote no on Senate CR
Senate Minority Leader Mitch McConnell, R-Ky., said he is now encouraging his conference to vote no on the bipartisan Senate CR (which he has very vocally supported until this point), saying it's "not necessarily because they're opposed to the underlying bill — but to see what the House can do on a bipartisan basis, and then bring it over to us."
"It looks like there may be a bipartisan agreement coming from the House," he said. So, I'm fairly confident that most of my members, our members, are going to vote against cloture — not necessarily because they're opposed to the underlying bill — but to see what the House can do on a bipartisan basis, and then bring it over to us. So, under these circumstances, I'm recommending a no vote even though I very much want to avoid a government shutdown."
The move likely means that the procedural vote the Senate was about to hold, which would be at a 60-vote threshold, would fail, blocking consideration of the bipartisan CR that the Senate has been working on all week. It's not entirely clear if Schumer will continue with the vote, or wait to hold it until the House votes on their new CR.
Jeffries has finished talking, debate continues
Leader Jeffries has stopped talking on the floor after 52 minutes. Debate on the 45-day CR has resumed.
The 'motion to vacate' explained: How the House can oust a speaker 
Rep. Matt Gaetz and other GOP hard-liners have been threatening to bring a motion to vacate, a vote to overthrow McCarthy as speaker.
Here's what you need to know about how a motion to vacate would work and the history of the maneuver:
In his bid to become speaker of the House, McCarthy agreed to a number of concessions to secure the support of Republicans who originally opposed him. One was a rule change to allow just a single member to try to force him from office.
Under the House rules passed in January, only one member of Congress — Democrat or Republican — is needed to bring a "motion to vacate," which forces a vote on removing the speaker. That would need only a simple majority of the House to pass to oust McCarthy.
So in theory, a small group of Republicans who want to force out the speaker could work with Democrats to reach the votes needed to remove the speaker.
McCarthy: 'I tried to pass the most conservative bill I could'
Speaker McCarthy told reporters he's trying to "be the adult in the room."
"I tried to pass the most conservative bill I could, and a few Republicans said no to that," McCarthy said. "So, here we are, hours away. The Senate cannot act in time. Government will shut down. So, I want to be the adult in the room. A clean bill to ... keep government funded, make sure FAA is there and then take care of the disasters that happened over the summer from Florida, Hawaii, California, Vermont."
McCarthy accused Democrats of "trying to stop it from happening."
"They're trying to slow everything down. So we have a government shutdown. I don't understand that," he said.
Jeffries: We're 'expected to simply trust the word' of GOP?
Minority Leader Hakeem Jeffries, D-N.Y.., is still speaking on the floor, criticizing Republicans for moving this 45-day bill so quickly.
"We are on the brink of a government shutdown. And at the 11th hour legislation is dropped on the American people. And we're told that you have 5 or 10 minutes to evaluate legislation that is more than 70 pages long and expected to simply trust the word of our extreme MAGA Republican colleagues."
"We're working through evaluating that legislation."
Meanwhile, the Senate has delayed its vote to discuss what's going on
A 1 p.m. procedural vote in the Senate related to the upper chamber's bipartisan stopgap government funding bill has been delayed and senators have been summoned to the floor to discuss the path forward, a procedure called a "live quorum call."
Senators are walking to the floor now, and Sen. Richard Blumenthal, D-Conn., just said he hopes to learn more about the House's 45-day bill when he speaks to colleagues on the floor.
Sen. Chris Coons, D-Del., just walked onto the floor and called a bill that doesn't include Ukraine funding — like the House bill — "awful, a simply terrible idea."
Hakeem Jeffries is holding the floor, to buy time
The Democratic leader is holding the House floor, as Democrats seek more time to read the 45-day stopgap measure.
"Strap in, because this may take a little while," Leader Hakeem Jeffries, D-N.Y., said.
As leader, Jeffries has "magic minutes," meaning he can speak for as long as he wants. So the CR vote timing is up in the air.
When Kevin McCarthy was House Minority Leader, he spoke for more than 8 hours to delay the Democrats from moving forward on legislation.
McCarthy says his bill 'will only fail if Democrats vote against it'
Asked if his 45-day CR will pass, McCarthy responded: "It will only fail if Democrats vote against it."
"This is an opportunity to make sure our troops get paid while we finish our job. ... So let's keep it open while we finish the work that we have to get done," he said.
McCarthy dismissed Democratic criticism of the rushed process.
"How is it rushed if it's just a basic CR? ... This only goes 45 days. This has nothing to do with anything else. The only thing that's added into it, it helps the FAA," he said.
Democrats are passing around a flyer highlighting issues with McCarthy's bill
House Democrats are passing around this one-pager criticizing Speaker McCarthy's stopgap bill, according to a Democratic aide who shared the document with NBC News:
House will not adjourn; their 45-day funding bill should be up soon
The House will stay in session after voting against a Democratic motion to adjourn. House Democrats had wanted to buy more time to read the new Republican CR — and they did so during the vote by writing their votes down by hand and submitting them individually.
Both parties ended up voting against adjourning.
The vote was 427-0.
Democrats say it's hypocritical for GOP to drop a bill and expect a vote this fast
Rep. Ted Lieu, D-Calif., called it "absurd" for Republicans to expect Democrats to vote on a CR this quickly, noting that the GOP has established a 72-hour rule that is supposed to give members 3 days to read new legislation.
"We asked for 90 minutes to simply read the bill. Think how absurd it is that the Republicans made a big deal of a 72-hour rule before you vote on bills. ... They literally dropped this bill, with maybe a few minutes to read it," Lieu said. "Completely hypocritical."
Rep. Jan Schakowsky, D-Ill. added: "I don't see any possibility of voting for something without — and that's pretty much the consensus of the Democrats — until we know what's in there."
Senate Republicans appear to support the House's 45-day bill
Senate Republicans are currently meeting in the Capitol to discuss the path forward, and the consensus appears to be that if the House were able to send its new 45-day stopgap CR that does not include Ukraine or border security money they would support it in the Senate.
"I mean, I think it could" pass, Senate Minority Whip John Thune, R-S.D. told reporters. "But I don't know if they can get it out. I think right now we're kind of waiting to see what they do."
"I think that would pass in the in the Senate," Sen Thom Tillis, R-N.C., said.
Sen Lindsey Graham, R-S.C., who has been an outspoken supporter of Ukraine funding, also expressed support for the new House bill, saying they would negotiate a supplemental package later that included Ukraine and border funding.
"You've got to put together a border/Ukraine package," Graham said. "That maximizes Republican votes, and we need a lot of money for Ukraine."
But for any new bill to make it to the Senate floor for a vote today it would require a time agreement amongst all 100 senators, so any one senator (on either side of the aisle) could delay consideration of the bill past the midnight deadline. 
Sens. Marco Rubio, R-Fla., and Ron Johnson, R-Wis., said they wouldn't object to bringing the bill directly to the floor for a vote.
Senate Republicans waiting on House action
Thune on if he thinks the 45 day CR without Ukraine funding could pass in the Senate:
Sen. John Thune, R-S.C., said he thought a 45-day continuing resolution "could" pass in the Senate but doesn't know if the House "can get it out.
"I think right now we're kind of waiting to see what they do," he said.
Senate Republicans will meet over lunch to discuss the path forward. Mexican food is on the menu.
Motion to adjourn
House Minority Whip Katherine Clark, D-Mass., said that since the Democrats' request to have 90 more minutes to read the GOP continuing resolution was denied, she made a motion to adjourn. It failed in a voice vote, so Clark asked for a roll call.
Democrats are conflicted
House Democrats have tried to find out whether it's a clean continuing resolution to fund the government or if it calls for some reductions.
Rep. Juan Vargas, D-Calif., said he would vote yes "if it's a clean CR" but needs to check in with leadership first.
Rep. Jared Moskowitz, D-Fla., has also indicated he would vote for it.
Democratic leader bristles at the GOP proposal
House Minority Leader Hakeem Jeffries, D-N.Y., said his members were not necessarily going to back the GOP continuing resolution. He said it was "just dropped upon us at the 11th hour," and that his caucus's view was that "nothing the Republicans have said this year is trustworthy.
"And we're expected as elected representatives just to blindly vote on it like sheep, with that record of having your credibility undermined over and over and over again? At minimum, we need time on behalf of the American people that we represent to evaluate the continuing resolution that will be before the House of Representatives," he said.
House Democrats hold emergency meeting
House Democrats head to an emergency caucus meeting to discuss a GOP continuing resolution, according to Rep. Joe Neguse of Colorado.
Two-thirds approval needed to pass the bill
The 11:45 a.m. vote will be "under suspension," meaning the House does not need to pass a procedural rule before voting on the bill. It will require two-thirds support in the House to pass. In other words, Republicans will need Democrats to support it for it to pass.
House to vote on 45-day CR at about 11:45 a.m.
The House is expected to vote on a 45-day continuing resolution at about 11:45 a.m. today.
McCarthy's defiant tone doesn't mean a bipartisan deal is happening
House Speaker Kevin McCarthy struck a defiant tone as he exited the morning meeting — an indication of how contentious this has become among House Republicans. McCarthy dared someone to remove him for "being the adult in the room."
But it's not clear the bill he's putting to a vote has enough bipartisan support to become law, particularly without Ukraine funding. A stopgap bill with disaster aid and Ukraine money would likely pick up significant Democratic support and pass the Senate.
McCarthy dares critics to remove him from speaker seat
Speaker Kevin McCarthy, leaving a morning meeting with House Republicans, dared his critics to remove him for trying to keep the government open.
"If somebody wants to remove [me], because I want to be the adult in the room, go ahead and try," he said. "But I think this country's too important."
He added: "If I have to risk my job for standing up for the American public, I will do that."
House to vote on 45-day continuing resolution today
House Majority Leader Steve Scalise said the chamber would vote today on a 45-day continuing resolution that would keep the government open until mid-November.
The bill won't contain funding for the war in Ukraine, Scalise said.
Without the Ukraine funding and with hardliner Republicans still opposing a temporary spending bill, its unlikely the measure will pass.
McCarthy-ally MTG says she will continue to oppose CR
Rep. Marjorie Taylor Greene, R-Ga., left the morning meeting and insisted that she will still continue to oppose a continuing resolution that would keep the government open.
Greene, who had appeared to ditch her rebel-caucus credentials when she helped Speaker McCarthy win a protracted battle to lead the chamber, said that doesn't matter this time.
"I fought for the speaker. I fought for the gavel. ... I also voted for the debt ceiling and I got attacked over it," she told reporters. "But I told my constituents and I told the country when it comes to appropriations, you better bet I'm going to use my voting card to make sure this place does its job."
Republicans say they lack the votes for a continuing resolution
Republican Whip Tom Emmer, R-Minn., told lawmakers this morning there are not enough GOP votes to pass any Republican-drafted CR, or continuing resolution, to temporarily fund the government, according to a source in the private meeting.
Majority Leader Steve Scalise, R-La., announced the House would vote on three bills: one to pay troops during a shutdown, another to reauthorize the Federal Aviation Administration and a third to reauthorize the nation's flood insurance program, the source said.
Rep. Molinaro: 'Take the next best option'
Republicans have begun to leave their morning meeting and talk to the press about what was said behind closed doors.
"We presented the most conservative short-term funding option with border security available," Rep. Marcus Molinaro, R-N.Y., said, referring to the bill that was blocked on Friday. "It is necessary for us to take the next best option, which is not to abandon the people who expect services from us."
Rep. Tim Burchett says House should have started earlier this morning
Rep. Tim Burchett, R-Tenn., said the House is wasting time not trying to figure out a spending deal sooner.
"Here we are," he told reporters in the Capitol this morning after 10 a.m. "We should have been at this seven o'clock in the morning talking about it."
National parks would close if government shuts down, official says
The National Park Service plans to close its parks and furlough park rangers if the government shuts down as expected Sunday, a move that would spoil vacation plans for tens of thousands of people and put some gateway towns in an economic chokehold as long as the impasse in Congress lasts. 
The park service plans to restrict access to parks as much as possible, shuttering visitor centers, locking gates and bolting bathrooms, a senior Interior Department official said.
Areas where restrictions are difficult, such as the National Mall or some trailheads, would remain open to the public, but trash collection, emergency response and other services wouldn't be guaranteed.
Today's Senate schedule, so far
The Senate will come back into session at noon, and the next procedural vote related to the bipartisan Senate stopgap continuing resolution will happen at about 1 p.m. (unless something changes between now and then). 
If the procedural vote passes it starts up-to-30 hours of debate, which would push us past the midnight deadline barring a time agreement.
Today's house schedule, so far
House Republicans will gather in person for a conference meeting in the Capitol at 9:30 this morning, according to two sources with direct knowledge.
This comes after the House failed to pass a GOP stop-gap measure with border security provisions attached yesterday, with 21 hardline conservatives issuing a political blow to Speaker McCarthy and making the prospects of a government shutdown tonight all but certain.
At 10:00 a.m., the House officially comes into session and the floor opens. There is no vote currently planned in the House.
U.S. barrels toward shutdown as House Republicans remain stuck
With a deadline hours away, congressional leaders on Saturday have been scrambling to secure a last-minute funding deal to prevent a government shutdown that would inflict economic pain on millions of American families.
Unless Congress acts, the government will close at 12:01 a.m. Sunday — halting paychecks for the nation's 4 million service members and other federal workers, shuttering federal parks and monuments and disrupting food and education programs for low-income children.
Many dejected lawmakers said a shutdown is all but inevitable at this point after conservative hard-liners in the House on Friday tanked a 30-day stopgap measure, known as a continuing resolution or CR.
Who on Capitol Hill gets paid during a shutdown, and who doesn't
Members of Congress are required by law to continue receiving their paychecks during a government shutdown, even as their staff and millions of federal employees would go without pay if the funding deadline lapses.
Since that can have political implications, some House lawmakers have submitted letters to the chamber's chief administrative officer to request that their pay be withheld if the shutdown takes place as expected. Even if their pay is withheld, lawmakers would still get paid once the government reopens.
At least a handful of lawmakers, including GOP Reps. Mike Lawler of New York and Zach Nunn of Iowa, have requested a pause in their paychecks if there's a shutdown, but it's not clear exactly how many have taken that step.
When asked how many letters have been received, a spokesperson for the chief administrative officer declined to comment.
Capitol Hill staffers, on the other hand, will not get paid during a shutdown.
House staff are normally paid on the last day of each month, meaning they would be receiving their last paychecks ahead of a shutdown today.
Senate staff members are paid twice a month, on the 5th and 20th. If the government shuts down, they will go without pay until the government reopens.