WASHINGTON — Congress entered 2018 with ambitious tasks on its plate: an overhaul of the nation's immigration system. Tax cuts. A sweeping infrastructure package. Maybe even entitlement reform.
As lawmakers return to Washington this week after a two-week break, all of those issues but tax reform are still sitting on the to-do list, along with others. And, for a number of reasons, that's where they're likely to stay.
The congressional clock is ticking. Technically, there may be roughly nine months of the session left, but the House is scheduled to be active for fewer than three months and likely to spend only a few weeks of that time actually working on legislation.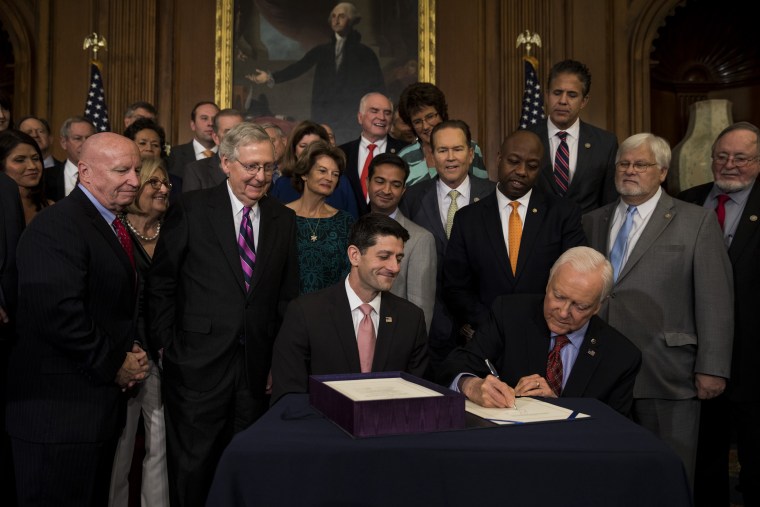 All those leftover big-ticket items will have to compete for attention with a host of overdue housekeeping tasks; some time-consuming Senate additions, thanks to President Donald Trump's Cabinet overhaul; and a swarm of mostly symbolic votes designed to give incumbents a potential campaign boost.
As Congress returns, here are some of the outstanding items on the agenda, and the odds they'll get crossed off the list before Election Day:
1. Immigration
The White House and congressional Democrats each have a pressing immigration priority right now. For Democrats, it's the continuing legal limbo of those affected by Trump's decision last year to end the Deferred Action of Childhood Arrivals (DACA) program. For Trump, it's funding for construction of his border wall. And for a while, it looked like the two sides might be able to make a deal.
But over the past few months, Trump has shifted from deal-making to finger-pointing mode, blaming Democrats who didn't sign off on massive funding for the wall for lack of progress on DACA, and vowing in a series of Easter weekend tweets that there would not be a deal to revive the program.
Trump's announcement last week that he's dispatching National Guard troops to the U.S.-Mexico border to deal with illegal immigration sounds like a spur to congressional action. But despite some early efforts, a bipartisan immigration compromise now appears unlikely.
2. Confirming Trump nominees
The Senate has three new Trump administration nominees to consider (and that list could grow). And the nominees — Mike Pompeo for secretary of state, Gina Haspel for CIA director and Ronny Jackson for veterans affairs secretary — are expected to face tough questions over their records, leadership and policy positions in confirmation hearings this spring. The GOP's razor-thin Senate majority — currently 51-49 — stands to make for a particularly high-stakes process.
3. Racking up some election-year symbolism
The only things as certain as death and taxes are election-year show votes on Capitol Hill. Lawmakers may know they can't get a thing done — but doesn't mean they won't try to score some goodwill points, and electoral support, for effort. And so the congressional calendar is likely to be studded with bills that no one, from Hill leaders to sponsors to the rank-and-file, expects to become reality anytime soon.
Take one hardy perennial, likely to make another appearance this year. After spending most of this congressional session signing off on on budget-busting legislation like last year's tax overhaul and the latest $1.3 trillion government spending bill, Republicans looking for a way to display deficit-conscious bona fides are pulling out a golden oldie: Another vote on a balanced budget amendment to the Constitution. From the outset, it's clear the measure stands little chance of making it off the floor — constitutional amendments require approval by two-thirds of each chamber as well as ratification by 38 states. But for this measure, and others like it, that fact is generally beside the point.
4. Tackling tax cuts, "Phase 2"
The House Ways and Means Committee is exploring a "phase 2" to the Republican tax bill that would turn make permanent individual tax cuts set to expire in a few years. The chairman of the conservative Freedom Caucus, Rep. Mark Meadows, R-N.C., recently said that a measure to do just that could be released by mid-April.
In an interview with Bloomberg TV last week, the Ways and Means chairman, Rep. Kevin Brady, R-Texas, said the move was "about changing (the) culture" on Capitol Hill that slow-rolls massive changes to the tax code.
While a plan to make these tax cuts permanent could pass the House, the slim GOP majority in the Senate would make its path there far more uncertain.
5. Weighing an infrastructure plan
Trump finally pitched his long-promised infrastructure plan to Congress in February, asking lawmakers to approve $200 billion over a decade to help subsidize $1.5 trillion in building projects.
But the news last week that the White House's top infrastructure aide was heading for the exit is a pretty good indicator of the proposal's current odds of success: Congress has given no sign that it plans to take up the president's pricey campaign promise.
6. Fighting the opioid epidemic
The House Energy and Commerce Committee is planning to send a comprehensive package of bills to the floor within the next two months that would address the opioid epidemic. A GOP aide said last week that some of the proposals will detail how the $3.3 billion in opioid funding in the latest government spending should be spent.
So far, signs are good that lawmakers are likely to take action: The national concern over the drug crisis gives the effort momentum, and the panel generating the proposals has been tackling the task in a bipartisan way.
7. Keeping the lights on
Congress just passed a $1.3 trillion spending package that funds the government for six months — running out just weeks before Election Day.
Lawmakers have until Sept. 30 to approve another bill and Congress is expected to do what it normally does that time of year: Punt. A senior GOP aide anticipates that after the August recess, lawmakers will vote in September on a short-term spending bill that would likely extend funding through the midterm elections, into the lame-duck session.
But that isn't the only spending drama facing lawmakers: The White House and GOP leaders are now exploring a rarely used maneuver that seeks to cancel some of the funding in the budget bill the president just signed into law. Injecting that fight into the legislative calendar could delay work on appropriations bills for the next fiscal year.
8. Staying in power (or seizing it) come November
The fact that GOP control of both houses could be in play in the midterms this year makes the odds of bipartisan breakthroughs or speedy action on any even mildly contentious issues unlikely. The biggest item on the election-year congressional agenda, as always, is winning at the ballot box.
That doesn't mean that Congress can't act. It does mean that if the past is any guide, it probably won't. And soon, the focus for many members will shift from passing legislation to making sure they stay in office long enough to come back and take up the same issues next year.