Sen. John McCain, R-Ariz., made a triumphant return to Washington Tuesday, nearly a week after being diagnosed with an aggressive brain tumor, to cast a crucial vote on the GOP health care bill.
McCain walked into the Senate chamber to a boisterous round of applause and a standing ovation, then shook hands with his several of his colleagues before voting yes on a motion to proceed to debate on health care legislation aimed at repealing the Affordable Care Act.
The grizzled war vet traveled to D.C. with his wife, Cindy, from their Arizona home, where he was recovering from surgery after doctors removed a blood clot near his brain and he was diagnosed with an aggressive brain cancer.
McCain cast a decisive vote to make the tally 50-50; Vice President Mike Pence then stepped in to break the tie.
President Donald Trump thanked McCain in a tweet Tuesday afternoon.
McCain noted in his speech on the Senate floor that "we are not the president's subordinates, we are his equals" and also criticized his Senate colleagues for not working together on legislation, particularly the health care bill.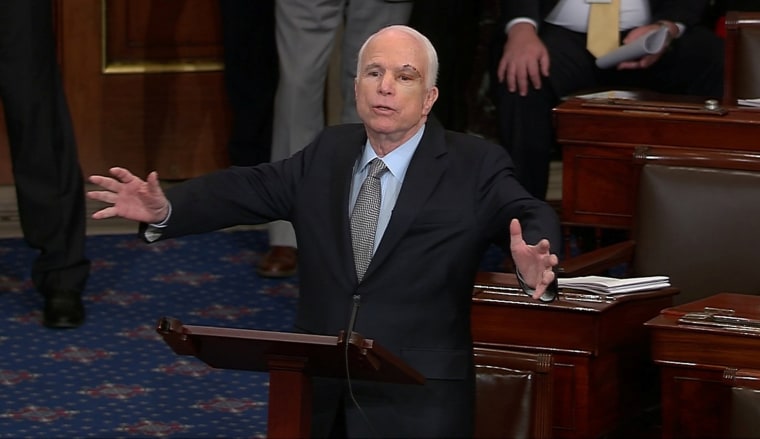 "Why don't we try the old way of legislating in the Senate, the way our rules and customs encourage us to act?" McCain asked. "Merely preventing your political opponents from doing what they want isn't the most inspiring work."
McCain also made lighthearted remarks as he thanked his colleagues from both sides of the political aisle for their thoughts and prayers.
"I've had so many people say such nice things about me recently that I think some of you must have me confused with someone else," he said. "I appreciate it though, every word, even if much of it isn't deserved."
The Arizona Republican said he intends to remain in Washington for a few days and then return home for "a while" to focus on his health, but vowed to return to the Senate.
"I have every intention of returning here and giving many of you cause to regret all the nice things you said about me," he said to another standing ovation.
WATCH: See McCain's full speech here: