WASHINGTON — For a third consecutive day, a bloc of ultraconservative bomb throwers denied GOP leader Kevin McCarthy the speaker's gavel Thursday, even after he caved on a set of concessions the right-wing Republicans were demanding.
It marked the 11th straight defeat for McCarthy, R-Calif., who has vowed to fight on. While he still maintained support from roughly 90% of his GOP colleagues, the conservative rebels banded together Thursday and were able to block him from securing the simple majority of the House needed to be elected speaker (a number that can shift).
The House adjourned Thursday evening without a speaker and will return at noon Friday.
"We're working through it; we're making progress," McCarthy told reporters as he left the chamber.
Asked whether concessions and multiple failed votes would undercut his power if he wins the speakership, McCarthy said he didn't believe they would. "It's not how you start. It's how you finish. And if we finish well, we'll be very successful," he said.
Thursday was a repeat of the previous two days, when the small group of rebels rejected McCarthy in six consecutive floor votes — all of them televised. Because Republicans won a paper-thin majority in November, it will take nearly all of their 222 members to agree on a pick for speaker before any other House business can move forward.
While all 20 conservatives stuck together in opposition to McCarthy during Thursday's votes, they backed different candidates. The majority continued their support for Rep. Byron Donalds of Florida for speaker, while other McCarthy opponents voted for Rep. Kevin Hern of Oklahoma, the incoming chairman of the conservative Republican Study Committee.
Rep. Matt Gaetz, R-Fla., a leader of the so-called Never Kevins who have vowed never to support McCarthy, nominated and voted for former President Donald Trump several times Thursday. (The speaker of the House does not need to be a member of Congress.)
Asked what the end game was, Gaetz replied: "The defeat of Kevin McCarthy. ... As long as it takes."
Fierce GOP infighting over who should be the next speaker has paralyzed the House, preventing lawmakers from being sworn in, delaying staff hiring and stalling the GOP's legislative agenda and committee investigations.
"I think it's bad — bad for the GOP brand," said moderate swing-district Rep. Don Bacon, R-Neb., a McCarthy loyalist. "Folks out all over America aren't going to say, 'It's that 20.' They're going to group us together."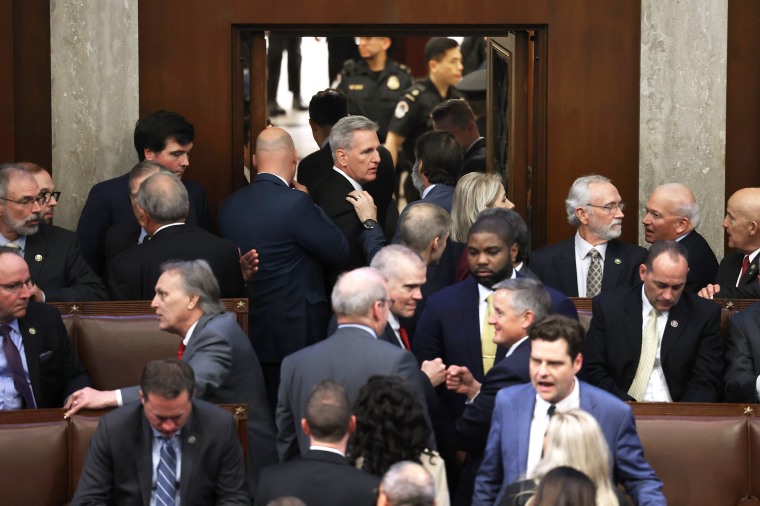 While McCarthy allies and foes remained deadlocked, there had been some real signs of progress heading into Thursday.
After the sixth failed vote Wednesday night, McCarthy and his most trusted allies huddled with his most fervent opponents for more than two hours in the first-floor Capitol office of Majority Whip Tom Emmer, R-Minn. Most emerged from the meeting saying there was incremental progress, and talks between the opposing factions continued throughout Thursday in the same office.
"I crawl before I walk. I walk before I run," a still-optimistic McCarthy told reporters after the meeting. "And I felt as though we had a very good discussion."
During the course of the private gathering, one of the conservatives' demands was met. The Congressional Leadership Fund, the McCarthy-aligned super PAC, and the conservative Club for Growth, which has opposed his bid for speaker, announced a détente: The Congressional Leadership Fund would not spend money backing candidates in open-seat GOP primaries in safe Republican districts; in return, Club for Growth backed McCarthy for speaker.
McCarthy also offered a package of key concessions to his right-wing detractors, including reinstating a rule that a single House member could force a vote to oust the speaker in the middle of the Congress, Gaetz said. Earlier, McCarthy had agreed that a "motion to vacate" could be made only with support from at least five members.
"Anyone, anywhere, any time," Gaetz said about the power members would have to call for a vote of confidence in their speaker. 
Gaetz said McCarthy has also agreed to place members of the far-right Freedom Caucus on key committees, like the influential Rules Committee, which determines how bills come to the floor.
Norman said as he left the negotiations Wednesday: "We just talked. I'm not sure any needle's been moved."
On Thursday, one of McCarthy's opponents accused the other side of leaking information from the talks.
"A deal is NOT done," Rep. Scott Perry, R-Pa., who again voted against McCarthy Thursday, tweeted. "When confidences are betrayed and leaks are directed, it's even more difficult to trust."
Rep. Patrick McHenry, R-N.C., a McCarthy ally and former chief deputy whip who attended the talks Wednesday and Thursday, struck an optimistic tone, saying the two sides are working on getting "assurances" about both rules and policy matters.
"Today, we're making the right progress for this to come together and Leader McCarthy become Speaker McCarthy," McHenry told reporters Thursday. "I think we have the right contours that enable us to get to Kevin McCarthy to have a majority vote."
If he gives too much to the Freedom Caucus, McCarthy could alienate moderate allies whose support he needs to hold the fragile GOP coalition together. Some centrists scoffed at a conservative demand for subcommittee gavels for McCarthy holdouts.
"It's a nonstarter," said Bacon, the outgoing head of the business-friendly Main Street Caucus. "For most of us, we work hard to get promoted in these positions by being a team player.
"To say, 'I'm going to vote for you if you give me a subcommittee chair'? We do not like that quid pro quo."