WASHINGTON — Senate Republicans don't yet have the votes to confirm Supreme Court nominee Brett Kavanaugh, even as Majority Leader Mitch McConnell is projecting a public face of certainty.
"We're going to be moving forward. I'm confident we're going to win. I'm confident he will be confirmed in the very near future," McConnell told reporters Tuesday afternoon.
But while vote-counters are closely watching a few GOP senators considered to be the most threatening to the confirmation, several more Republicans are monitoring events as they unfold and want to see how the hearing with Kavanaugh and Christine Blasey Ford, who has accused him of sexual assault in high school, will play out on Thursday.
"I know the media keeps characterizing three or four people, but I feel like it's a large number of them that want to see firsthand the accusation and the rebuttal, and again, will be looking at it in a very sober way," Sen. Bob Corker, R-Tenn., said. "So I think it's much larger than you think."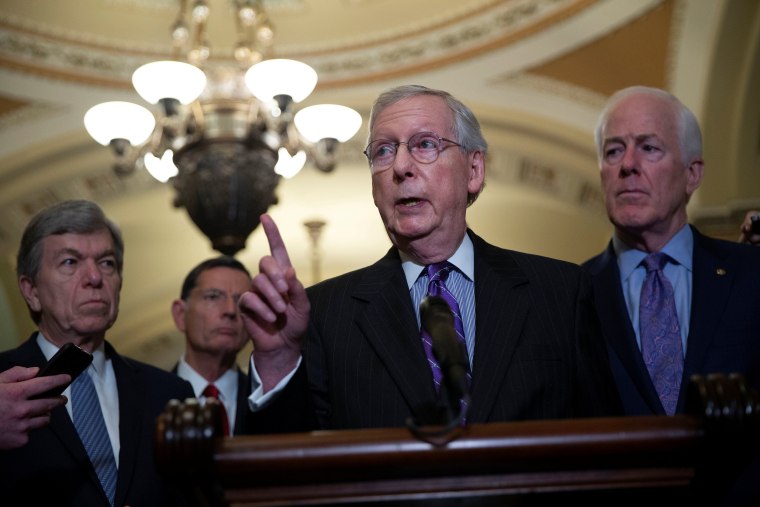 McConnell has launched an aggressive public pressure campaign, supporting Kavanaugh at nearly every turn, declaring a "smear campaign" against him and saying the Senate will "plow right through" the confirmation process.
And for a leader who avoids forcing his members to take politically difficult votes, McConnell has publicly issued a dare to his GOP colleagues by announcing plans for the full Senate to move forward with a vote on the confirmation. He told them privately that the Senate might stay in this weekend to do so, senators said leaving a conference lunch.
But for all the confidence McConnell is showing in public, Kavanaugh's confirmation isn't locked down yet. McConnell can't afford to lose more than one GOP vote and still be assured of getting the nomination confirmed. Sens. Susan Collins of Maine, Lisa Murkowski of Alaska and Jeff Flake of Arizona have been the most public Republicans signaling indecision. And GOP leaders are trying to keep them in the fold.
Sen. Jon Kyl, R-Ariz., who was appointed this month to replace the late Sen. John McCain, was Kavanaugh's guide through the confirmation process. While he still supports him, he acknowledges that some senators are wrestling with it.
"I don't doubt this accusation complicates the equation for folks considering his nomination," Kyl said.
Thursday's hearing is considered extremely important for those senators. Corker, Murkowski and Collins — none of whom are on the Judiciary Committee — have all said they've cleared their calendars to watch it.
Those wavering Republicans have helped to shape how the party has moved to address Ford's allegation.
Collins called Sen. Lindsey Graham, R-S.C., who sits on the Judiciary Committee, last week to tell him she wanted Ford to testify before the committee at a moment when that was uncertain.
And in conversations with McConnell, Collins strongly made the case that any hearing would have to be open to the public and under oath. She said she wouldn't be able to address the credibility of Ford and Kavanaugh without seeing them testify, a source close to Collins told NBC News.
Flake and Murkowski also registered complaints with their colleagues, insisting that Ford must be heard.
As the hearing approaches and as McConnell's public defense of Kavanaugh becomes more pointed, the trio of Murkowski, Collins and Flake are on the receiving end of the most attention — and under the most pressure from the internal Republican campaign to keep them on board.
Murkowski has said little over the last several days about Kavanaugh, especially as a second accuser, Deborah Ramirez, came forward. After she showed signs of discontent on Tuesday morning by telling reporters an FBI investigation into Kavanaugh would "sure clear up all the questions," Murkowski had a 30-minute meeting in McConnell's office.
Flake is perhaps the most worrisome for Republican leadership. He is not running for re-election and has no qualms about standing up to President Donald Trump, whom he opposes on style and substance.
The White House and Senate Republicans are relying on Kyl to check in on Flake, his fellow Arizona senator, according to two sources close to the nomination process.
Kyl, however, downplayed his role. "We've talked as colleagues and friends and we've shared ideas about it. Nothing more than that," Kyl said.
But the GOP leadership's public pressure effort could backfire. With McConnell promising a vote in coming days and the committee scheduling its vote on Kavanaugh for Friday morning, Collins said that it's too early to lay out a timetable.
"I think it's difficult to say what the schedule should be until the hearing's concluded because you don't know what else may come out at the hearing," Collins told reporters. "I truly don't know what's going to happen at the hearing."
Still, how the process plays out and who takes the blame among Republicans if Kavanaugh is not confirmed could have a significant impact on the main players' political futures.
McConnell has prioritized getting conservative judges onto the federal bench and failing to confirm Kavanaugh could damage his legacy, enrage the right and make his own re-election in 2020 more difficult.
Murkowski is less dependent on party demands, but the independent vote and the native population is influential in Alaska.
And for Collins, she's likely to be attacked from both sides and would probably face a primary challenger and a tough general election competitor in 2020.
Amid all the division over Kavanaugh, there is a consensus on one point: Their choices will make history.