WASHINGTON — Senate Minority Leader Mitch McConnell on Wednesday blasted the military spending levels established in the new debt limit law, escalating an emerging standoff between Senate Republicans and House Speaker Kevin McCarthy ahead of the appropriations debate.
"All I can tell you at this particular point is defense is radically underfunded related to the Chinese threat. And Ukraine probably will need additional assistance," McConnell told reporters. "So figuring out how to do this is going to be a challenge."
McConnell, R-Ky., was responding to a question about McCarthy, R-Calif., rejecting the possibility of a supplemental aid package for Ukraine. The speaker flatly said "no" to the idea when asked about it on Monday.
"We just did our whole bill when it comes to the debt. If your first process is 'I need a supplemental,' you're not paying attention," McCarthy said. "The senators are not paying attention to how the system works. We will go through the appropriation process, and we will do the numbers that we just agreed to. And the idea that they think they're going to go around it is not going to work."
The division points to a larger intra-party clash over America's role in the world — traditional security hawks who favor larger military spending and aid to allies up against a hard-right wing that prioritizes cuts to government spending and has soured on the U.S. getting involved in foreign affairs, like Russia's war in Ukraine.
McConnell sits firmly in the former camp, which reflects how most Senate Republicans feel, while McCarthy is representing the wishes of ultraconservatives in the latter camp who punch above their weight inside the House GOP conference.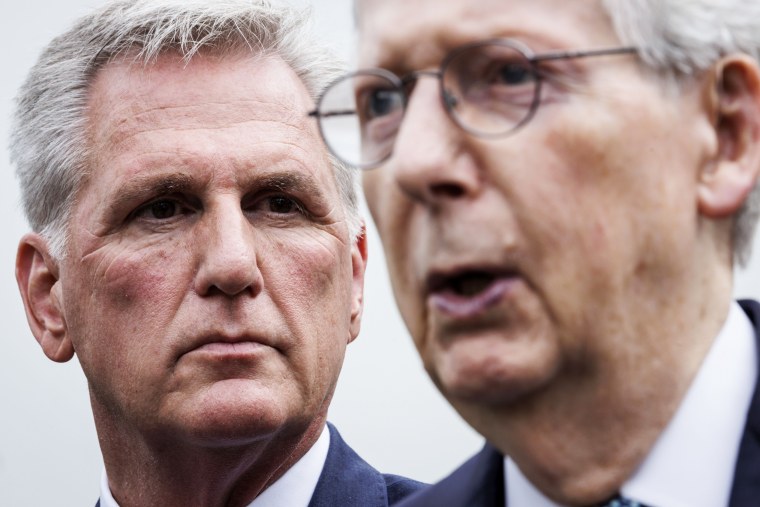 The new law negotiated by McCarthy and President Joe Biden establishes a defense spending level of $886 billion in fiscal year 2024, about 3% higher than current levels. McConnell and other Senate Republicans have objected to that level as too low, although the Senate minority leader still voted for the bill to avert a debt default.
McCarthy's objection to a supplemental has dismayed some.
"I disagree with his conclusion," said Sen. Roger Wicker of Mississippi, the top Republican on the Armed Services Committee. "But it's no surprise, having just sold the agreement, that he would want to stick by it. At least initially."
Ahead of the appropriations process, which faces a Sept. 30 deadline to fund the government, many Senate Republicans want to spend more than allotted on the military in the debt ceiling law, pushing for a supplemental package that isn't subject to the "caps."
Asked if Ukraine aid can come out of the $886 billion in defense spending to hew to McCarthy's red line, Wicker responded: "Let me decline to negotiate about it publicly."
Sen. Susan Collins of Maine, the top Republican on the Appropriations Committee, championed the need for a separate spending package "not just for Ukraine, but also because fuel costs have been grossly underestimated in the administration's budget and because of the threat from China."
"There are many reasons that we're going to need a supplemental. Exactly when and how, I don't know," Collins said.
Rep. Tony Gonzales, R-Texas, a Navy veteran who supports Ukraine, said the status of the war at the time of appropriations will matter, and could potentially soften the red lines of those who oppose aid — whether it's through a supplemental or higher military spending.
"A lot of people say a lot of things. It'll be interesting to see how the Ukrainian counteroffensive goes. And I think that when that's happening, it'll be very difficult for folks to vote against helping people try to become free," Gonzalez said. "It's fundamental to the American spirit to help those that are trying to fight against tyranny and those who have invaded their country."
Democratic leaders who control the Senate have also favored broad Ukraine aid, giving the GOP hawks more leverage on the question.
Sen. Brian Schatz, D-Hawaii, said Congress could pair Ukraine aid in a larger supplemental that includes disaster relief.
"I think there's no doubt we're going to have to do a disaster supplemental, unless this is the one year with no natural disasters. And I don't think there's much doubt we're going to do a Ukraine supplemental as well."
But that could come at a price for Republicans, as Democrats want "parity" in the form of boosting nondefense domestic funding in the appropriations bill if military-related spending goes up.
"Parity is the name of the game," Schatz said. "And that's how we're going to get to everybody hating this bill a little and passing it."