WASHINGTON — Dr. Brian Monahan, the Capitol attending physician, confirmed in a new letter that he examined Senate Minority Leader Mitch McConnell after his freeze-up last week and said "there is no evidence" McConnell has a seizure disorder or "experienced a stroke, TIA or movement disorder such as Parkinson's disease."
"My examination of you following your August 30, 2023 brief episode included several medical evaluations: brain MRI imaging, EEG study and consultations with several neurologists for a comprehensive neurology assessment," Monahan wrote to McConnell, R-Ky., 81, whose office released the letter Tuesday.
"There is no evidence that you have a seizure disorder or that you experienced a stroke, TIA or movement disorder such as Parkinson's disease," he continued, referring to a transient ischemic attack.
Monahan added that he recommended no changes to McConnell's treatment protocols as he continues to recover from a fall in March that caused a concussion and sidelined him for several weeks.
Questions about McConnell's health and his ability to lead the Senate GOP conference arose after he froze for more than 30 seconds last week at an event in Kentucky. McConnell was unable to answer questions from reporters for the second time in two months.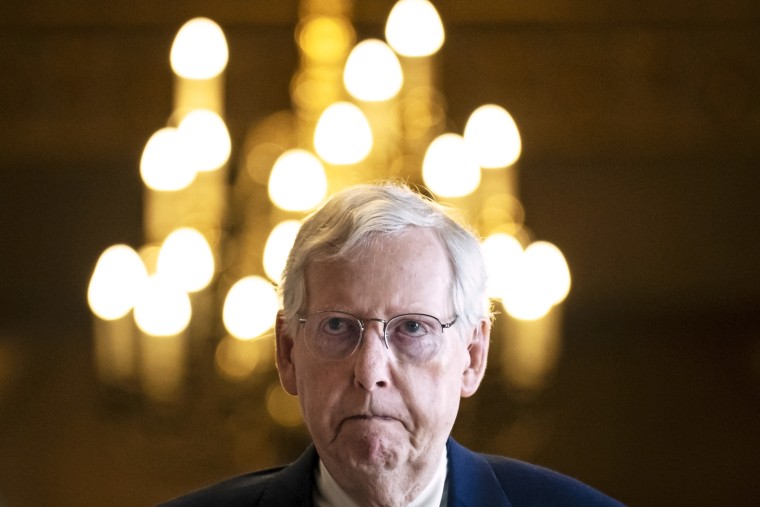 After McConnell's second freeze, some Republicans raised concerns about his and his team's lack of transparency about a potential health diagnosis.
Tuesday's letter does not offer a conclusion about what caused the freezes.
Aides had said McConnell felt "momentarily lightheaded" during Wednesday's episode, and Monahan wrote in a separate letter last week that that sensation "is not uncommon in concussion recovery and can also be expected as a result of dehydration."
McConnell returned to the Capitol on Tuesday for the first time since senators left Washington for their annual summer recess on July 27. He made the short walk from his office to the Senate floor, where he opened his speech by cracking a joke about last week's health scare.
"Now, one particular moment of my time back home has received its fair share of attention in the press over the past week," McConnell said, "but I assure you August was a busy and productive month for me and my staff back in the commonwealth."
After his speech, Senate Majority Whip Dick Durbin, D-Ill., approached McConnell, and the two shook hands and spoke for about a minute, then exchanged smiles. Later, Durbin said McConnell indicated to him that the March concussion had something to do with the freezes.
"He said, you know, he's taken every test they've thrown at him. He said a concussion can take its toll," Durbin recounted to reporters. "I told him I was glad to see him back, couldn't wait to disagree with him."
McConnell, the longest-serving Senate leader of either party, will be under enormous scrutiny this week, and his GOP colleagues — who thus far have stood by him — will face questions from the media about his political future.
McConnell has vowed to finish his term as leader through 2024.