WASHINGTON — One month after Robert Gaafar survived the worst mass shooting in recent U.S. history by taking cover behind a vending machine at a Las Vegas concert, things still haven't returned to normal for him.
"The screaming is something I will never forget," he told NBC News this week. "We're 30 days out and it's not even mentioned anymore. It's just crazy."
The October 1 massacre seemed to create an opening for bipartisan congressional action on guns, with lawmakers from both parties calling for a crackdown on bump stocks, the gun modifications the shooter owned that essentially convert semi-automatic rifles into functioning like fully automatic ones.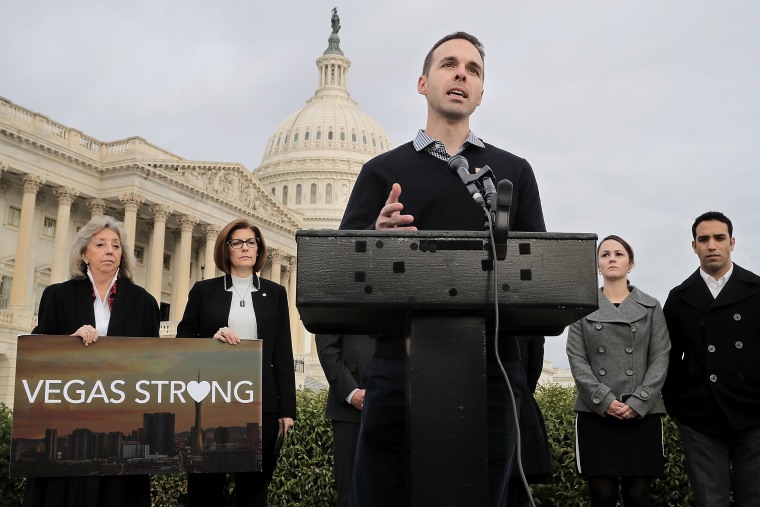 But a month later, there has not been a single hearing, vote or regulatory change in Washington, demonstrating once again the power and inflexibility of the gun lobby. Bump stock bills have failed to gain traction in Congress, while the prospect of a regulatory fix from the Bureau of Alcohol Tobacco and Firearms (ATF) has faded, too.
"It's a joke. It's an absolute joke," said Gaafar between stops on Capitol Hill Wednesday to lobby lawmakers on the issue.
Americans for Responsible Solutions, the gun-safety group founded by former Rep. Gabby Giffords, who was severely injured in a 2011 shooting, announced Wednesday they are essentially giving up on Washington and turning their attention instead to state capitals on bump stocks.
"While Americans should continue to voice frustration that efforts to save lives and make communities safer have stalled at the federal level, they should also call on state legislators to fight for progress," said the group's executive director, Peter Ambler.
Guns have been a third rail in American politics for decades. But the days after the Las Vegas shooting seemed different — especially when the National Rifle Association and top Republican lawmakers spoke out against bump stocks.
In hindsight, the NRA's conciliatory statement effectively derailed legislative action by diverting attention to the ATF, an agency that had already concluded it does not have the authority to regulate bump stocks under current law.
"The day before we put out that statement, there were enough votes in the House of Representatives (for a bump stock bill)," Chris Cox, the NRA's top lobbyist, said in an interview with a pro-gun YouTube channel last week. "The truth is we needed to slow the process down."
John Feinblatt, the president of Everytown for Gun Safety, which is backed by former New York City Mayor Mike Bloomberg, said the NRA statement in support of regulatory action on bump stocks was "just a wink and nod."
The ATF recently briefed staffers from the House and Senate Judiciary Committee on bump stocks, according to spokesperson Amanda Hils, but she would not comment on what the agency told the committees.
Advocates are still holding out hope for a congressional hearing, and a spokesperson for the Senate Judiciary Committee said the panel is preparing for one.
But for Gaafar, the lack of action makes no sense.
"This stuff is just so common sense," he said. "What I heard, the continued rapid fire, nobody should own anything like that."