WASHINGTON — Hundreds of students packed into lawmaker offices and lined the halls of Capitol Hill on Monday to demand action on climate change, leading to the arrest of 138 people, U.S. Capitol Police said.
Earlier in the day, students hailing from middle and high schools across the country had filled the Capitol Hill office of House Speaker-designate Nancy Pelosi, D-Calif. In the hall, hundreds called for the Democratic leader to prioritize climate change in the Democratic majority's agenda next year.
The protesters were also backing Rep.-elect Alexandria Ocasio-Cortez's demand to establish a select committee focused on proposing solutions to combat climate change. The New York Democrat, who joined protesters inside Pelosi's office in late November, dubbed the proposal the "Green New Deal."
"What's your plan?" read signs held up by the students. Others said, "Do your job" and "no more excuses."
Pelosi does not use her office in the Cannon House Office Building, one of the congressional buildings where Monday's demonstrations took place. Her official leadership office is in the main Capitol building, which the protesters can't go near.
Capitol Police said Monday that the individuals were arrested for "unlawfully demonstrating in the Cannon and Longworth House Office Buildings."
Sunrise Movement, the group that organized the protest, said 22 congressional Democrats have already expressed support for the deal.
Organizers said the plan was to take over the offices of House Majority Leader Designate Steny Hoyer, D-Md., and Rep. Jim McGovern, D-Mass., who is expected to serve as the next chairman of the Rules Committee.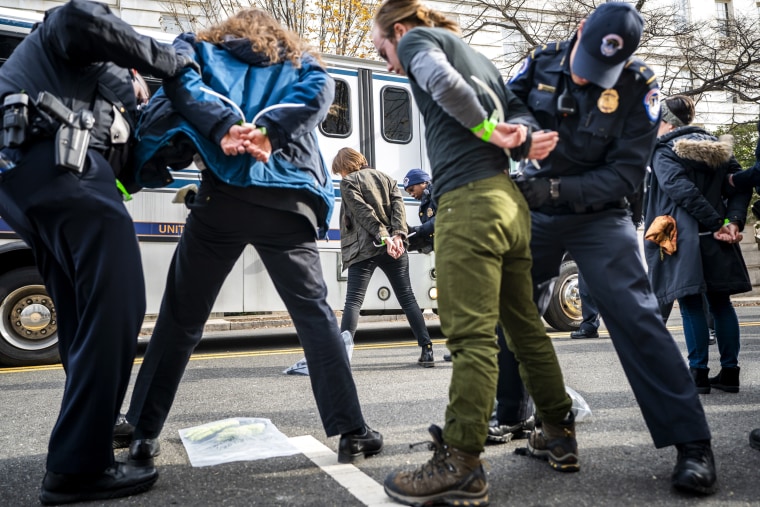 Hoyer tweeted Monday, "I welcome visitors from @sunrisemvmt to my office today, and I'm happy to hear from them about one of the most pressing issues of our time. Speaking out is exactly what our democracy is all about, and I appreciate their passion. The new Dem Majority will #ActonClimate."
Pelosi, following the protest that involved Ocasio-Cortez last month, said in a statement that she would revive the House select committee charged with proposing ways to address the "climate crisis."
"House Democrats ran on and won on our bold campaign for a $1 trillion investment in our infrastructure that will make our communities more resilient to the climate crisis, while creating 16 million new good-paying jobs across the country," she said in November.