WASHINGTON — The latest Republican bill to repeal Obamacare would set the stage for a decade of new health care fights as states struggle to cover residents with less money and an unstable source of funding.
A new analysis of the Graham-Cassidy bill by Avalare Health, an independent consulting firm, found states would receive $215 billion less from 2020 to 2026, when the bill's biggest changes take effect, than under current law.
The Avalere study's findings closely mirror an analysis by the liberal Center on Budget and Policy Priorities that opponents of the bill have frequently cited.
Experts say the long and difficult process to implement Graham-Cassidy could create years of chaos in the insurance market, potentially hiking premiums and unsettling markets in 2018 and beyond.
"I don't think it's possible to overstate how disruptive this would be," Billy Wynne, a health policy consultant at Thorn Run Partners, told NBC News.
Already, the Congressional Budget Office (CBO), the nonpartisan agency that normally reviews legislation, says that confusion over Obamacare's fate will drive up premiums for individual insurance by 15 percent in 2018. AHIP, the main lobby for the insurance industry, came out against the bill on Wednesday and warned it would have a "destabilizing" effect.
Far from providing closure on the health care wars, the bill would kick off a decade-plus process that would keep the policy debate at the center of American politics at the state and national level.
A 50-state health care fight
Under Graham-Cassidy, every state and the District of Columbia would have to build their own health care plan from scratch by 2020 and fund it using a new block grant system that would offer, for most states, fewer resources.
During the transition period, insurers would also have to decide whether to participate in Obamacare exchanges, which are fragile in some regions and would be effectively slated for demolition within three years. They could be further rattled by the bill's elimination of Obamacare's individual mandate, which requires people to maintain insurance or pay a penalty.
States would gain more flexibility to craft a program and supporters of the bill predict some would produce innovative approaches that others might copy. But it would also mean 51 miniature versions of the current Obamacare repeal fight would play out over the next several years, with all the same fights over coverage, pre-existing conditions, spending and taxes that have roiled Congress.
In crafting their plans, states would no longer face the same restrictions Obamacare put in place: Most notably, states could free up insurers to charge people more for pre-existing conditions or reduce their plan's benefits, which could open up customers to annual or lifetime caps on coverage. Some states might try to insure patients with expensive conditions in different ways, like segregating them in a high-risk pool and using funding to entice insurers to offer coverage.
On the other end, some conservatives have warned that liberal states might enact single-payer coverage under Graham-Cassidy, although previous state efforts have failed after running into high projected costs.
"There are very few strings attached to the block grant money," Larry Levitt, senior vice president for special initiatives at the Kaiser Family Foundation, told NBC News.
At the same time, states would have to navigate a new Medicaid system that caps spending on a per-person basis and is expected to grow more slowly than rising health costs, potentially affecting care for beneficiaries like people with disabilities and nursing home residents.
Adding another layer of uncertainty, these states would have to make plans for a sweeping health overhaul with no sense of what their funding will look like in the future. The block grants would expire entirely in 2027, leaving states on the hook for $4 trillion in costs by 2036 if they aren't renewed, per Avalere.
Until then, many states would face a tough road in providing similar coverage and benefits as they do under Obamacare.
Winner states, loser states
The formula for the block grants is complex, but broadly penalizes states that accepted money through Obamacare to expand Medicaid (31 so far, plus D.C.) and redistributes funds to states that currently are refusing the same Medicaid dollars.
In most cases, the Graham-Cassidy formula would mean less cash: Only 16 states would see an increase in funding, per Avalere's analysis. The biggest winner in raw dollars would be Texas, which would receive a $35 billion boost from 2020 to 2026, and the biggest loser would be California, which would lose $78 billion.
"You have a cut across the top and then within that smaller pot, money is moving across the states," said Edwin Park, vice president at the Center on Budget and Policy Priorities.
Notably, only one of the "winner" states under the formula voted Democrat in 2016 (Virginia) and the shift would ensure future health care fights take place against an even starker backdrop of partisan resentment.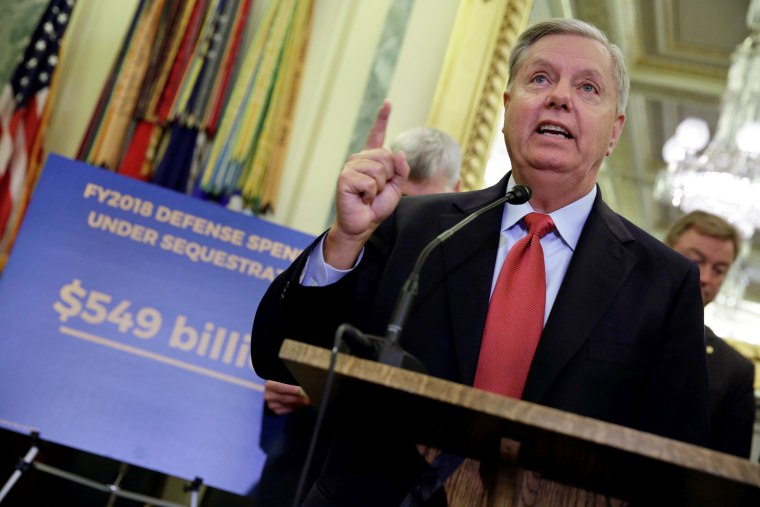 "California and New York are big blue states," Senator Lindsey Graham, R-S.C., told reporters on Tuesday. "I'm not out to hurt them, but I'm trying to create parity here."
Outside studies like Avalere's are especially important because senators are planning to vote on the bill in the next 10 days without a full analysis from the CBO. That means they won't have information on how many people will lose insurance or what will happen to premiums and deductibles.
While new freedom for states is a selling point, state leaders seem wary about taking Congress up on the offer. Fifteen Republican governors endorsed the bill on Tuesday, joining Gov. Doug Ducey of Arizona, who endorsed it earlier. But many governors are opposed based on its projected cuts, including Republicans like Brian Sandoval of Nevada and John Kasich of Ohio, and Bill Walker of Alaska, an independent.
Governors opposed to the bill have urged Congress to take another path aimed at providing the most stability possible under Obamacare through bipartisan negotiations, a path that Sen. John McCain, R-Ariz., also recommended when he voted against a partial repeal bill in July.
Senate Democrats and Republicans held hearings on a stabilization his month and appeared to be on track toward a deal that would make modest fixes to Obamacare, like guaranteeing payments to insurers to lower deductibles that President Donald Trump has threatened to cut off.
But talks died this week amid the repeal push. Democrats blamed Graham-Cassidy, saying they were ready to make significant concessions to Republicans that included giving states more flexibility to tweak Obamacare regulations. Now the entire health care system is in flux heading into 2018 and possibly far beyond that.