WASHINGTON — An updated version of the Graham-Cassidy health care bill introduced Monday provides more benefits to Alaska, a move to appeal to Lisa Murkowski, the state's Republican senator who has been highly skeptical of efforts to repeal the Affordable Care Act.
But while the bill's backers seek to win over a handful of skeptical members, one GOP opponent said Monday he is still unconvinced, delivering another blow to the prospects of the legislation. Sen. Rand Paul, R-Ky., has concerns with the bill, said his spokesman, Sergio Gor, who added that the new version doesn't address the senator's concerns despite allowing states to loosen insurance regulations and despite Kentucky receiving more health care dollars.
Republicans can only afford to lose the support of two GOP senators for the bill to pass, and if Paul's opposition holds, then it is highly unlikely the measure will pass the Senate.
The new version, however, has a series of carveouts for Alaska. It would grandfather Native Alaskans into Medicaid so they wouldn't lose coverage after the expanded Medicaid program is rolled back in 2020, according to a section-by-section summary of the new legislation obtained by an industry lobbyist (PDF).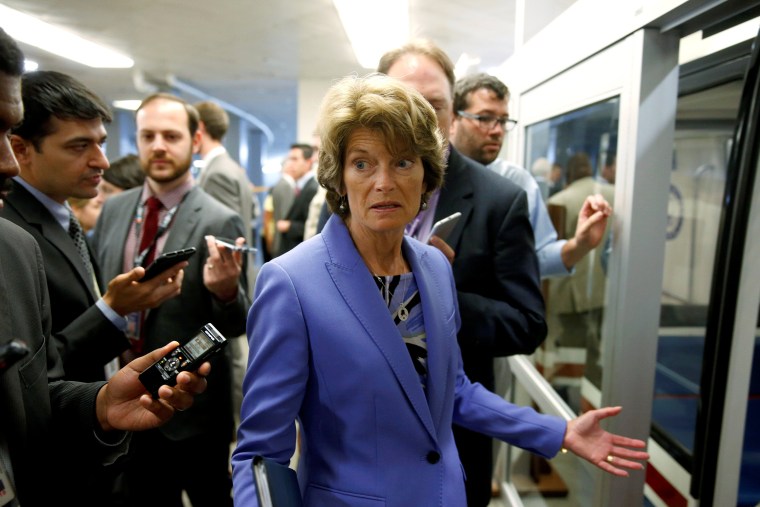 The update would also carve out a special provision for states with low population densities so that 5 percent of federal funds would be guaranteed for rural states, including Alaska.
An analysis of state-by-state health care funding (PDF) obtained by the same industry source shows that under Graham-Cassidy, named for authors Lindsey Graham, R-S.C. and Bill Cassidy, R-La., Alaska would get 4 percent more funding than under current heath care levels to implement a health care system. It would still lose money, however, from an end to the Medicaid expansion. The state estimates that it would lose $100 million.
Other states with critical senators receive additional funds as well. Maine, represented by GOP Sen. Susan Collins, would notch a 43 percent increase in federal health care funds. Arizona would get an additional 14 percent and Kentucky another 4 percent. But critics say that for states that expanded Medicaid, including Kentucky, Arizona and Maine, the totals are misleading because it doesn't account for the loss of money from ending the Medicaid expansion.
It's still unclear, however, whether the legislation will be brought to the floor for a vote this week before the deadline of Saturday. Sen. John McCain, R-Ariz., came out in opposition to the bill Friday because of what he said was a rushed and closed process. Collins said Sunday that it would be difficult for her to get to "yes" on the legislation.
Because no Democrats are expected to vote for the bill, Republicans need 50 of their 52 members to vote for it.
Murkowski has been highly skeptical of health care repeal efforts. She voted against Senate Republicans' last attempt in late July, and she has remained undecided since Graham and Cassidy introduced their legislation.
Alaska has some of the most expensive health care costs in the country, with a large population on Medicaid. Any reduction in federal funding could hurt the state.
"My governor has said, "Hey I like flexibility, but if I get half as much money, flexibility doesn't help me,'" Murkowski said last week. But she's also been critical of the process, the defunding of Planned Parenthood and the diminishing pre-existing condition protections.
In an attempt to appeal to conservatives, including Paul, Sens. Mike Lee, R-Utah, and Ted Cruz, R-Texas, the bill would loosen insurance regulations more than the previous version. While it says insurance companies must cover people with pre-existing conditions, it wouldn't limit the cost. It would also make it easier for states to stop ensuring that older people aren't charged more than younger people or that essential health benefits like maternity care and hospitalization are covered.
Lee's spokesman Conn Carroll said Lee is still addressing technical changes to the bill in order for him to support it.
Senate Democratic leader Chuck Schumer of New York came out quickly against the measure.
"Despite an attempt to appear to add money for a select few states, this bill is just as bad for those states and the rest of the states because it still contains a massive cut to Medicaid, and would throw our health insurance system into chaos while raising premiums," Schumer said in a statement. "It still takes away protections for those with pre-existing conditions and further weakens consumer protections."
Graham-Cassidy would end the Medicaid expansion in 2020 and reduce the money given to Medicaid by changing how it's allocated. It would no longer provide it for whoever is in need — instead, it would cap the number based on population.
The bill would also end the individual mandate to buy insurance and dismantle the structure of the Affordable Care Act, widely known as Obamacare. Instead, it would give money to states to implement their own health care systems. And while it would require that people with pre-existing conditions have access to health insurance, like Obamacare, it wouldn't prohibit insurance companies from charging people with long-term health care needs more money.
The new version of Graham-Cassidy would also provide billions of dollars more for states during the transition from Obamacare and as a contingency fund.
The Congressional Budget Office is expected to come out with a limited analysis of the legislation on Monday.