WASHINGTON — Rep. Louise Slaughter died Friday morning after sustaining an injury last week, her chief of staff, Liam Fitzsimmons, said in a statement. She was 88.
The New York Democrat was the oldest member of Congress and died "surrounded by family" at George Washington University Hospital in Washington, D.C., Fitzsimmons said, where she was being treated for a concussion. On Wednesday, he said that Slaughter had fallen in her D.C. residence, and that she had not suffered any fractures or broken bones.
"To have met Louise Slaughter is to have known a force of nature," Fitzsimmons said Friday, adding that it "is difficult to find a segment of society that Louise didn't help shape over the course of more than thirty years in Congress, from health care to genetic nondiscrimination to historic ethics reforms.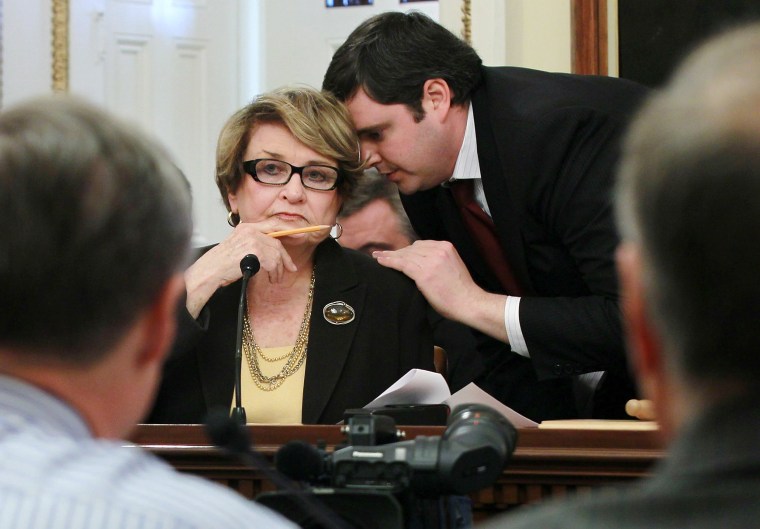 Slaughter had served in Congress since 1987, and spent the last several years as the top Democrat on the powerful House Rules Committee. She represented New York's 25th Congressional District, which is situated in the Rochester area. Slaughter had previously served in the New York State Assembly.
A Kentucky native, she earned a degree in microbiology from the University of Kentucky in Lexington. During her first campaign for Congress, Slaughter got a boost from actor Richard Gere, who traveled to Rochester to campaign with her because they both opposed U.S. funding for rebel groups in Nicaragua.
On Friday, House Minority Leader Nancy Pelosi, D-Calif., said that she and her husband were "heartbroken" by the news. Pelosi had visited Slaughter in the hospital on Thursday, according to a Pelosi aide.
"Louise was a trailblazer," Pelosi said in a statement. "The first woman to ever chair the powerful House Rules Committee, she used her leadership position to fight for women and working families in New York and across the country. Her strong example inspired countless young women to know their power, and seek their rightful place at the head of the decision-making table."
Speaker Paul Ryan, R-Wis., ordered Friday that flags at the Capitol be lowered to half-staff.
"This is just jarring," Ryan said. "My first thoughts go out to Louise's family, friends, and her staff. Louise was a giant in the people's House, the first woman ever to chair the Rules Committee. That said, Louise did not need a gavel to make a dent in history. She was unrelenting in fighting for her ideas and the people back home in Western New York."
In 2006, Slaughter proposed the Stop Trading on Congressional Knowledge (STOCK) Act, which was later signed into law by President Barack Obama in 2012. It banned insider trading for federal officials, Cabinet secretaries, lawmakers and the president. Slaughter also co-authored the Violence Against Women Act in 1994 and worked to help replace unsafe body armor for U.S. troops stationed in Iraq in the mid-2000s.
"As the first female Chairwoman of our Committee she was a force to be reckoned with who always brought her spunk, fire, and dynamic leadership to every meeting," said Rep. Pete Sessions, R-Texas, chairman of the Rules Committee, in a statement. "Louise was a fearless leader, deeply committed to her constituents, and a dear friend. I have had the immense privilege of working side by side with her for the past 20 years."
Senate Minority Leader Chuck Schumer, D-N.Y., called Slaughter a "giant."
"She had deep convictions — on both issues important to the people of Rochester, and for the integrity and honesty of the political system," he said, adding that the "ferocity of her advocacy was matched only by the depth of her compassion and humanity. Her passing will leave a gaping hole in our hearts and our nation."
Rep. Sam Johnson, R-Texas, is now the oldest member of Congress at the age of 87.