WASHINGTON — Graham-Cassidy is officially over for now after Senate leaders announced they would not bring it up for a vote. But the damage to the health insurance market from the lengthy repeal debate is done — with higher premiums and fewer choices already baked into Obamacare's 2018 exchanges.
Now Republican leaders and President Donald Trump have to decide what to do about it.
Do they keep trying repeal over and over and hope something eventually sticks? Or do they talk to Democrats about securing a shaky truce? Could they try to make Obamacare work for the most people possible in the meantime? Perhaps they try to sabotage it?
Why insurers are spooked
Any conversation needs to reckon with the current state of Obamacare's health insurance exchanges, which are still struggling to attract insurers even as their profits improved last year. While no counties are slated to go without coverage in 2018, almost half will have just one option next year.
The problem has a lot to do with the last eight months of repeal efforts.
For months, insurers warned that the ongoing turmoil in Congress and threats from the White House to undermine Obamacare would force them to charge customers more — or not offer plans at all — in 2018.
"They say insurers don't like uncertainty and things could not be any more uncertain," said Sabrina Corlette, a Research Professor at the Center on Health Insurance Reforms at Georgetown University.
In a report this month, the Congressional Budget Office estimated this confusion would be responsible for a 15 percent increase in premiums next year.
Looking to calm the waters, Senate HELP Committee Chairman Sen. Lamar Alexander, R-Tenn., led bipartisan talks this month on a bill to stabilize the insurance market. The emerging plan was to guarantee cost-sharing reduction payments — which Trump has threatened to cut off over legal concerns — in exchange for concessions from Democrats on loosening Obamacare regulations.
But those talks were frozen once Graham-Cassidy put the GOP back in repeal mode and now it's too late to pass anything that will affect 2018. Insurers will finalize their plans this week, after which they will not be able to change rates for the year.
"At this point the clock has basically run out," said Larry Levitt, senior vice president at the Kaiser Family Foundation.
Premium hikes on the horizon
Already, state insurance regulators are approving big rate increases based on the assumption that Trump will discontinue CSR payments and Congress will not appropriate them.
In Connecticut, insurers and state officials agreed to premium hikes of 27.7 percent with one insurer and 31.7 percent with another, with both sides citing volatility around CSRs. In Michigan, officials assumed no CSR payments while approving an average 27.6 percent increase. And in Mississippi, state Insurance Commissioner Mike Chaney approved a whopping 47.4 percent boost in premiums for the state's lone Obamacare insurer, according to the Wall Street Journal. He said it would have been 17.9 percent if the CSR payments were not in question.
It's not just the CSR's raising rates. Industry analysts say companies are also pricing in doubts about whether the White House will enforce the Obamacare individual mandate, which requires people to maintain coverage.
The Department of Health and Human Services recently announced it would slash its advertising budget by 90 percent for the 45-day enrollment period, which begins November 1. The lack of outreach is stoking fears that Trump, who has talked about allowing Obamacare "implode" to force Democrats to come to the table, may be on a broader mission to sabotage the law.
"The uncertainty in the markets continued throughout this process and will continue in the future if there are no resolutions around CSR and the individual mandate," S&P analyst Deep Banerjee told NBC News.
GOP at a crossroads
For Republicans, one option is to continue the fight for another year.
They could fold a new repeal plan into a 2018 bill slated for tax reform, but combining the two issues would be like quitting a video game in rage and then cranking up the difficulty setting. Another possibility is returning to it in a budget bill before the midterms, but members may grow more skittish the closer their re-election nears.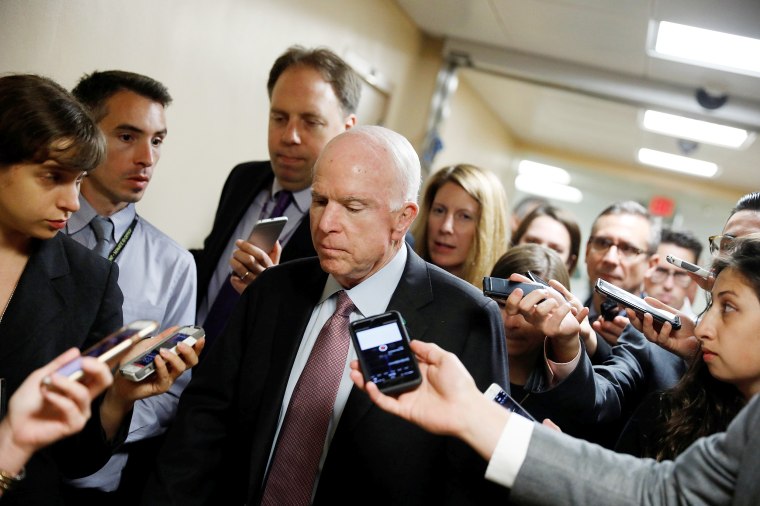 Then there's the option favored by Sen. John McCain, R-Ariz.: Declare a truce on repeal; talk to Democrats again; and pass a more modest bill to make Obamacare function more effectively in the short term. Alexander, the Republican HELP committee chairman, said he would renew bipartisan talks and Democrats say they're eager to negotiate once repeal is off the table.
Key Republican leaders sound skeptical of the idea, though, and Sen. Lindsey Graham, R-S.C., told reporters last week he received assurances from Speaker Paul Ryan that the GOP-controlled House would not vote on any bipartisan legislation to prop up Obamacare.
The White House faces a similar crossroads.
Trump, who met with moderate House Republicans and Democrats pushing a bipartisan health bill earlier this month, could ask "Chuck and Nancy" — how the president warmly referred to Sen. Chuck Schumer, D-N.Y., and Rep. Nancy Pelosi, D-Calif., — to give him the signing ceremony he's been craving and that Majority Leader Mitch McConnell, R-Ky., hasn't been able to deliver.
For now, though, the president doesn't sound ready to back down.
On Wednesday morning, Trump tweeted "we have the HCare Vote," although he acknowledged it won't be this week.
(It was not immediately clear whom the president was referring to as being hospitalized.)