WASHINGTON — A bipartisan group of lawmakers are urging Norfolk Southern to do more to help recovery efforts in the wake of a train derailment near East Palestine, Ohio, and the fallout for wildlife and residents, according to a letter to the company's CEO shared exclusively with NBC News.
"As the carrier responsible for operating the train, Norfolk Southern has a duty to be an active member of the response and clean up," the members of Congress wrote to Norfolk Southern CEO Alan Shaw.
The group, which includes all of the lawmakers who represent the affected parts of Ohio and Pennsylvania in Congress, demands that Norfolk Southern provide "generous recovery support" to communities impacted by the rail disaster.
"We hear from our constituents on the ground concerned about Norfolk Southern's responsiveness. ... For the sake of the residents and communities struggling to recover from the derailment, we write to state our clear expectation that Norfolk Southern be proactive, transparent, and responsive to local needs in providing full and fair remuneration for the damages this derailment has caused," members wrote.
The lawmakers cite the "replacement of gear for any involved first responders, assistance to businesses forced to close due to the evacuation, and compensation for workers unable to work due to the evacuation" in particular.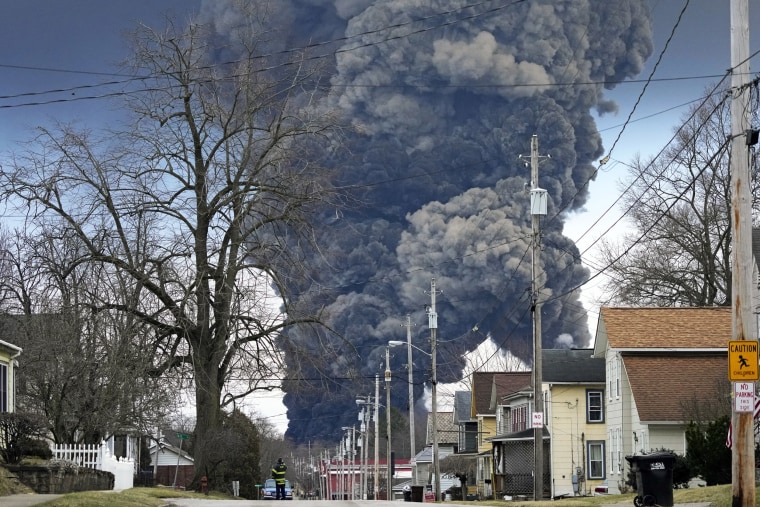 Signing the letter were the four senators from both states — Democrats Bob Casey and John Fetterman of Pennsylvania, Republican JD Vance and Democrat Sherrod Brown of Ohio — as well as Reps. Christopher Deluzio, D-Pa., and Bill Johnson, R-Ohio.
The letter also requests that the company pay for "continued testing by an independent third party of the air, water, and other exposure levels for anyone in the broader region who requests it."
"We must see concrete plans for how Norfolk Southern will take financial responsibility for the issues caused by this derailment, which will affect these communities long after the immediate crash site has been remediated," members wrote.
The group requests answers in writing to several questions, from what the company's plans are to reimburse local farmers if their crops or livestock are found to be harmed, to how Norfolk Southern will determine the amount of direct financial compensation it will provide to municipalities affected by the derailment. 
"In the long-term, Norfolk Southern must make the necessary improvements to safety practices regarding the transport of hazardous materials on U.S. railroads, and increased safety will require significant new investment by Norfolk Southern," the lawmakers concluded. "No American family should be forced to face the horror of fleeing their homes because hazardous materials have spilled or caught fire in their community."
Both Brown and Vance traveled to East Palestine, separately, on Thursday to survey the damage. In his own visit Thursday, EPA Administrator Michael Regan promised that the Biden administration would "get to the bottom" of the derailment.