Senators on both sides of the aisle say there needs to be a congressional investigation into the train derailment in East Palestine, Ohio, that resulted in a fire and a toxic chemical spill affecting residents and wildlife for miles.
But it's unclear at the moment whether such a probe would focus more on rail operator Norfolk Southern or the federal government's safety standards and response to the Feb. 3 incident.
Sen. JD Vance, R-Ohio, said Tuesday he "certainly" supports an investigation, saying his main concern right now is air and water quality for constituents.
"Most of them are concerned right now about air and water, and that's the main thing that we're monitoring," he said.
Vance sent a letter to the CEO of Norfolk Southern on Wednesday requesting that the company expand its financial reimbursement area to include all residents of East Palestine, where a 150-car train carrying hazardous chemicals skidded off the tracks.
Norfolk Southern had burned train cars carrying vinyl chloride — a flammable gas — to prevent an explosion.
After the controlled burn, the Environmental Protection Agency warned area residents of possible lingering odors but noted that the byproducts of vinyl chloride can emit smells at levels lower than what is considered hazardous.
Sen. Sherrod Brown, D-Ohio, said he will visit East Palestine "in a few days" and also supports an investigation.
"They have a skepticism about a big company like that that hasn't shown interest in them in the past," Brown said of residents.
"I mean, it's the responsibility of the governor, the responsibility of the feds with [the National Transportation Safety Board], the responsibility especially of Norfolk Southern to do what they said they would do," he added.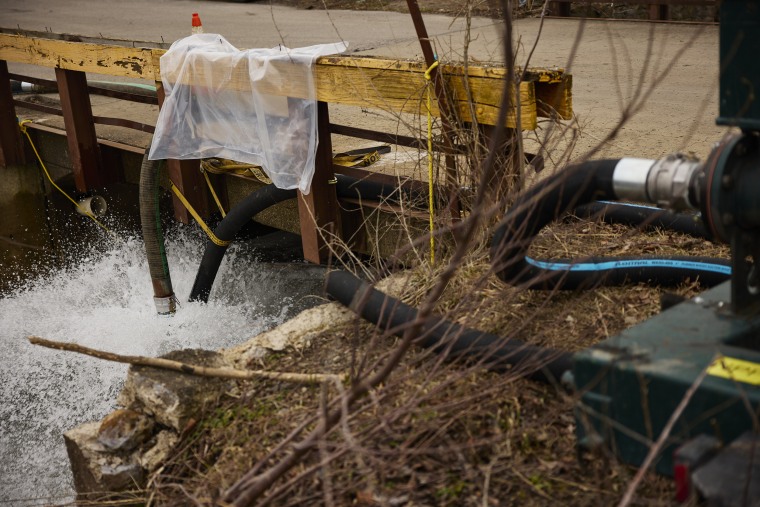 Brown and Vance, along with Democratic Sens. Bob Casey and John Fetterman of Pennsylvania, sent a letter Wednesday to the chair of the NTSB highlighting rail safety concerns as the agency conducts its own investigation.
"Hundreds of families were forced to flee their homes, and they are now rightfully concerned about long-term health risks due to the Norfolk Southern train derailment," the senators wrote. "No American family should be forced to face the horror of fleeing their homes because hazardous materials have spilled or caught fire in their community."
The four senators also sent a letter to EPA Administrator Michael Regan expressing their concerns about the release of hazardous materials after the derailment.
The EPA later said Regan is scheduled to travel to East Palestine on Thursday to assess the response and meet with leaders at all levels of government.
Separately, Vance and Sen. Marco Rubio, R-Fla., wrote to Transportation Secretary Pete Buttigieg with questions about the department's oversight of the U.S. freight train system and "how it balances building a safe, resilient rail industry across our country in relation to building a hyper-efficient one with minimal direct human input."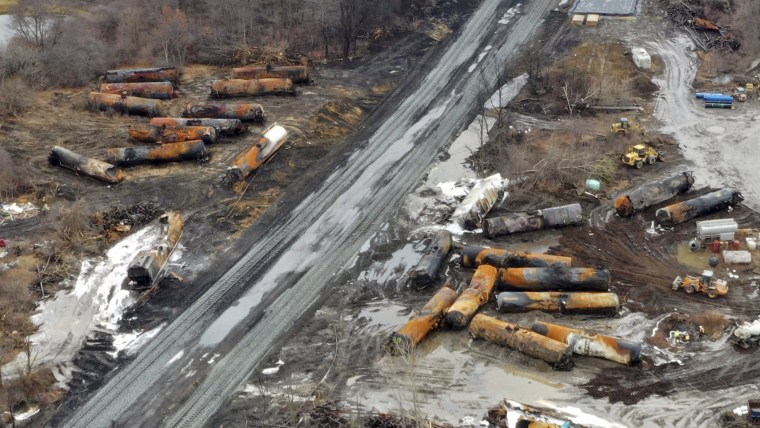 Various committees in the Senate have jurisdiction over aspects of the derailment.
The Environment and Public Works Committee, which has oversight of the EPA, could examine the agency's handling of affected wildlife, while the Commerce, Science and Transportation Committee has oversight of rail safety.
Staffers from the Environment and Public Works Committee are "receiving regular updates from the EPA on the environmental impacts of this accident," a committee aide said.
Committee chair Tom Carper, D-Del., tweeted Tuesday that "we must also look for ways to ensure a thorough federal investigation takes place to prevent an incident like this from happening in the future."
Asked for an update Wednesday, Carper said, "My staff is drilling down on it."
Sen. Shelley Moore Capito of West Virginia, the top Republican on the panel, who is also a member of the Commerce Committee, told reporters she has spoken with the CEO of Norfolk Southern and is monitoring water testing in the area.