The confirmation hearings for two of President-elect Donald Trump's most important cabinet nominees have completed their initial steps but the road forward for both remains somewhat bumpy.
Senate Democrats have begun lining up in opposition to Attorney General-designate Sen. Jeff Sessions on ideological grounds while Republican reservations are complicating the nomination of ExxonMobil CEO Rex Tillerson to be secretary of state.
There's no evidence their nominations are in serious trouble and it's rare for a cabinet nominee to be blocked by the Senate. Many are confirmed nearly unanimously. Hillary Clinton was confirmed to be secretary of state in 2009 in a 94 to 2 vote, for example.
But sometimes controversy derails a candidate, or at least peels off support. And the margin of the final confirmation vote in the Senate can be important, indicating the level of support for the administration's policy agenda and signaling future partisan battles, especially for the most important cabinet positions.
Trump's Russian Posture Leads to GOP Doubts
Following his full-day hearing Wednesday, some key Republicans and a large number of Democrats remain on the fence, at best, about their support for Tillerson to become the nation's top diplomat.
The major issue impacting Tillerson is Russia. Not only is Trump under fire for his seemingly cozy relationship with Russian President Vladimir Putin, Tillerson himself has engaged in extensive business dealings with Russia in his position at Exxon.
Related: Secretary of State Nominee Rex Tillerson: Russian Hacking "Clearly is Troubling"
At his hearing, Tillerson refused to say that he'd support sanctions against Russia and he also refused to say that Putin was a war criminal for atrocities in Syria, a position widely held on Capitol Hill.
After his confrontational questioning of Tillerson, Republican Sen. Marco Rubio said he's not sure if he'll support him.
"I mean there's a chance now to submit some questions in writing, which we'll do as well. I'll consider everything, I'll read through it and make a decision here very soon," Rubio told NBC News.
Rubio's support is critical. If Rubio were to join all the Democrat on the Foreign Relations Committee to vote against Tillerson, he doesn't make it out of committee and his nomination dies. Even once the committee hurdle is cleared, a 52-48 edge in the full Senate doesn't give Republicans much wiggle room for a simple majority if Democrats vote in a bloc against any nominee.
Sen. Lindsey Graham, R-South Carolina, who has been critical of Trump on Russia, said on MSNBC's "Morning Joe" that he also has reservations about Tillerson.
"I think Tillerson's a very qualified guy, but I'd like to see more strength and clarity when it comes to Russia and the moral clarity that Marco was talking about," he said.
Related: For New Presidents, Contentious Cabinet Votes Have Been Rare but Nasty
Many Democrats are also voicing their reservations, including Senate Minority Leader Chuck Schumer who called his testimony "incredibly troubling."
"I am appalled that Mr. Tillerson has not even discussed our policy towards Russia with the president-elect, and disheartened by the kid-gloves with which he appears to treat Russia and potentially other countries of concern," Schumer said without indicating if he would oppose him or not.
And Sen. Ben Cardin, the top Democrat on the Foreign Relations Committee, said he is also "troubled" by Tillerson's testimony, including his refusal to acknowledge Russia's alleged war crimes and his refusal to denounce Philippine President Duterte's harsh and violent crackdown on drugs.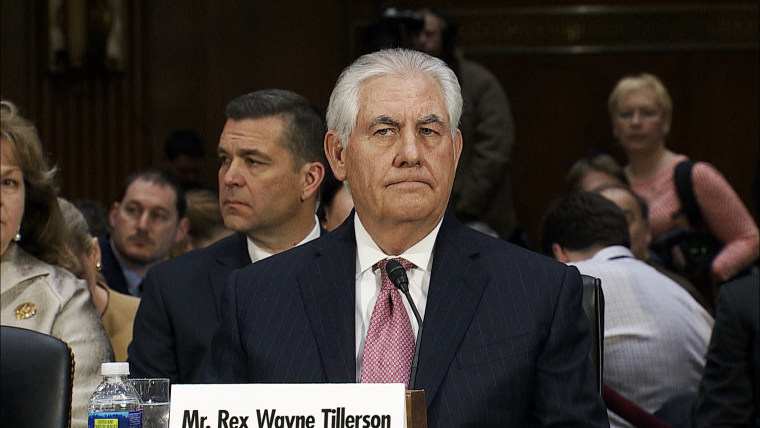 Trump has praised Duterte, saying he's handled drug abuse in his country the "right way."
"I will be conducting additional research, asking further questions of Mr. Tillerson for the record – including reiterating my questions about his tax return information, and consulting with my colleagues on both sides of the aisle," Cardin said in a statement.
But the alternatives to the president-elect's nominee is also part of the decision making process for at least one Democrat on the committee.
"I've frankly been reflecting on, if not Mr. Tillerson, who else might President-elect Trump chose," Sen. Chris Coons, D-Conn, told MSNBC's "Hardball."
"He conducted a sort of celebrity apprentice review process to come up with a nominee for secretary of state and he seriously considered Rudy Giuliani and John Bolton, and I try to imagine how they would have fared in today's confirmation hearing."
Democrats Begin Lining Up Against Sessions
After New Jersey Sen. Cory Booker broke precedent by testifying against his Senate colleague during the second day of the attorney general confirmation hearing Wednesday, Schumer announced he was opposing Sessions' nomination. While calling him a "friend," the Democratic leader said Sessions isn't the right person to become the nation's top law enforcer.
"After reviewing his record and giving careful consideration to his answers during the hearing, I am not confident in Sen. Sessions' ability to be a defender of the rights of all Americans, or to serve as an independent check on the incoming administration," Schumer wrote.
Schumer's opposition opens the door for Democrats to freely oppose the nominee, despite having worked side-by-side with Sessions for years or decades.
Sen. Dianne Feinstein, the top Democrat on the Judiciary Committee, which held the confirmation hearings, hasn't stated if she'll support Sessions. But during a break on the first day of the hearing on Tuesday, Feinstein refused to praise the Alabama Republican. When asked what she thought about how the hearing was going, she simply replied, "It's going."
Also indicating her dissatisfaction with Sessions, her staff Thursday sent out opposition research to reporters including documents that challenge Sessions' positions on LGBTQ issues, immigration and voting rights.
Related: Sessions Slammed Over Civil Rights Record
And a group of four Democratic senators, including some freshman, held a press conference announcing their opposition to the nominee.
"As attorney general, Senator Sessions would have enormous prosecutorial discretion, and his record in public office indicates to me that he often hasn't recognized the humanity of the people hurt by his extreme positions, whether it's undocumented immigrants or the African American community or LGBT Americans," said Sen. Catherine Cortez Masto, a Democrat from Nevada who was elected in November.
Full Senate votes for the important job of leading the Justice Department have broken down along party lines in the past. Current Attorney General Loretta Lynch gained the support of only 56 members while President Barack Obama's first attorney general, Eric Holder, received 75 votes. President George Bush's first nominee to be attorney general, John Ashcroft, won only 58 votes.
Now that the Senate doesn't allow cabinet positions to be filibustered, it's even harder to block a nominee. Senate rules changes in 2013 mean that nominees can slide through with a simple majority, instead of a 60-vote threshold, which means that Republicans, who have a 52-seat majority, don't need the support of any Democrats to confirm Trump's picks. And if opposition continues to mount against nominees like Sessions and Tillerson, those slimmer margins could prove important.