WASHINGTON — Inside a Senate elevator, a pair of women confronted a key GOP senator who had just revealed his decision to support Supreme Court nominee Brett Kavanaugh. Dozens of protesters inside the Capitol chanted "November is coming." And Democrats walked out of a hearing room in protest as Republicans pressed forward on scheduling a vote to advance Kavanaugh's nomination.
A day after the high-stakes hearing in which Christine Blasey Ford publicly testified about Kavanaugh allegedly sexually assaulting her when they were in high school, dissatisfied Democrats and angry voters alike expressed their unhappiness ahead of the Senate Judiciary Committee's afternoon vote on the nomination.
Moments before the Senate Judiciary Committee meeting began Friday morning, Sen. Jeff Flake, R-Ariz., who had been considered a potential key swing vote on the panel, released a statement saying that he planned to vote in favor of Kavanaugh's nomination — a move that all but guaranteed that he would be reported favorably out of committee, paving the way for a final Senate vote within days.
Minutes later, as Flake then headed to the hearing room where the committee was scheduled to meet, two women yelled at the senator loudly for several minutes as he stood quietly in an elevator.
"You have children in your family. Think about them! I have two children. I cannot imagine that for the next 50 years they will have to have someone in the Supreme Court who has been accused of violating a young girl. What are you doing sir?" one of the woman shouted.
"I was sexually assaulted and nobody believes me!" yelled the second woman, who pleaded with the senator to look her in the eyes. "I didn't tell anyone, and you're telling all women that they don't matter. They should just stay quiet because if they tell you what happened to them you're going to ignore them. That's what happened to me, and that's what you're telling all women in America — that they don't matter, they should just keep it to themselves."
Inside the hearing room, after Republicans voted down a motion by Sen. Richard Blumenthal, D-Conn., to subpoena Mark Judge — Kavanaugh's friend who Ford says was allegedly a witness to her assault 36 years ago — the committee's vote to formally weigh in on the nomination Friday afternoon drew sharp reactions from visibly upset Democrats.
When Sens. Cory Booker, D-N.J., and Kamala Harris, D-Calif., were called on to vote, they sat in silence. "They're not answering because this is so unfair," said Sen. Amy Klobuchar, D-Minn., as the motion succeeded.
In the hallway outside the Dirksen Senate Office Building hearing room, protesters sat and arranged themselves on the floor. "November is coming!" they chanted, as Capitol Police stood nearby with plastic handcuffs, ready to arrest them. Other protests could be heard taking place on the floors below.
Harris, Blumenthal and Sen. Mazie Hirono, D-Hawaii, then walked out of the committee room in protest.
"The real facts, the real story here has not been told. And make no mistake, the truth will come out about Brett Kavanaugh. It's only a matter of time," said Blumenthal, standing with the other two senators and flanked by more than a dozen House Democrats, some of whom had stood in the back of the committee room during the proceedings, watching.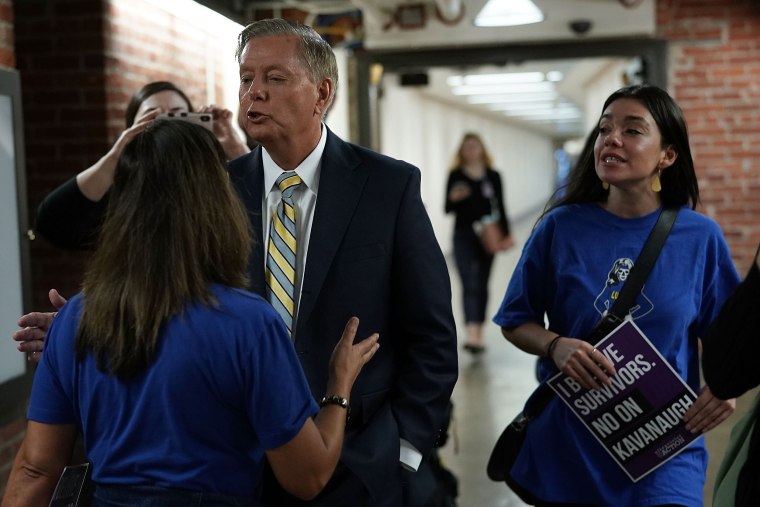 "It can be summarized as no rules, no decorum, no respect. And what we will do is make our case to the American people because they will rise up. The American people are on our side."
"This is a failure of this body to do what it has always said it is about which is be deliberative," said Harris, widely considered a potential 2020 Democratic presidential contender.
On the steps of the Supreme Court, a mass of several hundred protesters gathered for a noon demonstration. Over in the Hart Senate Office Building that connects to Dirksen, several dozen more protesters gathered, including survivors of sexual assault and misconduct.
"I'm here because five years ago, I was raped," Taylor Holden, 27, told NBC News, adding that she specifically took time off of work and traveled to Washington from California to protest this week. "I've been sexually harassed and made to feel unsafe by men more times throughout my life than I can even count or remember. I didn't say anything for three years."
"Senate Republicans have shown they're sending a message of assault, and misogyny and violence," she added. "Their time in office has a shelf-life, because we're coming for their seats."
Cher Finnan, 51, said she traveled to D.C. to protest from Chester County, Pennsylvania, with her daughters.
"I watched the hearings yesterday, the entirety of it. I watched the Anita Hill hearing way back and I really was just dismayed at the turn our country has taken in many areas," she said. "The assertion that Dr. Ford — why didn't she report it — I had similar incidents that happened to me in that time-frame, about the same age and no, for different reasons, I didn't report it either. Doesn't mean it didn't happen."
At the Supreme Court, the crowd of protesters was peppered with signs that read "KAVA-NOPE," "We will remember in November" and "Believe Women."
Harris spoke, telling protesters that Kavanaugh's demeanor on Thursday called into question his credibility and demonstrated that he was a bully. The crowd chanted "Unfit!" in response.
As protests continued Friday afternoon, Flake added late conditions to his committee support for Kavanaugh, saying he would vote to send the nomination to the full Senate if the floor vote was delayed for "up to, but not more than, one week, in order to let the FBI to do an investigation limited in time and scope to the current allegations that are there."
The Senate Judiciary Committee then voted to report Kavanaugh's nomination favorably to the full chamber, the next step in the confirmation process.