WASHINGTON — The suspect who violently attacked House Speaker Nancy Pelosi's husband early Friday was searching for her, two sources briefed on the incident told NBC News.
The sources, one of whom is a senior U.S. official, said that before the assault occurred, the intruder confronted Paul Pelosi, 82, shouting, "Where is Nancy, where is Nancy?"
San Francisco Police Chief Bill Scott said in a statement Friday morning that the suspect, who was taken into custody, is 42-year-old David DePape.
Scott said that police arrived at the Pelosi home just before 2:30 a.m. PT and observed "Mr. Pelosi and the suspect both holding a hammer. The suspect pulled the hammer away from Mr. Pelosi and violently assaulted him with it."
"Our officers immediately tackled the suspect, disarmed him, took him into custody, requested emergency backup and rendered medical aid," Scott added.
He said the investigation remains active and that "the motive for this attack is still being determined."
At a news conference Friday evening, Scott said the attack on Paul Pelosi, was "intentional," and not random.
"Our elected officials are here to do the business of their cities, their counties, their states, and this nation. Their families don't sign up for this, to be harmed," Scott said. "And it is wrong. And everybody should be disgusted about what happened this morning."
The speaker's office said Friday afternoon that Paul Pelosi was taken to Zuckerberg San Francisco General Hospital, where he "underwent successful surgery to repair a skull fracture and serious injuries to his right arm and hands." His doctors expect him to make a full recovery, Pelosi's office said.
DePape was also taken to a local hospital, Scott said. Police would not disclose his medical condition.
DePape will be booked at San Francisco County Jail on the charges of attempted homicide assault with a deadly weapon, elder abuse, burglary and several other additional felonies, Scott said earlier in the day.
According to a family member traveling to San Francisco with the speaker, the suspect brought the hammer and broke the windows of the Pelosi home facing the backyard. The family member said once inside, the suspect was trying to tie up Paul Pelosi and said they would wait "until Nancy got home." When the suspect wasn't looking, Paul called 911. The family member said Paul was home alone and was hit in the head with the hammer multiple times. When the police arrived, the suspect said, "We are waiting for Nancy."
The suspect appears to have operated a website on which he wrote a wide variety of posts touching on almost all manner of modern conspiracy thinking: aliens, Jewish people, communism, vaccines, voter fraud and many other topics.
Two law enforcement officials said an early look at DePape's online footprint showed recent blog posts that espoused ideas typically associated with far-right extremism along with some liberal anti-establishment ideas.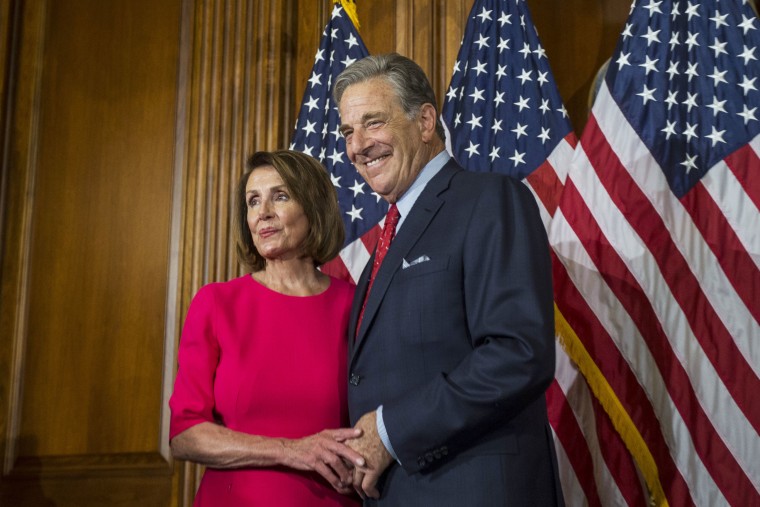 Pelosi's office first revealed news of the attack in a statement earlier Friday.
"Early this morning, an assailant broke into the Pelosi residence in San Francisco and violently assaulted Mr. Pelosi," Pelosi spokesman Drew Hammill said at the time.
The House speaker was not in San Francisco at the time of the attack, according to her office. U.S. Capitol Police said in a separate statement that she was in Washington, D.C., with her protective detail at the time of the break-in.
Paul Pelosi did not have a security detail. Spouses of top lawmakers are not granted one.
Capitol Police said it is assisting the FBI and the San Francisco Police Department with a joint investigation into the home invasion. FBI agents were at the Pelosi home Friday morning.
President Joe Biden called the speaker Friday morning to "express his support," White House press secretary Karine Jean-Pierre said in a statement. "He is also very glad that a full recovery is expected. The president continues to condemn all violence, and asks that the family's desire for privacy be respected."
At a fundraiser for Pennsylvania Democrats on Friday evening, the president condemned the attack and drew parallels to the Jan. 6 riot, after learning that the assailant had repeated the "Where's Nancy?" chant heard during the attack on the Capitol.
"Every person of good conscience needs to clearly and unambiguously stand up against the violence in our politics, regardless of what your politics are," Biden added.
Senate Majority Leader Chuck Schumer, D-N.Y., said in a statement that he also spoke with the House speaker, saying he conveyed his "deepest concern and heartfelt wishes to her husband and their family."
Senate Minority Leader Mitch McConnell, R-Ky., said in a tweet that he was "horrified and disgusted by the reports that Paul Pelosi was assaulted in his and Speaker Pelosi's home last night."
A spokesman for House Minority Leader Kevin McCarthy, R-Calif., said, "Leader McCarthy reached out to the Speaker to check in on Paul and said he's praying for a full recovery and is thankful they caught the assailant."
In a statement, Hammill said, "The Speaker and her family are thankful for the outpouring of support and prayers from friends, constituents and people around the country. The Pelosi family is immensely grateful to Mr. Pelosi's entire medical team and the law enforcement officers who responded to the assault."
While it's unclear what the motivation was for the break-in and assault, national leaders have warned of the potential for political violence, especially with the midterm elections less than two weeks away.
Other lawmakers reacted to the incident, including Rep. Nikema Williams, D-Ga., who represents the Atlanta area. She quickly drew a connection to former President Donald Trump and the MAGA rhetoric, despite no known motive by the alleged assailant.
"We are living in a country where, as an elected official, we have to look out for our personal safety and our personal security. Because we had a president in office who continued to uplift this notion that an election was stolen from him and to create more stark divisions in our country," she told NBC News. "This violence and the rhetoric that we see from members of the Republican Party creates the violence that we're seeing in our communities against our elected leaders."
In a separate incident in August, Rep. Eric Swalwell, D-Calif., said a man called his office, repeating homophobic slurs and threatening to shoot and kill the congressman.
Swalwell, who has previously tweeted about threats to his office, wrote at the time: "Bloodshed is coming."
The man, Joshua Hall, pleaded guilty to making threats to kill a member of the United States Congress. In court testimony, Hall said he was drunk when he made the threat. He had previously pleaded guilty to fraud for impersonating relatives of Donald Trump in a scheme to steal thousands of dollars from Trump supporters.
The House select committee investigating the Jan. 6, 2021 attack on the Capitol recently displayed previously unseen video footage from the riot showing Trump supporters shouting statements demanding to know where Pelosi was.
Pelosi's home was vandalized in January 2021, just a few days before the Jan. 6 attack on the Capitol, as was the home of then-Senate Majority Leader McConnell. Pelosi's garage door was defaced with phrases including "$2K," "Cancel rent!" and "We want everything!" The incident took place shortly after Congress failed to approve a measure to increase coronavirus stimulus checks to $2,000.