WASHINGTON — A protester was removed from the Senate gallery Thursday for disrupting lawmakers as they cast a procedural vote on a measure to remove a barrier to the Equal Rights Amendment.
The measure would remove the deadline established for states to ratify the ERA, which would prohibit discrimination based on sex. After Congress passed the act in 1972, not enough states ratified the constitutional amendment within the seven-year window established by the measure or a later extension, so it never went into effect.
The protester yelled out in favor of the ERA and was led out by U.S. Capitol Police to an elevator.
"Women in law enforcement are paid less than the men," the protester said as police escorted her away with her hands behind her back.
The protester was accused of disrupting Congress, Capitol Police told NBC News in a statement.
Senate Republicans blocked the procedural motion related to taking up the measure on a 51-47 vote. Sixty votes were needed to overcome a GOP filibuster.
Sens. Susan Collins of Maine and Lisa Murkowski of Alaska were the only Republicans to vote in support.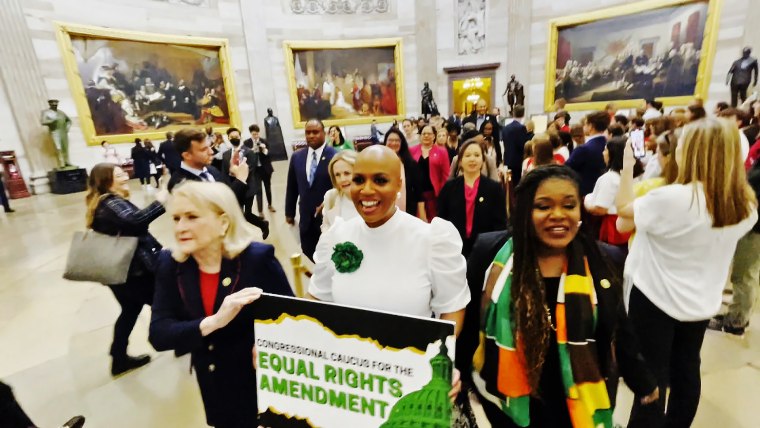 Earlier Thursday, Senate Majority Leader Chuck Schumer, D-N.Y., opened the floor by speaking in favor of the measure.
"This resolution is as necessary as it is timely," he said. "America can never hope to be a land of freedom and opportunity so long as half its population is treated like second-class citizens."
Virginia voted to ratify the ERA in 2020, reaching the three-fourths' threshold of states needed to enact the amendment. But a federal judge later ruled that the ratification vote came too late to make the amendment part of the Constitution. Subsequent efforts to remove the deadline have not been approved by either chamber of Congress.