Angry constituents and lawmakers reacting to the latest Republican effort to dismantle Obamacare assembled Monday outside the offices of elected officials, staging a sit-in, a die-in, and livestreaming an impromptu rally on the steps of the United States Capitol.
The protests came as the non-partisan Congressional Budget Office released its analysis of the Senate's Better Care and Reconciliation Act, estimating that 22 million people would lose their insurance over the next decade.
Among the hardest hit, the report shows, would be people who use Medicaid, the government-run health care program for poor, disabled and elderly people, among others.
In West Virginia, a few dozen protesters gathered outside the Charleston office of Republican Sen. Shelley Moore Capito, who has said she wants the expansion of Medicaid that occurred under Obamacare preserved — but who has been non-committal on the Better Care Act.
Related: Senate GOP Suffers Defections Over Health Care Bill After CBO Score
"I want her to do the right thing," one of the protesters, pastor Janice Hill, told NBC affiliate WSAZ, adding: "I will go to Timbuktu to stop it."
Six of the protesters were detained after they entered Capito's office and refused to leave, the station reported. It was unclear what charges they might face.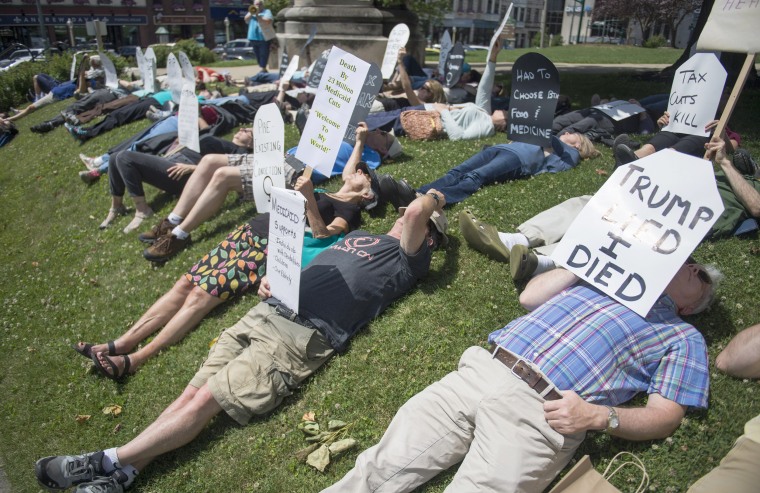 In Doral, outside Miami, they lined up outside the office of Sen. Marco Rubio urging him to vote no "on wealthcare," as one sign put it. During a so-called die-in, people sprawled out on the grass chanting, "Marco, polio."
Outside the Fort Wright office of Kentucky Senator and majority leader Mitch McConnell, roughly 100 people brandished signs offering the GOP leader a blunt assessment of his bill, Cincinnati.com reported: "Mitch, you're killing us."
Roughly a dozen protesters offered a similar, if more diplomatic, message outside the office of Pennsylvania Republican Rep. Tom Marino, who voted for the House of Representatives' bill to repeal Obamacare, according to NBC affiliate WBRE.
And in Washington D.C., on the steps of the Capitol building, a few hundred people had gathered by Monday night to listen to Sen. Cory Booker, D-N.J., and other Democratic lawmakers tick through the CBO's findings and excoriate their Republican colleagues — all broadcast via livestream on Booker's Facebook page.
Sen. Dick Durbin, of Illinois, closed with a call-and-response chant reminding the crowd of the GOP's increasingly precarious path to legislative victory:
"How many Republican senators does it take to stop the bill?" he shouted. "It just takes three!"