WASHINGTON — Senators went back to work at the Capitol on Monday, but it was hardly business as usual.
A number of extra precautions were put in place to keep senators, staff members and visitors safe amid the coronavirus pandemic, which has killed almost 70,000 Americans.
The first change in how the Senate conducts business is visible before visitors enter the building. A line of yellow circles has been painted on the concrete outside, each the size of a basketball, showing visitors where to stand 6 feet apart while they wait to be screened by security.
Inside the complex, Capitol police officers wore masks, as did some of the limited number of employees and staff members who returned ahead of the Senate's first vote Monday evening. Senators have been encouraged to have only minimal staff present.
Full coverage of the coronavirus outbreak
To keep hearing rooms from getting too crowded, some business was being moved to larger rooms. The Kennedy Caucus Room in the Russell Senate Office Building has a new ring of tables turned into a makeshift dais, with microphone positions for senators 6 feet apart. Outside its doors, the rotunda is populated with just three camera positions, instead of the usual dozen-plus.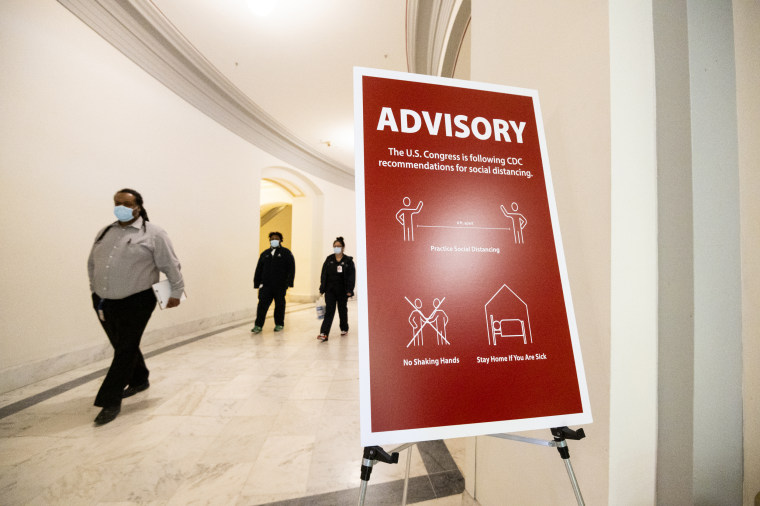 The Senate lunches, a weekly tradition at which quite a lot of business gets conducted, are being moved, too. Republicans won't meet in the Capitol but rather in Room 216 of the Hart Senate Office Building — the famous hearing room where former FBI Director James Comey testified about his firing by the president, among other notable made-for-TV moments.
For staffers, media and visitors, most food service options inside the complex remain closed. The Senate carry-out in the basement is open, with plexiglass protecting the cashier. The soda machine is taped off, and signs remind patrons that only three people are allowed inside at a time.
Staffers wore masks and gloves on the Senate floor in the afternoon, but lawmakers, including Senate Majority Leader Mitch McConnell, R-Ky., and Minority Leader Chuck Schumer, D-N.Y., didn't wear face coverings when they spoke on the floor.
Schumer, who wore a mask and gloves later while speaking to reporters, criticized McConnell for calling the Senate back into session to further his agenda "despite the fact that the District of Columbia appears to be reaching the peak phase of this public health emergency."
"If we are going to be here, if we are going to make these fine people come into work in these conditions, let the Senate at least conduct the nation's business and focus like a laser on COVID-19," Schumer said. "Judicial nominees, legal immunity for big corporations, with all due respect, Republican Leader, these are not the nation's most urgent priorities right now."
Download the NBC News app for full coverage and alerts about the coronavirus outbreak
McConnell said: "We have important work to do for the nation. Critical posts throughout the government from national security and beyond remain vacant. Qualified nominees who have been held up for too long already have become even more necessary in these uncertain times. On the floor, and in committee, the Senate will be acting on key nominations that relate directly to the safety of the American people, oversight of our coronavirus legislation and more."
The larger House of Representatives was originally slated to return Monday, as well, but it reversed course after consulting with the House physician, who was concerned about the rising number of cases in the Washington area.
The concerns were heightened by the lack of coronavirus testing at the Capitol. The Trump administration offered to send more rapid tests to Congress to address the issue, but in a rare joint statement, McConnell and House Speaker Nancy Pelosi, D-Calif., turned the offer down.
House Minority Leader Kevin McCarthy, R-Calif., said Monday that he thought that was a mistake.
"As we open up, we cannot assume there will not be a flare-up somewhere. I want to be prepared for that," McCarthy said in an interview with Politico Playbook.
He suggested that certain committees return to work first and that the full House should then return when it's time for a vote.
"My big challenge here is how can you do another bill and not have the committees work? Are you just going to have a few people craft this? Think about how much we passed already — $3 trillion," he said. "We want to make sure that's implemented correctly."
He also suggested that members have fewer staffers come in to work. "I think you would probably have to change the aspect of the number of staff that could come in. You are going to have to deal with much fewer staff," he said.
President Donald Trump, meanwhile, mocked Congress for refusing the quick tests.
"Interesting? By Congress not wanting the special 5 minute testing apparatus, they are saying that they are not 'essential,'" Trump tweeted Monday morning.