WASHINGTON — Rep. Marcy Kaptur, D-Ohio, says she knows what it's like to feel unheard.
When she first arrived on Capitol Hill 35 years ago, the male-dominated House of Representatives would often not call the House to order — a courtesy extended to members so their speeches can be heard — for her or any of the 23 other women serving in Congress. As women at the podium addressed the chamber, men on the House floor would often continue speaking to each other.
"In those days, when a woman went to the floor to speak, it took almost a decade before they would even listen," she said in a sit-down interview this week with NBC News. "The House wasn't called to order."
But earlier this week, that same chamber dedicated floor time between votes to celebrate Kaptur, who on Sunday will become the longest serving woman in the House of Representatives — breaking a record that had stood for nearly 60 years.
Kaptur's tenure will surpass that of Rep. Edith Nourse Rogers, R-Mass., who served 35 years, 2 months and 14 days in the House between 1925 and 1960. The representative from Ohio's 9th Congressional District will also be just five years shy of shattering Sen. Barbara Mikulski's, D-Md., record as the longest-serving woman in congressional history.
The granddaughter of Polish immigrants, Kaptur said she was first spurred to run for office after witnessing the spiking unemployment that hit her home city of Toledo, Ohio during the 1979 oil crisis. She left her post as a domestic policy advisor for President Jimmy Carter and her doctorate studies at MIT to run for Congress.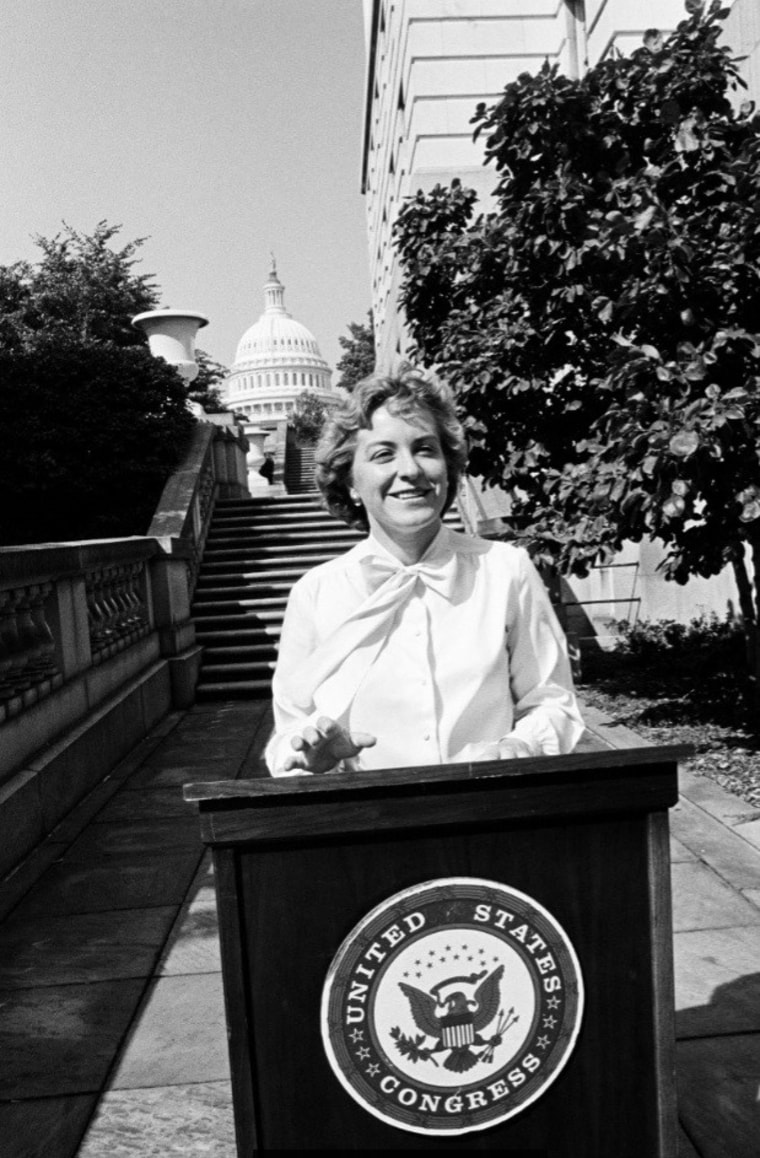 Elected in 1982 during the Democratic midterm wave that followed President Ronald Reagan's election, Kaptur has served alongside eight House Speakers, during the administrations of six presidents. She said the thought of retiring has yet to cross her mind.
Following the bipartisan floor tribute to her career Wednesday, Kaptur recalled speaking with Republican colleagues who told her that they could never imagine serving more than four years in Congress, let alone almost four decades.
"I said, 'In four years you won't accomplish anything here. Just get ready, get ready for the long haul. If you come here, it will take a long time,'" to get things done, she said.
And her career has been defined by the long game. Her bill proposing the construction of a World War II memorial in Washington took four tries, with the monument finally opening 17 years after she first introduced the legislation. Securing funding to build the Veterans' Glass City Skyway in her hometown of Toledo, where she still lives with her brother Stephen in their childhood home, took 16 years.
Though she says the barriers between men and women in the workplace have broken down, and credits the #MeToo movement with spurring cultural change, Kaptur says a requirement still exists for women "to doubly prove" themselves on the job. But after more than three decades in Washington, she says, she's noticed one big shift: Now, congressmen listen when she speaks.
They aren't alone. "As I've said so many times, if you want to save yourself some time, do what Marcy asks you to do the first time around," House Minority Leader Nancy Pelosi, D-Calif., said on the House floor Wednesday.