Legislation in the works to combat the scourge of mass shootings in the United States may have a greater impact on another problem that claims more American lives each year.
Sens. Lindsey Graham, R-S.C., and Richard Blumenthal, D-Conn., are working on a bill to encourage states to implement "red flag" laws, measures that would allow law enforcement to temporarily seize guns from people found to be a danger to themselves or to others.
"My goal is to have a system that can identify truly a person about to blow, and do something about it before it's too late," Graham told reporters Friday. He noted earlier in the week that many recent mass shootings "involved individuals who showed signs of violent behavior that are either ignored or not followed up. State red flag laws will provide the tools for law enforcement to do something about many of these situations before it's too late."
\
Experts and law enforcement officials told NBC News that it's true that this type of legislation — one of a handful of gun control options that members of Congress are weighing after massacres in Gilroy, California, Dayton, Ohio, and El Paso, Texas — has real potential to reduce gun violence and save lives. It could stop some mass shootings, they said, as Graham suggested. But red flag laws are even more likely to prevent suicides, which annually account for the most gun deaths in America.
According to the most recent data from the Centers for Disease Control and Prevention, of the almost 40,000 Americans who died from guns in 2017, about 60 percent were suicides.
Some evidence that states with 'red flag' laws saw suicide rates drop
Even without the type of federal incentives Graham's and Blumenthal's bill might offer, 17 states and the District of Columbia have already enacted red flag legislation. Most of the laws were passed after a school shooting in Parkland, Florida, left 17 dead. The accused shooter had a history of making threats, red flag behavior that authorities had been warned about.
The laws generally provide for extreme-risk protection orders. They allow police, friends and relatives to report someone they fear is at risk of imminently harming themselves or someone else to the authorities. A judge may then decide to order police to temporarily seize the person's firearms. The target of the removal can swiftly challenge the petition in court. If they lose, they can ask for the guns' return after the risk of harm has passed.
Because it's a civil action, the orders don't leave the gun owners with a criminal record.
The states that have had the laws the longest are Connecticut, which passed its law in 1999, and Indiana, which passed it in 2005. An academic study last year found those measures helped lead to a 13.7 percent drop in the suicide gun rate in Connecticut, and to a 7.5 percent drop in Indiana.
A similar law went into effect in Washington state in 2016.
In the first year the law was in place, Seattle police seized 43 guns from people deemed to be a danger. Among those who had their firearms taken away were a man threatening to kill people at a church, a suicidal woman who'd shot herself in the leg, and a man brandishing a handgun in a residential apartment building, the Seattle Times reported.
While officials there say it's too early to gauge the impact of the law statistically, King County Prosecutor Kimberly Wyatt told NBC News it's helped them in "mitigating some of the risk" of gun violence.
"Close to 70 percent of firearm deaths here are suicides," Wyatt said of Seattle. "This is an effective tool for families and law enforcement to intervene."
And, she said, it appears to be helping stave off other types of gun violence, as well.
"In the beginning, we had more cases of suicidal ideation," but there's been a shift in the types of orders sought by law enforcement, Wyatt said.
"In 2018, we identified petitions where 45 percent were threats to self-harm, 33 percent were threats to others and then 22 percent was a combination of both," she said.
One struggle, she said, has been in making the public aware of the law, which allows citizens and law enforcement to seek help for people they fear could hurt themselves or others. To date, the vast majority of the petitions have been brought by law enforcement.
"People have to know that this is a tool that can be used," she said.
Still too early to rely on 'red flag' laws alone to reduce deaths
The bill Graham and Blumenthal are working on would provide grants to states that implement the laws — the details of which can vary from state to state — assuming they meet certain criteria.
Blumenthal said in a statement last week that he and Graham have an agreement on "a framework" for the bill. "We will be finalizing the details for this bill and reaching out to colleagues on both sides of the aisle in the coming days and weeks," the statement said.
Blumenthal also said the bill would provide funding to help states that implement red flag laws pay for them. Wyatt said money is also needed for training, and to help those who've had their weapons taken away pay for examinations and, if necessary, treatment. "I think that's a missing piece we see," she said.
Jeff Swanson, a professor of psychiatry at Duke University who has studied patterns of violence in major U.S. cities, told NBC News that red flag laws can help combat gun violence, but aren't a cure-all.
"If you think about how they work, what we're talking about is a risk-based, time-limited civil court-ordered tool to remove firearms at high risk of harming themselves or others," Swanson said.
But, he cautioned, relying on them to stop mass shooters "could be a needle in the haystack."
"There are anecdotes percolating up from the states" that have red flag laws, but there's not yet statistical evidence showing how many mass shootings may have been averted, he said.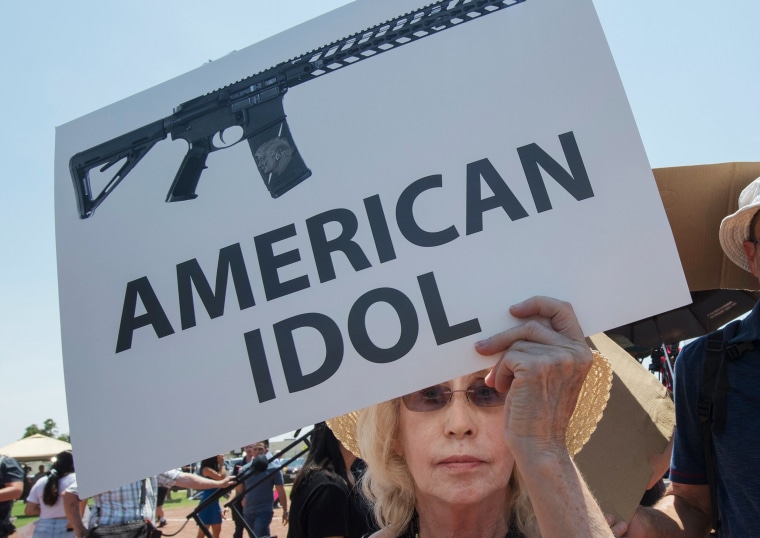 But that doesn't mean the laws aren't worthwhile, he added. Swanson was involved with a study that determined that for every 10 to 20 gun seizures in Connecticut and Indiana, there's been one less suicide.
"It's far more likely to be helping your young son or your granddad thinking about taking their own life" than preventing a mass shooting, he said, but these laws "can be a doorway from a dark place."
Dave Kopel, a gun rights advocate and the research director at the Independence Institute, a libertarian think tank in Denver, said he disagrees with the methodology of the study finding the laws led to a significant drop in the overall suicide rates in Connecticut and Indiana, but acknowledged they could help make a small difference.
Kopel's wary of some states' versions of the red flag laws, because he doesn't believe they have enough due process protections in place for gun owners. He said he's nevertheless optimistic that Graham and Blumenthal will produce "a good bill."
"I'm hopeful this will be a good bill that provides funding to encourage states to enact red flag laws that have strong due process," he said.
Swanson, the Duke professor, said the red flag laws would have to be teamed with other measures to make a significant dent in the country's gun violence, including a crackdown on gun traffickers.
"We shouldn't have unrealistically high expectations that just because Congress might do this, it will stop mass shootings. I wish that were true," he said.