Rep. Joe Barton, R-Texas, announced Thursday that he will not run for re-election next year — just days after his nude photo and a salacious text surfaced on social media.
"As a young congressman, my slogan was 'listening to you in Texas, working for you in Washington,'" Barton, 68, said in a statement. "It has been a tremendous honor to represent the 6th District of Texas for over three decades, but now it is time to step aside and let there be a new voice."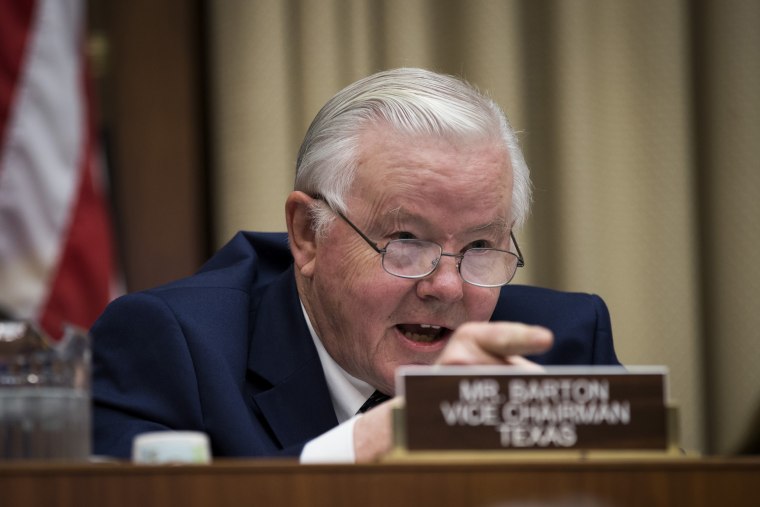 Barton, who represents a district south of Dallas, was in the national spotlight last week after a close-up photo of his genitals first appeared on an anonymous Twitter account, along with a lewd message he had written, about a month after he had announced his intention to seek re-election.
Barton confirmed the authenticity of the photo and text and expressed regret. He later said he might have been a victim of a crime.
"While separated from my second wife, prior to the divorce, I had sexual relationships with other mature adult women," he said at the time. "Each was consensual. Those relationships have ended."
"This woman admitted that we had a consensual relationship," Barton said. "When I ended that relationship, she threatened to publicly share my private photographs and intimate correspondence in retaliation. ... I offered to take the matter to the Capitol Hill Police to open an investigation."
The Dallas Morning News reported that the photo of Barton could violate a Texas law banning "revenge porn," which makes it illegal to distribute such images without consent.
Barton, who was elected in 1984, is the longest-serving member of Congress from Texas.