Democratic Rep. John Conyers has no plans to resign after claims were made of sexual misconduct, his attorney said in a statement Wednesday.
Attorney Arnold Reed said that "while these allegations are serious, they are simply allegations."
"If people were required to resign over allegations, a lot of people would be out of work in this country including, many members of the House, Senate and even the president," Reed wrote in the statement.
Conyers, D-Mich., admitted on Tuesday to reaching a financial settlement with a former staffer who had accused him of sexual misconduct but the lawmaker denied having done anything improper.
The admission of the settlement came after Buzzfeed reported on Monday that Conyers had settled a wrongful dismissal complaint in 2015 with an ex-staffer who claimed she'd been fired after refusing Conyers' "sexual advances."
Conyers, 88, paid out a more than $27,000 settlement to the woman in exchange for a confidentiality agreement from her, Buzzfeed reported.
Conyers in a statement Tuesday denied the allegations, but admitted having reached a settlement for an amount that "equated to a reasonable severance payment."
He said that the agreement contained "an express denial of liability" but was reached in order to avoid "protracted litigation."
Related: Secret Conyers settlement raises new questions on Capitol Hill
The reported payment brought attention to the lack of accountability in how sexual harassment claims on Capitol Hill are handled. The settlement reached between the congressman and the former staffer was done outside the scope of the official reporting mechanism.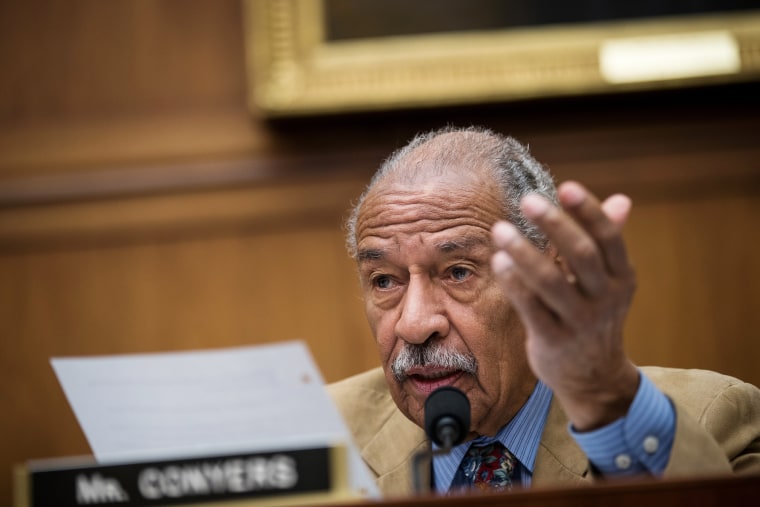 The House Ethics Committee announced on Tuesday that it has opened an investigation. The committee chair and ranking member said the committee was aware of public allegations that Conyers "may have engaged in sexual harassment of members of his staff, discriminated against certain staff on the basis of age, and used official resources for impermissible personal purposes."
The Detroit Free Press said in an editorial published Tuesday that Conyers must resign. The newspaper said that while Conyers has a long career of fighting for equality, resignation is "the appropriate consequence for the stunning subterfuge his office has indulged here."
Reed, the attorney, said a press conference would be held after the holiday to address the allegations, and said Conyers has and continues to maintain his innocence.
Reed did not specify allegations when referring to President Donald Trump, who has been accused of sexual misconduct, including sexual assault, in the past. Trump has denied the allegations.
Those claims have gained new attention after Trump said of conservative Republican Senate candidate Roy Moore, who is accused of sexual misconduct involving young women decades ago: "He totally denies it. He says it didn't happen. And you know, you have to listen to him also."