Justice Department prosecutors have charged Rep. George Santos, R-N.Y., with federal offenses, four sources familiar with the matter told NBC News, the most significant escalation in a growing pile of investigations that have plagued him since before he even took office.
A source with direct knowledge of the matter confirmed to NBC News that Santos, who was spotted in the U.S. Capitol on Tuesday, is expected to appear at the Long Island Federal Courthouse in Central Islip, N.Y., on Wednesday.
Separately, a congressional source said Santos learned about the charges Tuesday. Santos and his lawyer did not immediately respond to requests for comment.
Santos, who faced legal and political pressure to resign from Congress after he admitted to having lied about parts of his background, is the subject of multiple investigations into his finances and other issues.
No court documents associated with the case were immediately available. A spokeswoman for the U.S. attorney's office for the Eastern District of New York declined to comment. CNN first reported the pending charges.
In December, two federal law enforcement sources confirmed that federal prosecutors from the Eastern District of New York had opened an investigation into Santos and were examining his finances, including potential irregularities involving financial disclosures and loans he made to his congressional campaign.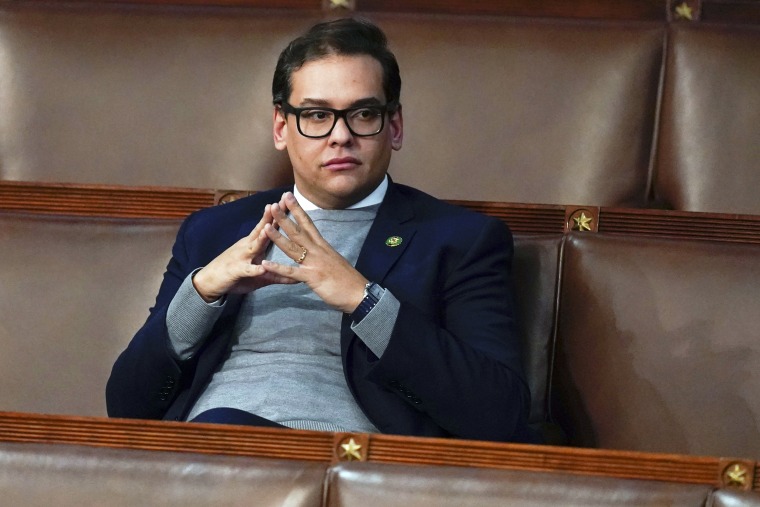 Santos announced his re-election campaign just last month, despite investigations into a variety of allegations against him in New York state, as well as by the House Ethics Committee, and calls by several of his home-state colleagues for his resignation. Republican Reps. Mike Lawler and Marcus Molinaro of New York reiterated their calls for him to step down in the wake of the indictment news Tuesday night.
"There's a clock ticking, and George Santos should have resigned in December. He should have resigned in January," Molinaro said. "He should have resigned yesterday, and maybe he'll resign today, but sooner or later, honesty and justice will be delivered to him."
The Ethics Committee announced in early March that it had opened a probe to determine whether Santos may have "engaged in unlawful activity" while campaigning for Congress or whether he "failed to properly disclose required information on statements filed with the House."
The committee also said it would examine whether Santos violated federal conflict-of-interest laws in connection with his role in a firm providing fiduciary services, as well as sexual misconduct allegations against him from a prospective aide.
A Navy veteran who accused Santos of having disappeared with thousands of dollars from an online fundraising campaign intended to cover lifesaving surgery for his service dog also said he spoke to the FBI about his allegations.
The Nassau County district attorney's office said in December that it, too, was looking into "numerous fabrications and inconsistencies" about Santos' background after The New York Times uncovered a series of inconsistencies about his biography, including his education, work history and financial dealings. The state attorney general's office said the same month that it was "looking into a number of issues" surrounding Santos.
While Santos has refused to resign, he said in late January that he would recuse himself from a pair of assignments on the Small Business and Science committees amid the probes.
Democratic Reps. Ritchie Torres, Dan Goldman and Alexandria Ocasio-Cortez of New York said Santos should have resigned a long time ago. Ocasio-Cortez called some of the previous allegations against Santos "disturbing" and added: "He will have his day in court."
Torres said that if Santos does not resign, Republican leadership must "summon the courage to join House Democrats in expelling" him.
Goldman said, "I think the speaker should encourage him to resign, and if not, I think we ought to bring the expulsion motion that has already been filed to the floor."
House Minority Leader Hakeem Jeffries, D-N.Y., said, "George Santos is a disgrace," but he would not discuss trying to expel Santos, saying his focus is on the debt ceiling.