Rep. Jennifer Wexton, D-Va., who flipped a GOP-held seat in the anti-Trump Democratic wave in the 2018 midterms, said Monday she will not seek re-election in 2024 after she learned her health issues had worsened.
In April, Wexton, 55, announced that she had been diagnosed with Parkinson's disease, which she said was impacting her balance, mouth movement, and speech. She said Monday that her diagnosis changed to progressive supranuclear palsy, a rare condition that she described as "Parkinson's on steroids."
"I've always believed that honesty is the most important value in public service, so I want to be honest with you now — this new diagnosis is a tough one," Wexton said in a lengthy statement explaining her decision. There is no 'getting better' with PSP. I'll continue treatment options to manage my symptoms, but they don't work as well with my condition as they do for Parkinson's."
"I'm heartbroken to have to give up something I have loved after so many years of serving my community," she continued. "But taking into consideration the prognosis for my health over the coming years, I have made the decision not to seek reelection once my term is complete and instead spend my valued time with Andrew, our boys, and my friends and loved ones."
Wexton's retirement opens up a battleground seat in northern Virginia; the district includes wealthy suburbs and exurbs outside of Washington, D.C. But the region has been trending bluer in recent elections, and after redistricting in 2022, Wexton defeated GOP opponent Hung Cao by 6.5 percentage points.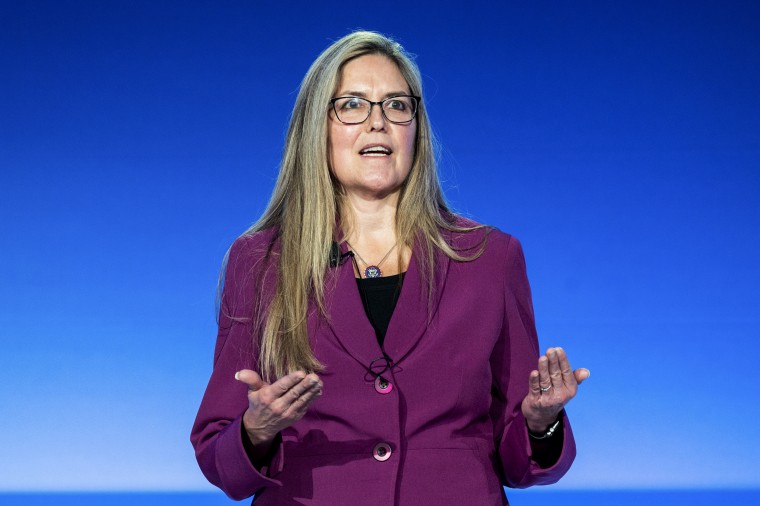 Wexton, a former state lawmaker, arrived on the national stage in 2018, when she defeated incumbent Rep. Barbara Comstock, R-Va., in one of the most closely watched and most expensive races of those midterm elections. House Democrats were swept back into power as voters turned against then-President Donald Trump.
In her statement Monday, Wexton explained that her disease had been taking a toll on her and that it was becoming harder to manage her symptoms.
"When I shared with the world my diagnosis of Parkinson's Disease a few months ago, I knew that the road ahead would have its challenges, and I've worked hard to navigate those challenges through consistent treatments and therapies. But I wasn't making the progress to manage my symptoms that I had hoped, and I noticed the women in my Parkinson's support group weren't having the same experience that I was," Wexton said.
"I sought out additional medical opinions and testing, and my doctors modified my diagnosis to Progressive Supra-nuclear Palsy — a kind of 'Parkinson's on steroids.'"
Minority Leader Hakeem Jeffries, D-N.Y., praised Wexton's efforts to pass gun-reform legislation, crack down on human rights abuses in China and help the middle class as a member of the Appropriations and Budget committees.
"The entire House Democratic Caucus family is keeping Jennifer and her family in our prayers as she courageously takes on this next chapter and continues to use her platform to raise awareness of neurological disease," Jeffries said in a statement. "Jennifer's strength is an inspiration to us all and we look forward to partnering with her throughout the balance of the 118th Congress and beyond to support the millions of families confronting this diagnosis and to advance efforts to find a cure."