The Democrat running to unseat powerful Ohio Republican Rep. Jim Jordan has unleashed a campaign video that accuses him of actively working to limit the rights of women — and that is inspired by "The Handmaid's Tale."
Titled "Before It's Too Late," the campaign ad by the Democrat, Janet Garrett, begins with footage of Jordan adamantly denying allegations from the male wrestlers he coached at Ohio State University that he turned a blind eye to sexual abuse by the team doctor.
The ad's female narrator — dressed in garb from the dystopian Hulu drama based on Margaret Atwood's novel — then addresses Jordan directly, calling him "Commander Jordan," another reference to the show.
"Your beliefs about women were crystal clear," the narrator intones. "Violence against women? Acceptable. Equal pay? Unnecessary. Birth control and choice? Eliminated... You got away with it because when it mattered most, when we had the chance to raise our voice, we fell silent."
The ad is aimed at mobilizing women voters who are angered by Jordan's attempts to defund Planned Parenthood and his opposition to the Violence Against Women Act, a campaign spokesman said.
It's unclear how many sympathetic female voters can be found in the conservative Ohio district — which went for Donald Trump in 2016 by a margin of 33.4 points, and which Jordan won handily in his two previous matchups against Garrett — but Garrett is determined to speak to them.
She's also determined to put Jordan on the defensive after several wrestlers he coached more than two decades ago accused him in July of failing to protect them from abuse by the late Dr. Richard Strauss. Jordan has said he did not know of the abuse, and former wrestlers have been divided on whether they believe him.
The ad also comes as Garrett, 65, a retired teacher and union leader, has been speaking on the campaign trail about an ex-husband whom she says attacked her 18 years ago.
"It's not just a problem of sexual assault," she told NBC News recently, referring to both the Ohio State wrestlers and her own experience. "The problem is that men in authority turn a blind eye to it."
On Dec. 23, 2000, Garrett's ex-husband beat her and threatened to rape her, she said. He was arrested but was later let out of jail by sympathetic police officers in Oberlin who didn't want him to spend Christmas behind bars, Garrett said.
Garrett, who said the police photographed her bruises, said she has told this story over the past 18 years, but she has not previously made it a centerpiece of a political campaign.
"I have never shied away from talking about it," she said.
A spokesman for the City of Oberlin police said they have no record of the alleged abuse; after this many years, the files have been purged, the spokesman said. Garrett's ex-husband did not immediately respond to a request for comment.
Diana Banister, president of the Virginia-based Shirley & Banister Public Affairs, who has helped Jordan defend himself against the Ohio State allegations, did not immediately comment on Garrett's ad, which was released Wednesday.
In response to questions about Garrett's campaign, Banister responded via email: "It is troubling that you would use a tragedy like this and the pain of an abuse victim to try to make a case against Rep. Jordan. We are very sorry to hear this about Mrs. Garrett and hope justice was done in her case and we hope the same for all those who have been victims of abuse."
The first two times Garrett tried to unseat Jordan, in 2014 and 2016, she lost badly. No one is predicting that the third time will be the charm come November, but Garrett has reaped a windfall in campaign contributions since July, when the former Ohio State wrestlers came forward.
In each of her first two races, Garrett's campaign raised less than six figures in contributions. This year, she has raised more than $500,000, and the money continues to come in, according to her campaign.
Just as important, Garrett also has some serious tactical help in Joe Trippi, the political strategist who helped Doug Jones defeat Roy Moore in Alabama last year to become the first Democrat to win a U.S. Senate seat in the state in 25 years.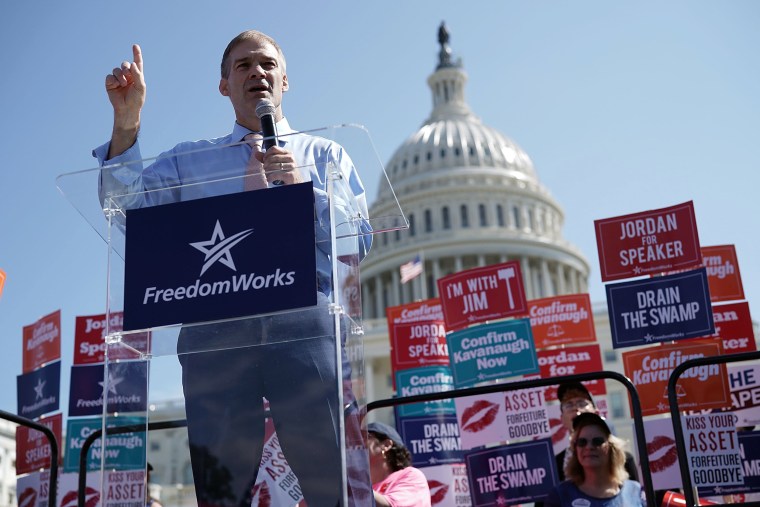 Garrett said the former wrestlers' criticism of Jordan has resonated with voters.
"Every place I go, people ask me if the Jordan scandal is going to have an impact," she said. "It's on people's minds."
Garrett said she feels sympathy for the Ohio State wrestlers who say they were sexually abused by Strauss and understands why they would be dismayed by Jordan's insistence that he knew nothing about what the doctor was doing.
"I have gotten so many messages from women saying, 'Thank you for standing up and telling your story,'" Garrett said. "Men are victimized by sexual assault too. And yes, it's hard for men to talk about this."
Garrett has also tied the Ohio State sex abuse scandal to Jordan's public support for Judge Brett Kavanaugh, President Trump's Supreme Court nominee, who has been accused of sexual assault and misconduct, allegations Kavanaugh denies.
Christopher Devine, an assistant professor of political science at the University of Dayton and an observer of the Ohio political scene, said Jordan is in no danger of losing this election.
"This is still a district that is classified as safe Republican," he said.
But Jordan needs a big win over Garrett to remain a major player on the national stage — and that's no longer guaranteed, Devine said.
"How he performs in this race could affect his chances of being the next House speaker," Devine said. "He has a lot of incentives to pull off a big win."
Has the Ohio State scandal hurt Jordan?
"It's hard to tell," Devine said. "The people who really love Jim Jordan, who think he's a warrior for conservatism, they just reject those allegations. …. They just see it as the media, the deep state, trying to discredit a good man with trumped-up allegations."
If Jordan wins but Garrett gets 40 percent of the vote "that would be notable," Devine said, especially in a heavily gerrymandered district like the 4th Congressional District, which stretches from the suburbs of Columbus to the shore of Lake Erie and avoids big cities with big pockets of Democratic voters like Columbus and Cleveland.
"A lot of people say it's shaped like a duck," Devine said.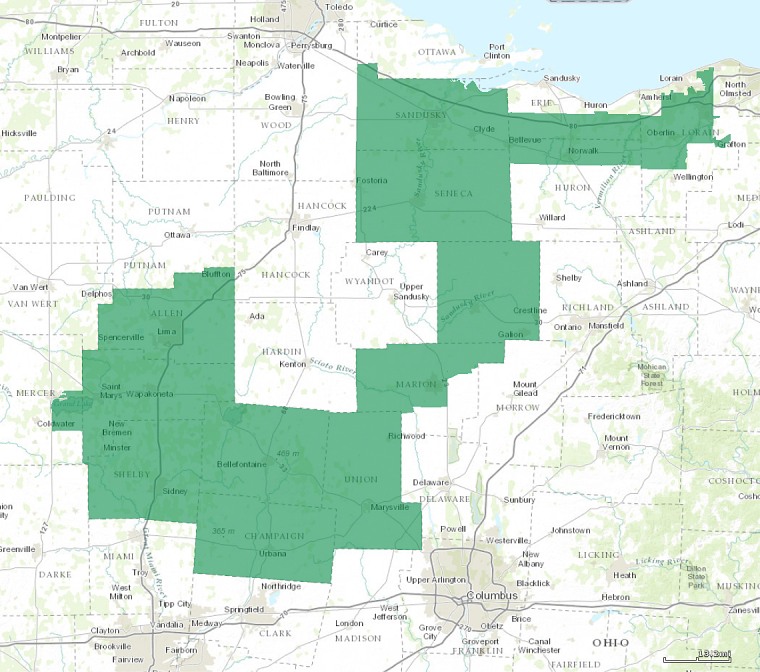 That said, the district includes Ohio's most liberal city, Oberlin, which is Garrett's hometown and home to the well-known liberal college that bears its name.
"I think it's safe to say that Congressman Jordan won't be winning Oberlin," Devine said.