Rep. Marjorie Taylor Greene, R-Ga., expressed her concern over the Chinese spy balloon that crossed the country last week by carrying a large white balloon around the Capitol complex on Tuesday.
"It's just an innocent white balloon," Greene said in one post on Twitter.
In another, she complained to the Right Side Broadcasting Network that President Joe Biden had "allowed China to traverse the United States with a Chinese spy balloon." She then appeared to inflate the spy balloon's abilities, saying the president permitted it to "gather intel from all our military bases, our food factories, our cities, our critical infrastructure to send it back to China before shooting it down on Feb. 4."
"We need to ask why is our government afraid of China," she said, also blaming "the Department of Defense and the Pentagon" for failing to blow the balloon out of the sky before it reached U.S. soil.
Greene hopes to bring the balloon to Biden's State of the Union speech Tuesday night, Semafor reported.
U.S. military officials have said they wanted to study the 200-foot balloon that flew 60,000 feet in the air to get a better idea of its surveillance abilities and were skeptical the Chinese government was able to gather any information it didn't already have. They also said they didn't want to shoot it down when it was over the U.S. mainland for fear it could cause injuries and property damage on the ground.
The military was continuing to retrieve pieces of the balloon and its approximately 2,000-pound payload from the Atlantic Ocean on Tuesday. It was brought down 6 miles off the South Carolina coast on Saturday by a missile fired from an F-22 Raptor.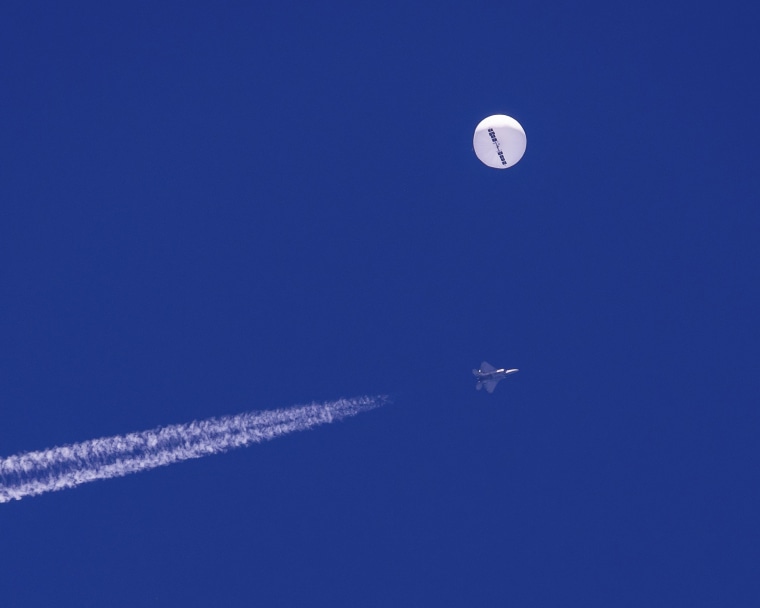 Greene's mockery, meanwhile, was met with some mockery of its own.
"She has to do something with all that hot air," Rep. Bonnie Watson Coleman, D-N.J., tweeted of Greene and the balloon.
Rep. Barry Moore, R-Ala., posted a selfie with Greene and her prop, praising her for bringing attention to the Chinese spy balloon.
Former Greene ally Rep. Lauren Boebert — the Colorado Republican who joined Greene in yelling at Biden during last year's State of the Union address — was asked by a reporter for the political website The Hill if she was planning any kind of symbolic protest for Tuesday night's speech.
"Well, I won't be bringing a white helium balloon, if that's what you're asking," Boebert replied, according to the reporter.