WASHINGTON — Key Senate Republicans came out Monday against temporarily replacing Sen. Dianne Feinstein, D-Calif., on the Judiciary Committee, leaving Democrats in a predicament as several of President Joe Biden's judicial nominees are bottled up in the panel.
Sen. John Cornyn, R-Texas, a senior member of the committee who is close to party leaders, said he and his colleagues oppose the idea as it would help Democrats advance judges on a party-line basis.
"These are, by definition, the most controversial nominees," Cornyn told NBC News. "And if Democrats are depending strictly on their own party-line vote to get them out of committee— I don't think there's any appetite on our side to help what we consider to be controversial or unqualified nominees to get confirmed."
Asked whether there's a path to winning the 10 Senate Republicans needed to break a filibuster and execute the swap, he said: "I don't think so."
Feinstein, 89, has been absent from the Senate for weeks after she revealed she had been hospitalized with shingles. Amid calls to resign her seat, Feinstein issued a statement asking that she be swapped out with another Democrat so the panel can advance judges until she is able to return.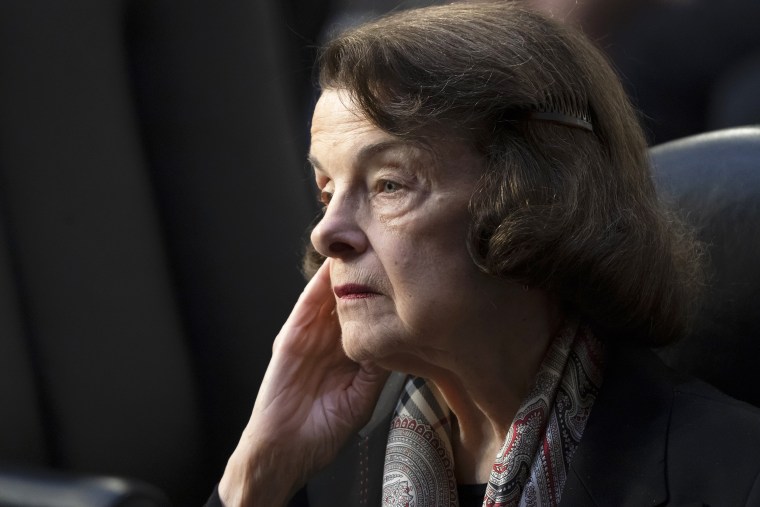 Sen. Thom Tillis, R-N.C., who also sits on the committee, also came out against the Feinstein plan on Monday.
"I will vote against any attempt by Senate Democrats to temporarily replace Sen. Feinstein on the Judiciary Committee. I deeply respect Senator Feinstein, but this is an unprecedented request solely intended to appease those pushing for radical, activist judges," Tillis wrote on Twitter.
Sen. Mitt Romney, R-Utah, also rejected the proposal.
"They'd like Republicans to help them speed the appointment of more liberal justices? Yes — when hell freezes over," he said.
Centrist Sen. Susan Collins, R-Maine, said she, too, is against the swap. "She's been an extraordinary senator. She's a friend of mine. During the past two years, there has been a concerted campaign to force her off of the Judiciary Committee. And I think that's wrong, and I won't be a part of that," Collins said.
Earlier Monday, Judiciary Committee Chair Dick Durbin, D-Ill., urged Republicans to show "a little kindness and caring" toward Feinstein and greenlight a temporary committee replacement, noting that a similar situation could happen to them in the future.
"She is obviously sensitive to the fact that her absence has an impact on the committee," Durbin told reporters. "I'm not going to push her into any other decision. I think we can take care of this issue, do it very quickly, and I hope we can find 10 Republicans who will join us in that effort."
Cornyn, Collins and Tillis are among the Senate Republicans who have been more willing to partner with Democrats in recent years. Their rejection of the idea is a bad sign for Democrats, who will need to win a minimum of 10 Republicans, with Feinstein absent, to secure her replacement on the Judiciary Committee.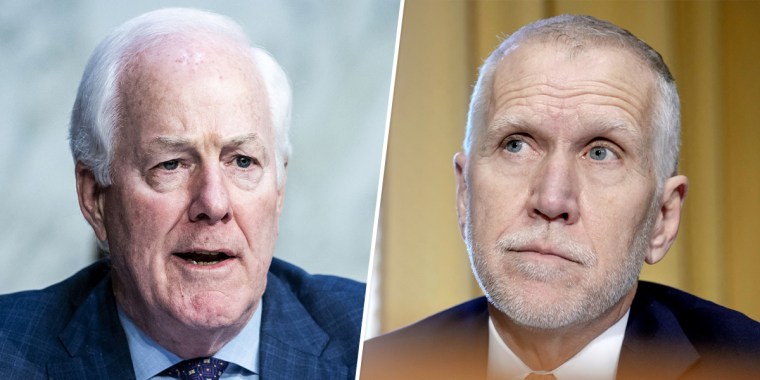 Durbin didn't say what Democrats would do next if Republicans block that request. Reorganizing committees is subject to a filibuster, and Democrats have lacked the votes to kill that rule.
Other Republicans have also spoken out against temporarily replacing Feinstein, including Sens. Marsha Blackburn of Tennessee, Tom Cotton of Arkansas, Deb Fischer of Nebraska, Shelley Moore Capito of West Virginia and Joni Ernst of Iowa.
"Probably not," Capito said. "I think that's a problem for them and their caucus to figure out the answer to. I don't think it's incumbent upon me to figure that out for them."
Asked whether she supports a temporary swap, Ernst said: "No, I don't. We're not going to help the Democrats with that."
The likely GOP rejection of a committee replacement puts the onus back on Feinstein, who has no timetable to return and has conceded that her absence is a problem for Democrats. The Judiciary Committee is divided 11 to 10 between Democrats and Republicans, and a tie vote means a nominee cannot advance.
Cornyn said he hopes Feinstein returns, but he said that if she retired and was replaced by a new senator, Republicans might be more amenable to overhauling committee seats permanently, as there is precedent for that. A committee assignment can be changed quickly with unanimous consent in the Senate.
"That would be a different set of circumstances than this," Cornyn said of reorganizing committees to accommodate new members of the Senate. "But not on a temporary basis."