DALLAS — This fall, dozens of members of Congress introduced or signed on to a pair of non-binding House resolutions focused on preserving a version of one of Obamacare's signature protections: a guarantee of coverage for individuals with pre-existing conditions.
Most of the members had a few things in common, beyond their decision to go all-in on the issue in the campaign's closing weeks. They were Republican. They had voted, repeatedly, to repeal the Affordable Care Act, the law that forces insurers to take on customers with pre-existing conditions with no added charge to their premiums, and last year voted for a replacement bill that would weaken that guarantee. And many — including Rep. Pete Sessions, R-Texas, the author of one of the measures — had found themselves locked in the closest races of their congressional careers.
They aren't alone. With polls suggesting most Americans overwhelmingly support Obamacare's protections for those with pre-existing conditions — one survey from the Kaiser Family Foundation last month found that three-quarters of those polled want to keep them in place — Republicans in many of this cycle's most competitive contests have embraced a similar message in the midterms home stretch, pledging their support for the idea on debate stages, in campaign ads and trail appearances.
But so far it's not clear the change in Republican politics has been matched by a shift in policy. The House resolutions offer few details, and conservatives have rebelled against prior efforts to keep existing ACA protections. A new Senate bill would require companies to provide coverage to all customers, but could open the door to charging more for their treatments. And right now, Republican officials in 20 states, including some running for higher office, are backing a lawsuit that would undo the ACA entirely.
Some, like Sessions, are invoking personal stories of their own family's struggles. Asked during a debate last week whether his plan would cover those with pre-existing conditions, Sessions had a ready answer.
"Matter of fact, it does," said the 11-term Dallas-area congressman said, adding: "I have a 24-year-old Down syndrome son." At least 20 Republicans have signed onto the non-binding measure he introduced, including several other vulnerable incumbents.
Missouri's Josh Hawley, running against incumbent Democratic Sen. Claire McCaskill, is one of several GOP state attorneys general sounding a similar note on the trail despite signing on to the Texas-led suit to overturn the ACA, including its protections for individuals with pre-existing conditions.
"Earlier this year, we learned our oldest has a rare chronic disease, pre-existing condition," Hawley said in a recent ad. "I support forcing insurance companies to support all pre-existing conditions."
In Wisconsin, Gov. Scott Walker is running ads supporting that protection for individuals while backing the same lawsuit to eliminate Obamacare. In Arizona — home to Rep. Martha McSally, one of the 217 Republicans to vote for the House GOP's health care bill last year — Vice President Mike Pence plugged her Senate bid with the pitch that she had "fought to protect pre-existing conditions for every American. I was there. I saw it."
And in Wisconsin, Leah Vukmir — who is running against incumbent Sen. Tammy Baldwin, D-Wis., on a platform of "full repeal" of Obamacare — insisted during a debate earlier this month that she would "fall in front of a truck before I would let people go without coverage for pre-existing conditions."
In recent weeks, the nation's top Republican has repeatedly stressed the same message, even as the White House has backed legislation and legal action that would partially repeal or entirely eliminate those protections.
"We will always protect Americans with pre-existing conditions. That's a major part of what I'm all about," President Donald Trump said in Philadelphia earlier this month, days before writing in a USA Today op-ed article that he had campaigned on those protections, and falsely claiming that he had "kept that promise."
Campaigning in September for West Virginia Senate candidate and current state attorney general Patrick Morrisey, who has also signed on to the suit to overturn the ACA, Trump told a rally crowd that "pre-existing conditions are safe."
But the White House supports the Texas lawsuit as well, though it has argued the courts should act more narrowly — by ending the law's protections for people with pre-existing conditions. The Trump administration has also sought to expand the use of short-term insurance plans, which do not have to cover pre-existing conditions.
Former President Barack Obama, campaigning for Democrats at a rally Friday in Milwaukee, Wisconsin, pushed back hard.
"Making stuff up. Calling up, down. Calling black, white. ...that's what Republicans in Congress are doing all across the country on this pre-existing condition thing. They're running ads everywhere saying, 'we're the ones protecting it,'" he said.
"...[Trump] says 'I'm going to protect your pre-existing conditions' while his Justice Department is in court right now trying to strike down those protections," he added. "That is not spin. That's not exaggeration. That's not trying to put a positive glow on things. That's lying."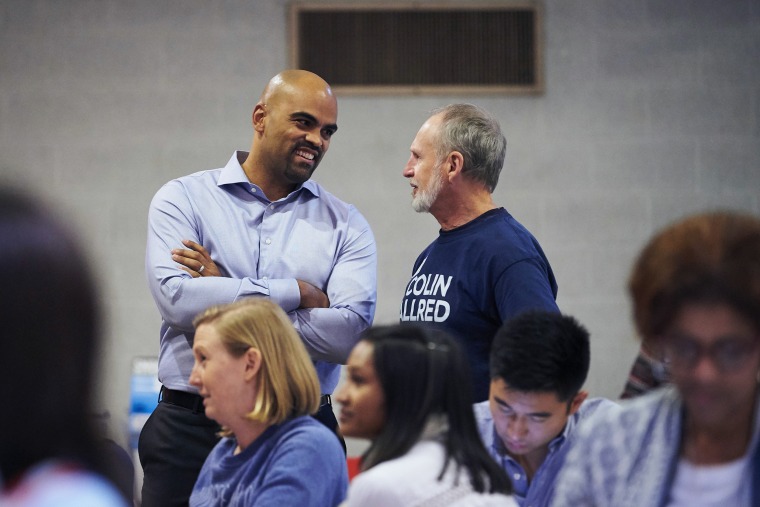 In Texas, Sessions' Democratic opponent had a similar take.
"I think that Pete Sessions's non-binding resolution to protect pre-existing conditions that he put out a couple of weeks ago is just the worst kind of cynical Washington politics that people are so sick of," Colin Allred told NBC News earlier this month at a fish fry sponsored by the Dallas County Democratic Party. "When you have a record in which you have voted over 50 times to take away those protections and then you try to pass a non-binding resolution to say that you stand for them, I think people can see through that."
Sessions' vote to repeal the Affordable Care Act with no replacement, said Allred, backed eliminating coverage guarantees for individuals with pre-existing conditions. And his vote for the House GOP's replacement bill would have created waivers for states to allow insurers to dramatically increase premiums for individuals with pre-existing conditions if they failed to maintain continuous coverage. Other changes, like freeing insurers to sell plans that cover fewer areas of treatment and charge older customers higher premiums, would have effectively raised costs for sicker patients with more expensive needs.
The nonpartisan Congressional Budget Office estimated that under that bill, 23 million fewer Americans would have insurance and that, in states that waived Obamacare's regulations, "less healthy individuals (including those with pre-existing or newly acquired medical conditions) would be unable to purchase comprehensive coverage with premiums close to those under current law and might not be able to purchase coverage at all." The House passed the bill, but the Senate failed to pass its own version.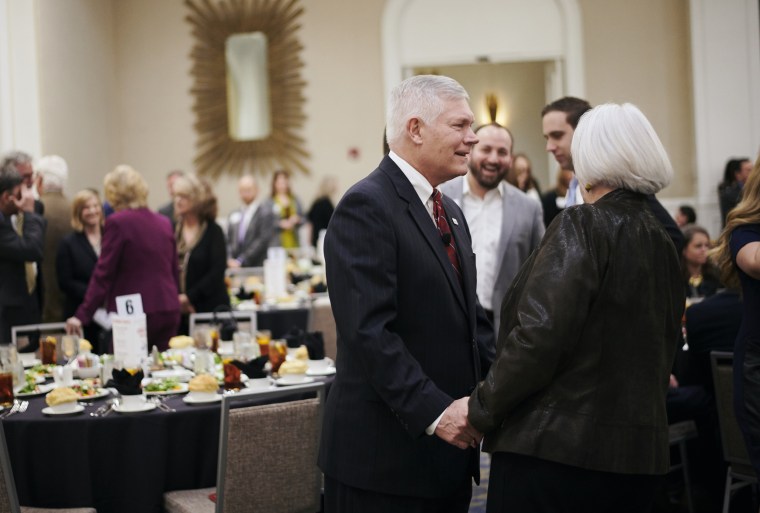 In Dallas recently, Sessions said it wasn't fair to judge his position based on the GOP bill alone. He had previously introduced his own comprehensive health care bill and said his goal was to provide more "cafeteria-style" options for customers, including cheaper ones that cover fewer benefits than required under the ACA. Many customers whose incomes are too high to qualify for subsidies under the ACA currently struggle to afford its pricier comprehensive plans.
Asked twice if he was satisfied with how he voted on the Republicans' health care legislation, he told NBC News that he had expected that the details would ultimately be worked out later.
"It's a process," said Sessions, speaking amid a full day of events devoted to health care policy in a district Hillary Clinton won in 2016. "We voted for ours thinking it would go to the Senate and we'd be able to come back [to it]...It's the final passage that you're held accountable for."
As for the lawsuit Texas is also leading that would undo Obamacare's protections, Sessions deflected several times when asked for his thoughts.
"I don't know about that," Sessions told NBC. He acknowledged that his state's attorney general, Ken Paxton, is suing with other states, but he said "it has nothing to do with pre-existing conditions and has to do with state flexibility."
His political future may depend on whether his district's voters share his view of that distinction.
But Republicans like Sessions aren't just playing defense on health care. As Democrats charge GOP candidates with misleadingly running to the left on health care this year, Republicans have opened up a new offensive from the right as well, slamming Democrats over single-payer proposals that would give the government a greater role in providing health care. Allred has said he does not support single-payer health care, though he does support giving people the option to buy into a public plan.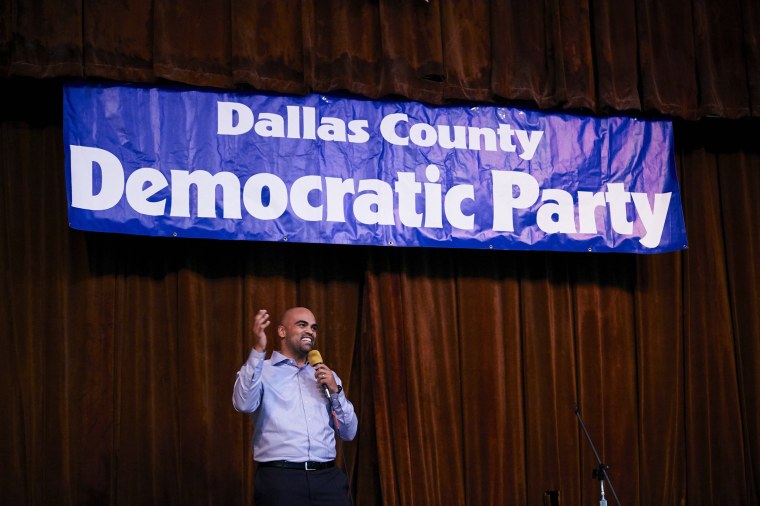 As dozens of people — mostly seniors — chowed down on fried catfish at long folding tables at a local gymnasium recently, Allred told the audience that on the day Sessions voted to repeal Obamacare in 2017, he spoke to a young woman named Natalie Cortez, who was battling stage-4 cancer.
"Our area and Natalie deserve better than Pete Sessions and a non-binding resolution to protect pre-existing conditions," Allred, a civil rights attorney and former NFL player for the Tennessee Titans, said to rousing applause and cheers.
He's sending a similar message on the airwaves, where he, like Sessions, is mining his own personal experience with the issue to make his campaign pitch. "When you see [Sessions] cast a vote to remove protections for people with pre-existing conditions like my mom who had cancer, I don't think that's who we are here in North Texas," Allred said in a recent 30-second TV ad.
In a race that's largely polled as a statistical tie, Allred and Sessions have based their closing message in part on the same pitch: that they're the candidate most committed to preserving those protections. The outcome in their north Texas district may depend on which one better makes that sale.