Sarah Palin campaigned Sunday for Iowa Senate candidate Joni Ernst, declaring her a fellow "mama grizzly."
"Watch out Washington - Joni Ernst, she's a mama grizzly ready to take a stand against the Russian bear. She knows what she's talking about when she talks about freedom, what it takes to protect it," Palin said of Ernst, who's running in a crowded field for the Republican nomination in the race to replace Sen. Tom Harkin, D-Iowa.
"She's not one that's going to be told to sit down and shut up and let the good ol' boys do what they've been doing all these years," Palin said of Ernst.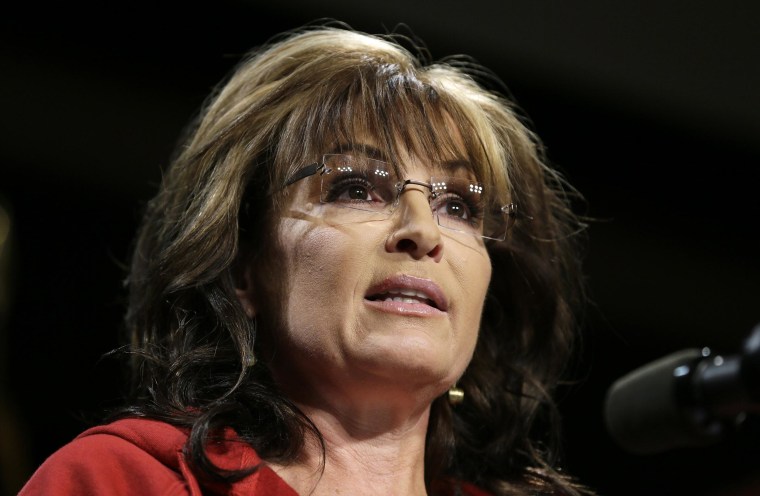 A crowd of about 300 showed up to see Palin campaign with Ernst. Also in attendance were Iowa Lt. Gov. Kim Reynolds and Nebraska Republican Sen. Deb Fischer.
It's one of the smaller crowds that's ever greeted Palin in Iowa - the ballroom in the Hy-Vee Conference Center in west Des Moines, where the event was held, was far from full.
Palin praised the ad that Ernst released highlighting her background working on an Iowa farm.
"She, who grew up castrating hogs, she will know just how to make the big spending piggies there [in DC] squeal," Palin said.
In a brief interview with NBC News, Palin doubled down on a remark she made earlier this week at the NRA convention.
"Would I make it again? Why wouldn't I, yeah, absolutely. Terrorists who want to annihilate Americans, innocent Americans, our children - whatever it takes to stop them. If I were in charge, I'd be stoppin' em," she said.
In the interview, Palin also addressed former Florida governor Jeb Bush's "act of love" comments about undocumented immigrants. "I think that anybody who breaks a law in America as their first action putting their first foot on our homeland illegally, it may be an act of love from the heart, but it's illegal. It's called illegal immigrants for a reason," she said.
- Kasie Hunt