In a vote along party lines, Rex Tillerson, nominated to be secretary of state, has cleared his first major hurdle to confirmation. No Democrat on the Senate Foreign Relations Committee supported Tillerson.
Still, Tillerson passed through the committee with the support of all Republicans on the committee after Sen. Marco Rubio, R-Florida, announced that he would support the former Exxon Mobil CEO, clearing the way for a vote before the full Senate.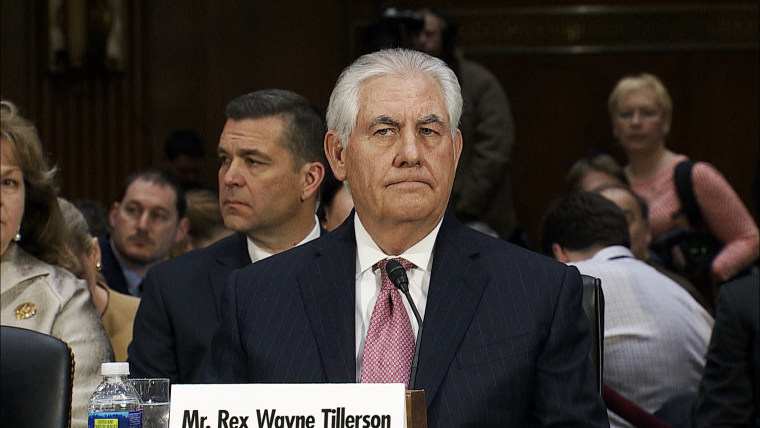 Sen. Rubio was holding out on support out of concerns that Tillerson refused to say that he would support the continuation of sanctions against Russia over their aggression in Ukraine and refused to say he would support sanctions in reaction to meddling in the U.S. elections.
And, in opposition to Rubio's position, Tillerson also wouldn't call Putin a war criminal for killing civilians in Syria during air attacks.
But in a Facebook post Monday morning, Rubio announced his support.
"I hope he does become the best secretary of State," Rubio said Monday during the committee vote. "I also intend to hold him and roe broadly the entire department of state accountable."
Rubio's support cleared the path for Tillerson's easy confirmation. Two other critics, Sens. John McCain of Arizona and Lindsey Graham of South Carolina, also announced that they'd support Tillerson in a vote on the Senate floor.
"Business deal making is not diplomacy," said Sen. Robert Menendez, D-New Jersey, said before the vote.
Sen. Ed Markey, a Democrat of Massachusetts, said he is concerned Tillerson refused to recuse himself from issues that could impact Exxon Mobil.
"The American people have a right to know that it's their interest and not Exxon Mobil's interest," Markey said.
Tillerson has resigned his position from the oil conglomerate but said he would recuse himself from issues impacting Exxon for one year.
His confirmation moves to the Senate floor where he needs the support of 51 senators for confirmation.