A radio news anchor on Thursday accused Sen. Al Franken, D-Minn., of forcibly kissing and groping her a decade ago when they were overseas entertaining U.S. troops.
Leeann Tweeden, a radio news anchor with KABC in Los Angeles, said she met Franken in December 2006, before he became a lawmaker, at a USO show for service members that included a skit he wrote that featured a kiss between the two.
She said Franken, a former "Saturday Night Live" cast member and liberal activist who was elected to the Senate in 2008 and won a second term in 2014, insisted on rehearsing the scene backstage.
"He said to me, 'We need to rehearse the kiss.' I laughed and ignored him. Then he said it again. I said something like, 'Relax Al, this isn't SNL. … We don't need to rehearse the kiss'," she wrote in a lengthy and detailed post on KABC's website.
"He continued to insist, and I was beginning to get uncomfortable."
Tweeden said she reluctantly agreed to rehearse the line leading up to the kiss and that's when Franken "came at me, put his hand on the back of my head, mashed his lips against mine and aggressively stuck his tongue in my mouth."
"I immediately pushed him away with both of my hands against his chest and told him if he ever did that to me again I wouldn't be so nice about it the next time," she said. "I felt disgusted and violated."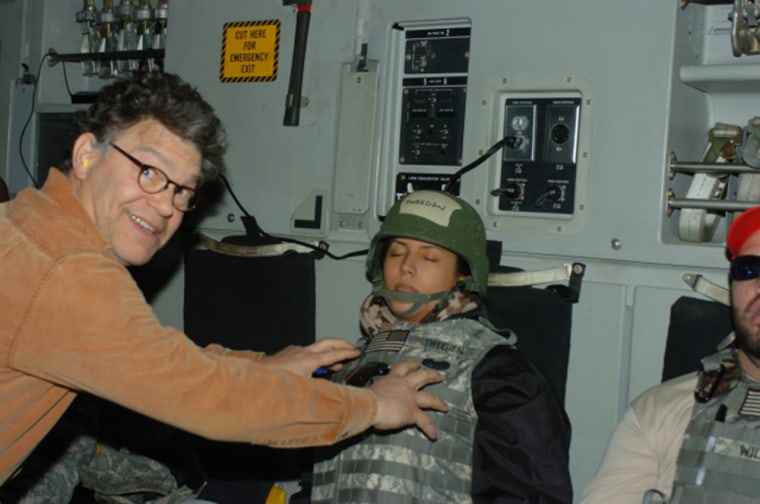 Franken, through a spokesperson, responded: "I certainly don't remember the rehearsal for the skit in the same way, but I send my sincerest apologies to Leeann."
Senate Majority Leader Mitch McConnell, R-Ky., called for an ethics investigations into Franken.
"As with all credible allegations of sexual harassment or assault, I believe the Ethics Committee should review the matter," McConnell said in a statement on Thursday. "Regardless of party, harassment and assault are completely unacceptable — in the workplace or anywhere else."
A spokesperson for the ethics committee declined to comment.
Since coming to the Senate, Franken has largely kept his comedic side in check, focusing instead on the routine of being an elected official serving his Minnesota constituents and advocating for the progressive causes he's long supported. With the recent publication of his memoir, "Al Franken, Giant of the Senate," he started to let that guard down a bit.
Several female Democratic senators said they were disturbed by the allegations and backed an ethics investigation.
"This is unacceptable behavior and extremely disappointing," said Sen. Patricia Murray, D-Wash. "I am glad Al came out and apologized, but that doesn't reverse what he's done or end the matter. I support an ethics committee investigation into these accusations and I hope this latest example of the deep problems on this front spurs continued action to address it."
Sen. Elizabeth Warren, D-Mass., called the accusations "unacceptable and deeply disturbing."
President Trump tweeted about the case, referring to Franken as "Al Frankenstien."
Less than a month ago, Franken had offered his support for the #MeToo movement on social media, where women are sharing their personal stories of being the victims of sexual harassment and assault. #MeToo was sparked by allegations of decades' worth of sexual misconduct by Harvey Weinstein, a Hollywood mega-producer, and others.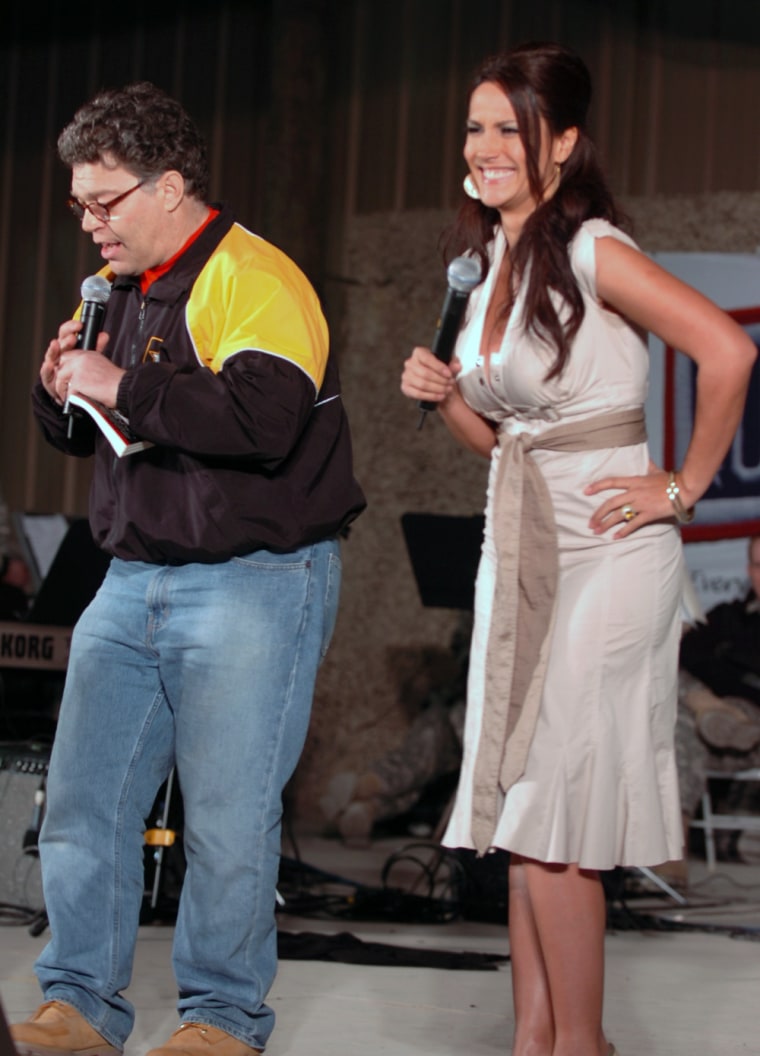 In describing the incident with Franken, Tweeden said that when it was time to perform the skit live, she turned her head so he could not kiss her on the lips.
She said after she rebuffed him, Franken doled out "petty insults" and drew devil horns one of the headshots she had autographed for service members.
But it was when she left the USO show and looked over photographs given to her by a photographer that she found one that showed Franked grabbing her breasts while she was sleeping in the plane and wearing an army-issued protective vest.
"I couldn't believe it. He groped me, without my consent, while I was asleep. I felt violated all over again. Embarrassed. Belittled. Humiliated. How dare anyone grab my breasts like this and think it's funny?" she said.
She said she told her husband at the time about what had happened and showed him the picture.
Tweeden said over the years she was reluctant to share her story because she feared it could be damaging to her career.
"But that was then, this is now. I'm no longer afraid," she wrote. "I want the days of silence to be over forever."
Franken later issued a second, longer statement in which he said he would cooperate with any probe.
"Over the last few months, all of us — including and especially men who respect women — have been forced to take a good, hard look at our own actions and think (perhaps, shamefully, for the first time) about how those actions have affected women," he said.
"For instance, that picture. I don't know what was in my head when I took that picture, and it doesn't matter. There's no excuse. I look at it now and I feel disgusted with myself. It isn't funny. It's completely inappropriate. It's obvious how Leeann would feel violated by that picture. And, what's more, I can see how millions of other women would feel violated by it — women who have had similar experiences in their own lives, women who fear having those experiences, women who look up to me, women who have counted on me."