Sen. Al Franken, D-Minn., broke eight days of media silence and addressed sexual harassment allegations in a series of interviews on Sunday.
"I'm not going to make any excuses. I am embarrassed and ashamed of some of what has come out," Franken told CBS Minnesota on Sunday.
Franken told told the Minnesota Star Tribune that he would return to work on Monday knowing "I've let a lot of people down, and I'm hoping I can make it up to them and gradually regain their trust."
The two-term Minnesota senator had not spoken in person to the press for over a week, eight days after the controversy was sparked by Leeann Tweeden, a Los Angeles radio news anchor. She claimed that during a 2006 USO tour Franken forcibly kissed her while they rehearsed a skit together and groped her later on a plane. An alarming photograph appeared to back up her accusation.
Franken said he had a different recollection of the rehearsed kiss. He told Minnesota Public Radio, or MPR, that he had apologized to Tweeden, and she "graciously accepted my apology."
But since that initial controversy, three additional women have said Franken had grabbed their backsides in public settings. Two shared the information with the Huffington Post anonymously.
Related: Rep. John Conyers steps down from committee leadership position amid harassment accusations
Lindsay Menz, 33, told CNN that Franken grabbed her posterior when the two posed for a photo in 2010. Franken was a senator at the time. One of the women who spoke to the Huffington Post also said that Franken cupped her buttocks while taking a photo together.
NBC News has not verified those reports.
"I don't remember these photographs, I don't," Franken told the Star Tribune, adding that he had posed for countless photos. "This is not something I would intentionally do."
Franken said he was blindsided by the allegations and added that he had used the past week to think "about how that could happen."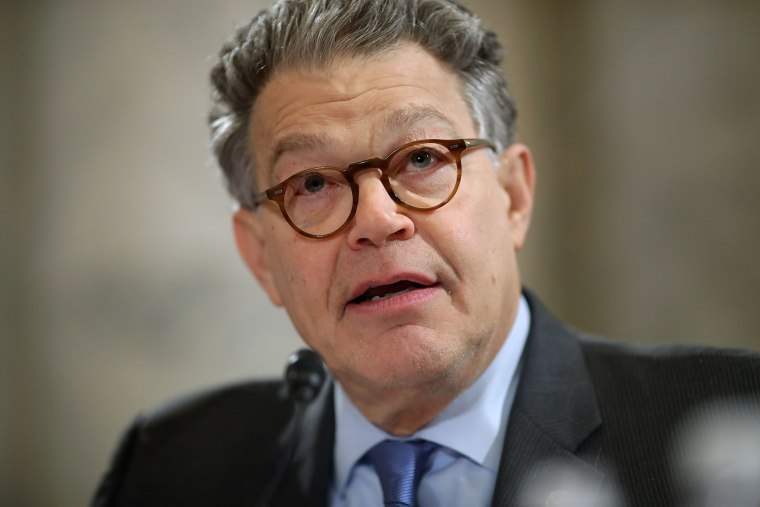 He told MPR that he would never intentionally disrespect or in appropriately touch a woman, but that he believed it important to trust a woman to share her own experience.
"My intention is not important," he told the radio station. "What is important is that we have to listen to women and respect what they say. I have been listening and reflecting and hope to make a positive contribution to this conversation. It is a very important conversation."
Franken later said in the interview that he did not intend to resign.
Franken told the Star Tribune that he didn't think any additional women would come forward, but said he could be wrong.
Related: Al Franken accused of forcibly kissing, groping Leeann Tweeden
"If you had asked me two weeks ago, 'Would any woman say I had treated her with disrespect?' I would have said no," he said. "So this has just caught me by surprise ... I certainly hope not."
The senator added to MPR that he did not recall any similar situation coming up at any time during his life.
"I can't remember any woman coming up to me and saying, 'You made me uncomfortable,'" he said.
Franken has issued multiple apologies for the allegations via written statements. The interviews with Minnesotan local media were the first time he has spoken publicly about the controversy.
"I know I have a lot of work to do to regain the trust of the people I've let down, the people of Minnesota, my friends and colleagues, everyone who counts on me to be a champion for women," Franken said.
He told MPR that he had spent the Thanksgiving break reflecting on the situation, which he said was part of "an important national moment," at his daughter's home with his wife and grandchildren. He said his family remains overwhelmingly supportive of him.
"Franni is a rock," he said of his wife, Franni Bryson, who he said was very angry over the allegations. "They love me unconditionally. One of the things that I was very grateful for on Thanksgiving was my family. My daughter and son-in-law have two beautiful grandchildren. We have so much to be grateful for."
Nevertheless, he hopes to return to Washington D.C. on Monday to fulfill his duties as a senator.
"I'm looking forward to getting back to work tomorrow," Franken told the Star Tribune.