WASHINGTON — As rescue crews are still at work across Texas while people sort through the damage from Hurricane Harvey, Congress is considering linking upcoming legislation that would raise the nation's debt ceiling to financial relief for victims of the storm.
Sen. Roy Blunt, R-Mo., said he wouldn't be opposed if that was the case.
"That's one way to do it," said Blunt, a member of the Senate Republican leadership, on Sunday's "Meet The Press." "The whip and the leader need to look at how the votes come together to make that happen."
Congress returns to work on Tuesday, and even before the storm, it was already going to face a very packed fall agenda. Blunt believes the aftermath of Harvey has created "another reason as to why you'd want to keep the government open" and pass a necessary government-funding bill this month.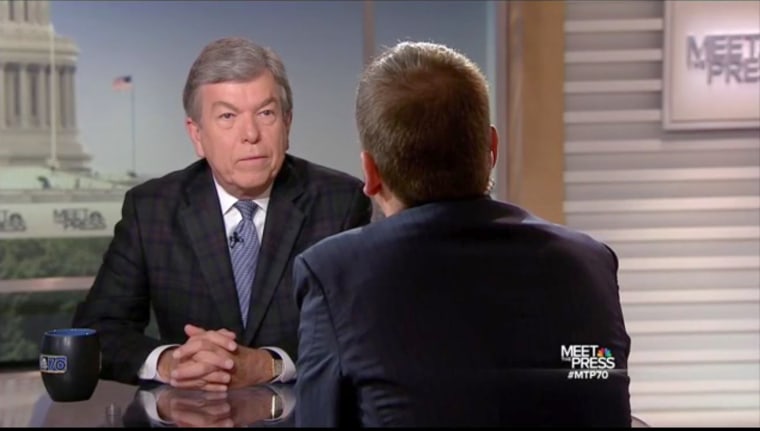 Harvey might be the most costly natural disaster in U.S. history, and President Donald Trump has asked Congress for $7.85 billion in aid for Harvey victims.
"The president's attention to this issue I think puts another reason on the table to get things done in September," Blunt said.
At least 43 deaths have been blamed on the storm thus far and federal officials have said that more than 100,00 have been affected.
Harvey was a Category 4 hurricane when it first made landfall on the Texas coast late Aug. 25, soaking some parts of the Houston area with nearly 50 inches of rain.
Meanwhile, Treasury Secretary Steven Mnuchin said relief funding for hurricane-ravaged areas of Texas might be delayed if the U.S. Congress does not quickly increase the government's debt limit.
Related: Sen. Blunt: Diplomacy Alone Hasn't Worked Well With North Korea
"Without raising the debt limit, I am not comfortable that we will get money to Texas this month to rebuild," Mnuchin said on "Fox News Sunday." He said he and Trump want to tie the debt-limit increase to the relief bill.
The United States is on track to hit its mandated debt limit by the end of the month unless Congress moves to increase it. Conservatives in Congress have traditionally been reluctant to increase that limit without attaching spending cuts, but the immediate need for storm relief may make it politically impossible to vote against the bill.
Also on Sunday's "Meet The Press," Houston Mayor Sylvester Turner expressed optimism about the city's ability to recover, noting that this Tuesday after the Labor Day weekend is set to be a "full functional day" at City Hall. Houston's airports and the Port of Houston are open, he said, and the transit system has returned to regular service.
Turner said the city was now "moving in a positive direction" and also called Trump's visit to the area this weekend "very positive."
On Saturday, the mayor ordered a mandatory evacuation order for sections of West Houston where homes were flooding because of water that was released from the reservoirs. Turner described that order as "very narrow terms for those homes that are already inundated with water," and said it would likely remain in place for about the next 10 days.
"Ninety-five percent of the city is now dry," Turner said. "For many homes, the damage is only inside."
Texas Gov. Greg Abbott said on CNN's "State of the Union" on Sunday that he expected federal government would have to give more than $100 billion for recovery efforts.
Abbott said the cost to rebuild after Hurricane Katrina exceeded $120 billion dollars and that the area affected by Harvey was "far larger."
"When you consider the magnitude of the size of this storm, it's far larger than Katrina both geographically and population wise," he said. "And when you look at the number of homes that have been mowed down and destroyed and damaged — this is going to be a huge catastrophe that people need to come to grips with is going to take years for us to be able to overcome this challenge."