WASHINGTON — Sen. Dianne Feinstein, D-Calif., experienced more complications than were publicly disclosed from a recent case of shingles that left her absent from Washington for nearly three months.
Feinstein, 89, had also suffered from Ramsay Hunt syndrome, which occurred when shingles spread to her head and neck, and a case of encephalitis, which is swelling of the brain, a person familiar with her situation said Thursday.
The New York Times first reported the previously undisclosed complications.
In brief appearances in the Capitol this week, Feinstein appeared to have paralysis on the left side of her face, a side effect of Ramsay Hunt syndrome.
A spokesperson for Feinstein later confirmed the complications.
"The senator previously disclosed that she had several complications related to her shingles diagnosis. As discussed in the New York Times article, those complications included Ramsay Hunt syndrome and encephalitis," the spokesperson said in a statement Thursday night.
"While the encephalitis resolved itself shortly after she was released from the hospital in March, she continues to have complications from Ramsay Hunt syndrome," the spokesperson said.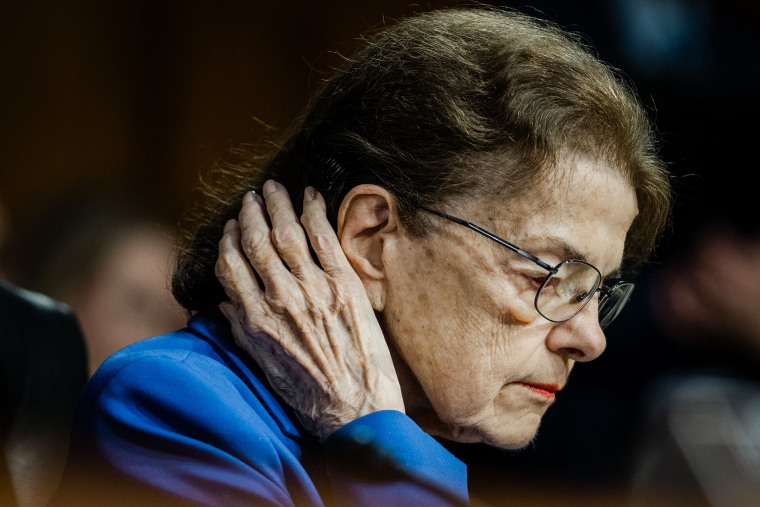 One of former House Speaker Nancy Pelosi's daughters, Nancy Corinne Prowda, has been helping Feinstein navigate the halls of Congress as she recovers from shingles — stoking speculation by Washington insiders about political motives of keeping Feinstein from retiring from the Senate.
Nancy Corinne "is a dear friend of Senator Feinstein's going back more than 40 years," a spokesperson for Feinstein said in a statement earlier Thursday. "She has been spending time with the senator as she continues to recover from shingles."
Feinstein has already announced she will not seek another term in the Senate, setting up a competitive Democratic primary to replace her. Should Feinstein retire before her term ends, California Gov. Gavin Newsom would name a temporary replacement, which some have argued may give an advantage to one of the candidates in the primary race.
Feinstein has been using a wheelchair. The San Francisco Chronicle first reported Prowda's assistance.
Feinstein returned to the Capitol last week after having been diagnosed with singles in February and hospitalized in San Francisco. She attended a Senate Judiciary Committee meeting where she helped Democrats advance three judicial nominees to the floor in party-line votes.
Some Democrats have called on Feinstein to resign from Congress because of her health, but she has been adamant about sticking around.
She said this year that she plans to retire from Congress at the end of 2024 after having served three decades in the Senate and over 50 years in public office. She is the oldest sitting senator and the longest-serving senator from California, having been elected in 1992.
CORRECTION (May 19, 2023, 1:04 p.m. ET): A previous version of this article misspelled part of the name of one of Nancy Pelosi's daughters. Her name is Nancy Corinne Prowda, not Corrine.