Senate Majority Leader Mitch McConnell on Saturday said he is postponing consideration of the GOP health care bill while Republican Sen. John McCain recovers from successful surgery for a blood clot.
McCain, 80, underwent a minimally invasive surgical procedure to remove a blood clot from above his left eye on Friday and will spend the next week recovering in his home state of Arizona. The surgery was successful and McCain is resting comfortably at home in good condition, the Mayo Clinic said.
"While John is recovering, the Senate will continue our work on legislative items and nominations, and will defer consideration of the Better Care Act," McConnell said in a statement Saturday evening, in which he also wished the Arizona senator well.
McCain's absence raised doubts about whether Republican leadership would have enough votes to move past an important procedural hurdle, for which they will need 50 Republican senators to vote in support of taking up the bill.
Because two Republican senators have already said they will vote no on the motion to proceed, if McCain is a yes vote and were to miss the vote, it would fail 49-50.
McConnell earlier this week delayed the start of the traditional August recess by two weeks, until the third week of August. McConnell said at the time that more time was needed to complete action on legislative items.
Related: GOP Hopes Last-Minute Favors Can Push Health Care Bill to Passage
The five-centimeter blood clot was removed and the surgery went "very well," the hospital said.
"The Senator is resting comfortably at home and is in good condition. His Mayo Clinic doctors report that the surgery went 'very well' and he is in good spirits," the Mayo Clinic said. "Once the pathology information is available, further care will be discussed between doctors and the family."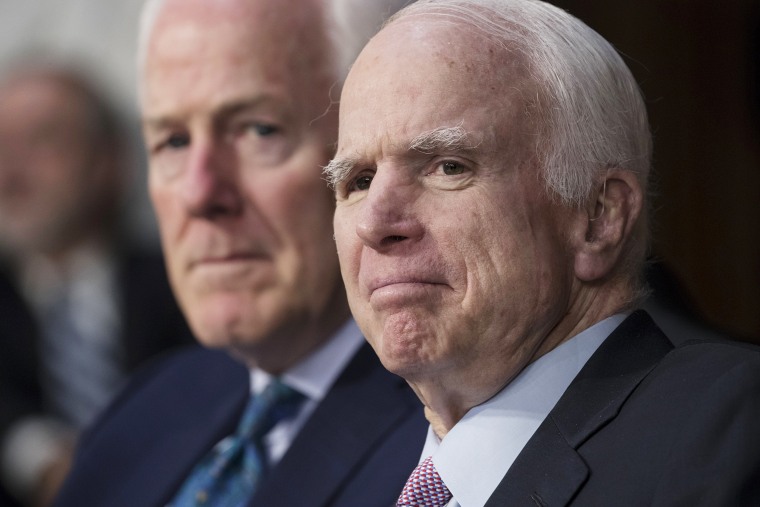 The Mayo Clinic said surgeons used a minimally invasive craniotomy to remove the blood clot.
"Senator McCain received excellent treatment at Mayo Clinic Hospital in Phoenix, and appreciates the tremendous professionalism and care by its doctors and staff. He is in good spirits and recovering comfortably at home with his family," McCain's office said. "On the advice of his doctors, Senator McCain will be recovering in Arizona next week."
Fellow Arizona Republican Sen. Jeff Flake expressed his well wishes in a statement Saturday.
"I have never known a man more tenacious and resilient than John McCain. I look forward to seeing him back at work soon. In the meantime, Cheryl and I extend our best wishes to John, Cindy and the entire McCain family and pray for his speedy recovery," Flake said.