A handful of President-elect Joe Biden's cabinet nominees appeared before congressional panels Tuesday, beginning the confirmation process that will allow the new administration to get to work.
Three nominees — Janet Yellen for treasury secretary, Alejandro Mayorkas, for secretary of homeland security, and Director of National Intelligence nominee Avril Haines — had hearings in the morning, during which they offered starkly different views from that of their predecessors in the Trump administration.
Biden's picks for secretary of state, Antony Blinken, and secretary of defense, Lloyd Austin, had afternoon hearings.
Yellen told the Senate Finance Committee she'd push Congress to "act big" to help Americans struggling from the coronavirus pandemic and to avert a "longer, more painful recession now."
"The damage has been sweeping and as the president-elect said last Thursday, our response must be too," she said, touting Biden's coronavirus and economic relief package of $1.9 trillion.
She acknowledged the package would increase the deficit, but said "with interest rates at historic lows, the smartest thing we can do is act big." "In the long run, the benefits will far outweigh the costs," Yellen, who testified remotely, added.
She also defended the incoming administration's plan to raise the minimum wage to $15 an hour to Sen. Tim Scott, R-S.C., saying data shows related "job loss is very minimal, if anything."
Mayorkas, testifying before the Senate Homeland Security Committee, vowed to turn the DHS' attention toward white supremacist and extremist threats.
"The threat of domestic extremism is one of the greatest challenges DHS confronts," said Mayorkas, who would become the first Latino to lead the agency if confirmed.
He pledged to lawmakers that he will do "everything" he can to prevent attacks like the one that targeted the Capitol on Jan. 6, an event he called "horrifying." His testimony comes as 25,000 National Guard troops are expected to protect the Capitol complex for Biden's inauguration.
Sen. Mitt Romney, R-Utah, told NBC News it is "very, very important" that Mayorkas be confirmed "as soon as possible."
When that will be is unclear. Romney said, "He has a vision for improving our cybersecurity, which I believe is critical," but added, "I look forward to meeting with him privately in my office, and before I make my decision on how to vote."
Biden and the incoming Senate Majority Leader Chuck Schumer, D-N.Y., had urged Republicans to confirm his national security picks Wednesday, as has been done for past administrations but is something a single senator can temporarily block. Sen. Josh Hawley indicated he will object and delay Mayorkas' nomination.
Hawley, the Missouri Republican who objected to Biden's win in Pennsylvania during the Jan. 6 electoral vote count, issued a statement saying he wasn't satisfied with Mayorkas' answers about his plans to secure the southern border.
"Given this, I cannot consent to skip the standard vetting process and fast-track this nomination when so many questions remain unanswered," he said in a statement.
Sen. Gary Peters, the Michigan Democrat who's set to become the committee's chair after the Democrats become the majority party Wednesday, urged Republicans not to play politics with the nomination.
"Our nation is facing unprecedented crises and threats to American national security, from the devastating Coronavirus pandemic to massive cyber breaches across government and the private sector — and as we have seen too clearly in recent weeks — rising domestic terrorism and anti-government violence," he said in a statement.
"I urge my colleagues to follow the precedent set by the confirmations of Secretary John Kelly and Secretary Janet Napolitano by consenting to hold a vote on Alejandro Mayorkas' nomination on January 20th so he can begin working to safeguard our homeland security on day one of the Biden Administration," he said referring to President Donald Trump's and former President Barack Obama's DHS nominees.
Blinken, testifying before the Senate Foreign Relations Committee, made clear Trump's "America First" agenda would be a thing of the past.
He said he'd work to revitalize the diplomatic corps and "with partners around the world" to counter "rising nationalism, receding democracy, growing rivalry from China and Russia, and other authoritarian states mounting threats to a stable and open international system, and a technological revolution that is reshaping every aspect of our lives, especially in cyberspace."
"No single country when acting alone, even one as powerful as the United States, can fully and effectively address these problems," Blinken said.
He also offered a spot of praise for the current president, saying he believed "Trump was right in taking a tougher approach to China. I disagree, very much, with the way that he went about it in a number of areas, but the basic principle was the right one and I think that's actually helpful to our foreign policy."
Asked by Sen. Ted Cruz , R-Tx., if he'd commit to leaving the U.S. Embassy in Jerusalem — a controversial move that was carried out on Trump's orders — Blinken said "Yes."
In Austin's hearing before the Senate Armed Forces Committee, he said the "most immediate" challenge facing the country is the pandemic, and he would ensure the military is doing everything it can to help relief efforts and vaccinate the troops and military families.
Speaking on a day when it was announced that a dozen National Guard troops had been taken off inaugural duty after FBI screenings, Austin, who would be the first Black defense secretary if confirmed, also said he would "fight hard" to "rid our ranks of racists and extremists."
Austin also said he would overturn the Trump administration's ban on transgender military service, which Trump first ordered by tweet in 2017. "If you are fit and you're qualified to serve, and you can maintain the standards, you should be allowed to serve," Austin said.
Austin has another hurdle to clear in addition to the Senate — he needs a waiver from the House to take the job because defense secretaries have to have been retired from the military for at least seven years to be eligible for the post. Austin, a four-star Army general, retired in 2016.
The House will vote on the waiver Thursday.
Testifying before the Senate Intelligence Committee, Haines vowed she would provide a public assessment of the threat of QAnon, a mish-mosh of dangerous conspiracy theories followed by many of the Trump supporters who stormed the Capitol on Jan. 6.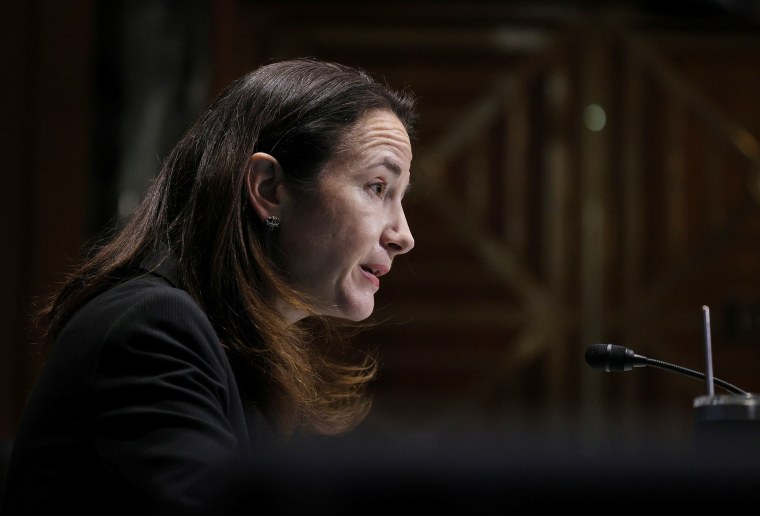 She said the assessment — which lawmakers asked FBI Director Christopher Wray for last month — would include looking at "particular foreign influence operations and how those are affecting QAnon" and "exacerbating" misinformation.
Haines also assured Sen. Marco Rubio, R-Fla., that she would testify annually at the committee's worldwide threats hearing, something Trump's director of national intelligence, John Ratcliffe, dodged doing.
She also vowed to protect whistleblowers and keep politics out of intelligence analysis.