WASHINGTON — A Senate committee voted Wednesday to advance President Donald Trump's controversial pick to become the country's top regulator of toxic chemicals, a crucial step toward his confirmation.
On a 11-10 party line vote, the Senate Environment and Public Works committee approved Michael Dourson's nomination to lead the Environmental Protection Agency's office of chemical safety. His nomination now moves to the Senate for a full vote.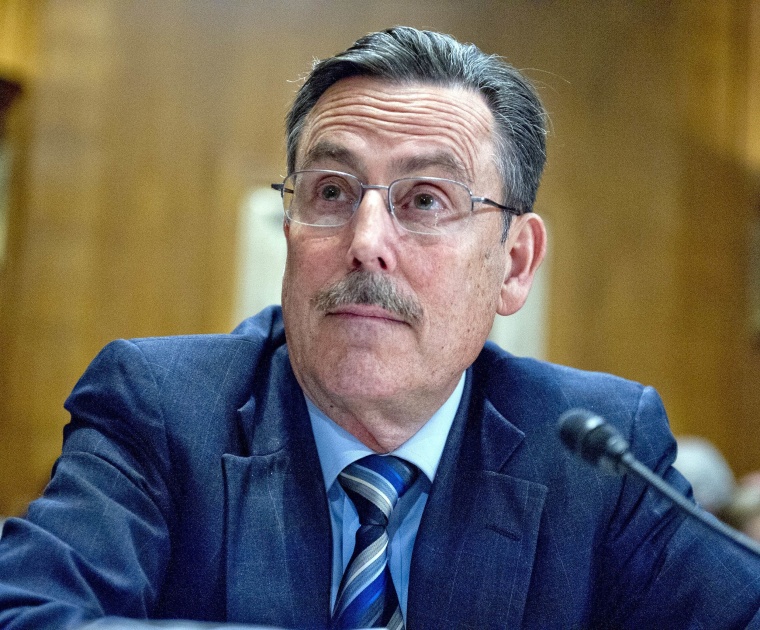 Dourson has elicited fierce opposition from Senate Democrats and outside health advocates. He spent decades conducting research on behalf of chemical manufacturers, which used his work to downplay the risks of potentially toxic substances.
Before and after the vote, Democrats expressed their anger and frustration at the Republican support for Dourson given the recent passage of landmark legislation to regulate toxic chemicals, which Congress approved in 2016 with overwhelming bipartisan support after decades of deliberation.
"What happened at this moment really is a betrayal of everyone's bipartisan effort from these years past," said Sen. Jeff Merkley of Oregon.
Sen. Ed Markey of Massachusetts called Dourson's advancement "immoral."
"This is one of the low points of my entire career in the House of Representatives and the United States Senate," said Sen. Ed Markey of Massachusetts. "It is absolutely immoral for this committee and this Senate to confirm people with a known animosity towards putting in place standards which protect the public health of our country."
Related: Democrats: Trump EPA Nominee Michael Dourson Is Toxic Chemical Swamp Creature
If confirmed, Dourson will helm the EPA's efforts to put the 2016 legislation into effect, regulating a vast array of potentially hazardous chemicals used in everything from children's toys and furniture to household cleaning products.
Democrats do not have the votes to stop Dourson's nomination without Republican support, but they have vowed to use procedural tactics to slow down the process on the Senate floor.
The Senate committee also voted along party lines to advance the nomination of William Wehrum to lead the EPA's air and radiation office, where he would play a key role on climate change and air pollutants. Wehrum had previously worked at the EPA under the Bush administration, which argued that it did not have the authority to regulate greenhouse gas emissions under the Clean Air Act — a position the Supreme Court struck down in 2007.
Before the votes, Sen. John Barrasso of Wyoming, the GOP chairman of the committee, voiced his support for Dourson and Wehrum, as well as two other EPA nominees that the committee advanced on Wednesday.
"These nominees have proven themselves to be well-qualified, experienced and dedicated public servants," said Barrasso. "Their confirmation will fill critically important roles in ensuring that all Americans benefit from clean air, clean water and clean land."