The United States Senate confirmed Mike Pompeo to run the Central Intelligence Agency Monday night, giving President Donald Trump confirmation of his third appointee To lead an agency.
Pompeo, a Republican congressman representing Kansas, was confirmed by a vote of 66-32 after Senate Democrats forced a three-day delay, arguing that the critical post deserved a thorough debate.
Pompeo was sworn in by Vice President Mike Pence just after 9 p.m. ET. Pence told Pompeo, who was joined by his wife and son, that the members of the CIA give meaning to courage for putting their lives on the line and have the admiration of the president.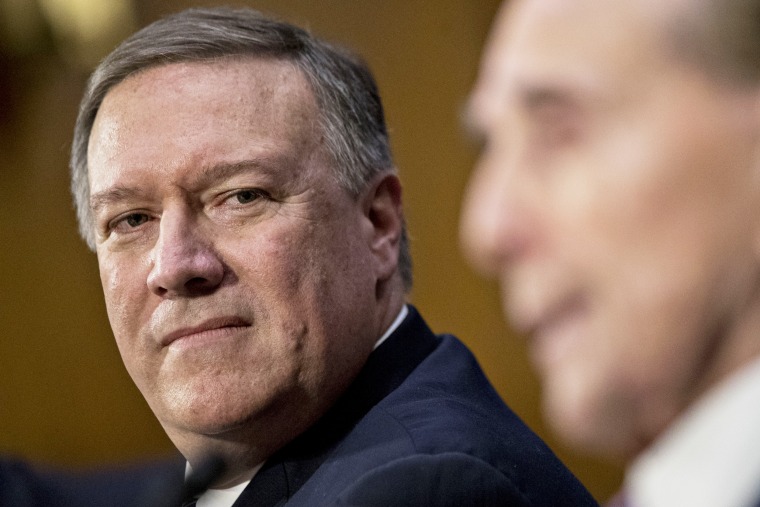 "He's one of the most qualified people out there to serve in this role," said Sen. James Lankford, R-Oklahoma.
But many Democratic senators disagreed. Three even held up Pompeo's confirmation vote Friday, angering Republicans, who said it was unprecedented and dangerous for the CIA to operate without a permanent director. The previous CIA director, John Brennan, resigned when Trump was sworn in last Friday.
Related: Secretary of State Nominee Rex Tillerson Advances Out of Committee
Pompeo's views on government surveillance and torture were cited by Democrats as reasons to oppose him.
As a member of the House Intelligence Committee, Pompeo proposed the reinstatement and the expansion of the government's collection of American citizens' communications. He also supported the National Security Agency's ability to include even more "metadata," or communications, such as financial data, purchases and more, in bulk collections.
"I believe from the bottom of my heart that we can [protect Americans] without invading the privacy rights of the American people," said Sen. Bernie Sanders of Vermont, who voted against Pompeo.
Additionally concerning to Democrats was Pompeo's openness to resuming the technique of waterboarding, a controversial tactic used by the George W. Bush administration after Sept. 11 and outlawed in the Army Field Manual, a document the intelligence community must follow. But in written testimony to the Senate Intelligence Committee, Pompeo said he would ask the CIA if the Army Field Manual is an "impediment" to intelligence gathering.
Trump promoted the use of waterboarding during the presidential campaign and said he would support "much worse."
Even after a debate Monday, Sen. Ron Wyden, D-Oregon, said he couldn't support Pompeo.
"His record reveals extreme positions, including enthusiasm for sweeping new surveillance programs targeting Americans and an openness to sending our country backward with regard to torture," Wyden said in a statement. "Furthermore, his views on intelligence assessments on Russian interference in our election shifted along with the president's, raising questions about the nominee's objectivity."
Pompeo visited the CIA Saturday with Trump, who spoke to CIA employees. Trump praised the incoming director and took a shot at Democrats for the delay in Pompeo's confirmation vote.
"I met Mike Pompeo, and it was the only guy I met," Trump said of the interview process. "I didn't want to meet anybody else. I said, cancel everybody else. Cancel. Now, he was approved, essentially, but they're doing little political games with me."