The Senate confirmed Steven Mnuchin, President Donald Trump's pick to head the Treasury Department, in a vote mostly along party lines Monday night as Democrats criticized him as a Wall Street-friendly banker who breaks with Trump's promise to stand for American workers.
The Senate voted 53-47, with all Republicans voting for him and all Democrats voting no except Joe Manchin of West Virginia.
RELATED: Everyone In Donald Trump's Cabinet
Shortly thereafter, all 100 senators voted to confirm David Shulkin to be veterans affairs secretary. Shulkin's nomination, like that of Linda McMahon to head the Small Business Administration, generated little opposition. McMahon is expected to easily be confirmed on Tuesday.
At an Oval Office ceremony where Vice President Mike Pence swore in Mnuchin, Trump said that with his new treasury secretary, "our nation's financial system is truly in great hands."
"He'll fight for middle-class tax reductions, financial reforms that open lending and create millions of new jobs and fiercely defend American tax dollars and our financial security," the president said. "And he will also defend manufacturing jobs from those who cheat, steal and rob us blind."
White House Press Secretary Sean Spicer said Monday night that Shulkin would be sworn in as veterans affairs secretary on Tuesday.
The Senate is expected to take up another handful of controversial nominees this week, as well, including those of:
Oklahoma Attorney General Scott Pruitt, an anti-regulation advocate, to lead the Environmental Protection Agency.
Rep. Mick Mulvaney, R-South Carolina, who failed to pay taxes on a nanny, to run the Office of Management and Budget.
Neurosurgeon Ben Carson, who has never held a large management position, to be secretary of housing and urban development.
Less controversial nominees, like Rep. Ryan Zinke, R-Montana, to be interior secretary, former Texas Gov. Rick Perry to run the Energy Department and Wilbur Ross to be commerce secretary, will likely garner more bipartisan support this week.
Mnuchin's confirmation marked the start of a third straight week of a slow-moving, highly partisan process to fill Trump's Cabinet, which followed a week of late nights and partisan theatrics.
Mnuchin, a former Goldman Sachs employee who also helmed One West bank, which was embroiled in the foreclosure crisis, was Trump's finance director during the presidential campaign.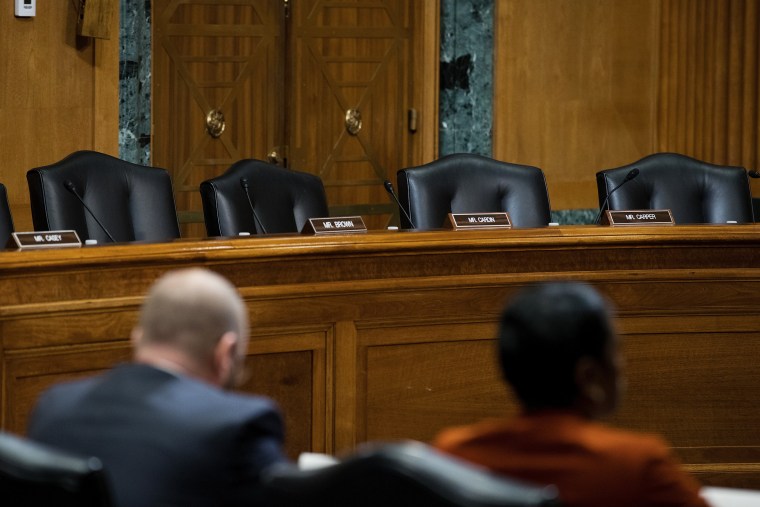 "Mr. Mnuchin's entire career can be effectively summarized in one line: privatizing profits and socializing losses," said Sen. Bob Menendez, D-New Jersey.
And Sen. Dick Durbin, D-Illinois, said, "If Steven Mnuchin gets confirmed, the banks are going to have the best friend they can have in the Treasury Department."
Republicans, however, came to Mnuchin's defense, saying he will be an experienced steward of the economy.
"The voters spoke in November and wanted change. ... Mr. Mnuchin will help implement that change with a fresh, new regulatory framework that cuts the bureaucratic red tape that costs our economy trillions of dollars each year," said Sen. Johnny Isakson, R-Georgia.
Democrats boycotted a vote on Mnuchin's confirmation in a Senate committee.
Mnuchin and Shulkin are the 10th and 11th Cabinet nominees to have been confirmed in more than three weeks.
Because Democrats have only 48 senators, including two independents, they have no ability to block any of Trump's nominees without Republican support. So they have tried to make the process as painful and as slow as possible.
Last week, the Senate held two overnight sessions opposing Education Secretary Betsy DeVos and Attorney General Jeff Sessions. And the tallies of those votes, along with that of Health and Human Services Secretary Tom Price, were split mostly along party lines.
All Democrats voted against Price and DeVos, while Manchin was the only Democrat to vote for Sessions. All Republicans voted for the nominees except for Susan Collins of Maine and Lisa Murkowski of Alaska, who voted against DeVos, making Trump's the most polarizing and unpopular Cabinet in modern times.
Republicans are complaining about the pace of the confirmations. Senate Majority Leader Mitch McConnell, R-Kentucky, told reporters: "This is the slowest time for a new Cabinet to be up and running since George Washington."
Democrats have felt emboldened since the Women's Marches that drew hundreds of thousands of people around the country to the streets to protest Trump. And they received record numbers of phone calls, emails and letters opposing Trump's nominees, especially DeVos.
Sen. John Cornyn said their tactics are "designed to undermine and handicap the new administration."
"Somebody mentioned to me this is really sort of the equivalent of a government shutdown, that the democrats are denying the President his cabinet, because they can't begin the process of actually governing until they have the staff that's necessarily to do so," Cornyn said.
Passions on both sides boiled over last week after Senate Republicans invoked a rarely used rule to cut Democratic Sen. Elizabeth Warren of Massachusetts out of the debate over Sessions for "impugning" his character.