WASHINGTON — The Senate returned to Washington Monday bracing for the next steps on a stalled health care reform bill with the prospects of passing it perhaps more dim than they were before senators left town for the July 4th recess. Opposition to the current bill has only grown with more senators openly voicing their opposition after a week in their home states.
Several new provisions aimed at attracting the 50 GOP votes needed to pass the bill are being considered to revive the legislation but those aren't expected to be publicly unveiled until later this week at the earliest.
Activists showed up in force as well, flooding the offices of at least 13 GOP senators Monday, demanding they vote against the bill. Protesters in wheel chairs and with disabilities sat in the waiting room of the office of Sen. Rob Portman, R-Ohio, chanting while young staffers answered a flurry of calls, many about health care. The protest even spilled over to the offices of House Speaker Paul Ryan as 80 arrests overall were made, according to Capitol Police.
Republican senators are eagerly waiting to see what changes might be made to the bill and for a corresponding analysis by the Congressional Budget Office to see how much it costs and how many people would be covered, factors that will play into their decision whether or not to support the measure.
President Donald Trump, who has been far less engaged in the Senate's effort to pass a revamp of the country's health care system than he when the House was wrestling with it, pressured Republicans in a tweet Monday morning to pass a "beautiful" bill over the next three weeks before their August away from Washington begins.
Since the postponed vote, Senate Majority Leader Mitch McConnell has gone back to the drawing board to come up with a new version that appeases skittish Republicans on both ends of the party's ideological spectrum, a difficult task given that the party can only afford to lose just two of the 52 GOP senators in order to pass it.
Meanwhile, Sen. Bill Cassidy, R-La., has been working with leadership and other senators, including Democrats at the beginning of the process, to find a way to fix the problems with the Affordable Care Act. Rushing to a meeting in McConnell's office, Cassidy said his week at home talking to constituents didn't reveal a clear path forward. He said he heard from people from "both sides of the spectrum" — those who are concerned about the rising costs of premiums and those scared that their health care will be taken away.
"If anything the forces are kind of like that," he said pressing his fists into each other. "They're kind of symmetrical. As a physician I kind of have a sense of it and i'm striving to address both."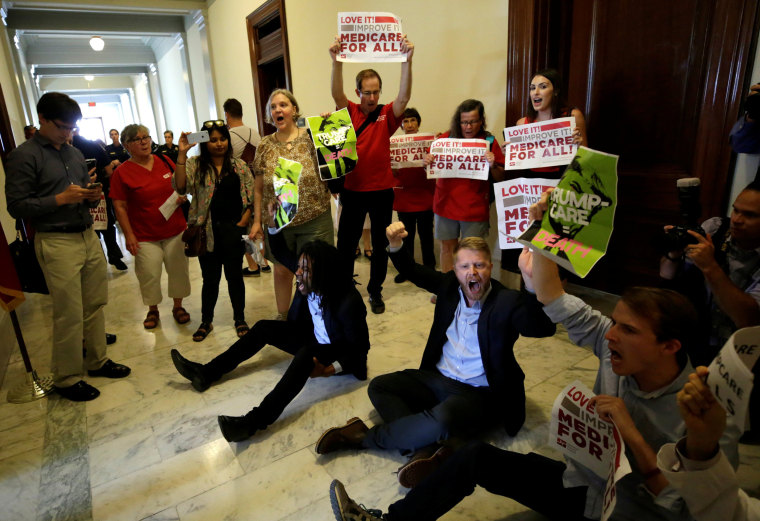 A central component to a new health care bill revolves around an amendment by Sens. Ted Cruz, R-Texas, and Mike Lee, R-Utah, two of the most conservative senators. The amendment is focused on reducing the cost of health care premiums and would allow states to offer non-compliant Obamacare plans alongside more robust plans in the individual insurance market.
There are signs of hope for the legislation, as well. Sen. Jeff Flake, R-Ariz., said Monday that he supports the Cruz-Lee measure, the first indication of where he stands on the bill.
"I think it's a more efficient way to do it. It directly acknowledges if you're going to have a population that you going to have to subsidize. The question is how do we more efficiently do it?" Flake told reporters.
But that proposal could alienate moderates worried about the impact that the idea would have on people with pre-existing conditions. And the results from the CBO score regarding the Cruz-Lee amendment will be critical. Another concern is that it would dramatically increase costs for the federal government having to subsidize health care for older, sicker people while younger, healthier people would likely purchase cheaper, more skimpy health plans.
One Senate Republican aide said leadership sent an outline of the amendment to the CBO on June 30 and the authors have been "diligently responding to all CBO questions" about it since then.
The CBO analysis of the original bill said that 22 million people would lose health insurance under the GOP bill but that it would save the government $331 billion over the next decade.
Other changes to the bill could revolve around more money for opioid addiction, broader use of Health Savings Accounts and continuing a tax on the wealthy — all issues raised by numerous skeptical senators.
But one big lingering question is how a new bill would alter Medicaid. At least half a dozen senators have complained about the drastic cuts to the Medicaid program in the original version of the bill beginning in 2021 and expanding in 2025. Without changes to to that equation, Sens. Rob Portman, R-Ohio, Susan Collins, R-Maine, and Shelley Moore Capito, R-W.Va., said they'd be unlikely to support the bill.
Those changes are expected to be made public soon but the exact timing isn't certain. Senate aides say that they Thursday would be the earliest to see text of a new bill.
McConnell's office gave no indication of when a bill would b released. "I promise we'll make an announcement when we release text and when we get a CBO score," spokesman David Popp said.
Sen. John Cornyn, R-Texas, said a vote could take place "next week."
Here are more details about possible changes to the BCRA:
$45 billion for opioid funding: Treatment for addiction is nearly a quarter of the cost of Medicaid and the original bill's $700 billion cuts to Medicaid would drastically reduce the funding for treatment. The bill, however, added $2 billion for opioid addiction, not nearly enough, say senators from states plagued by the crisis. The updated bill is expected to increase the amount to $45 billion.
Health Savings Account expansion: Conservatives wanted to expand the uses of health savings accounts to allow people to pay for premiums from people's tax deductible funds. This could be added to help with the support of conservatives.
Taxes on the wealthy: Another idea that gained momentum at the end of June was keeping an Obamacare-implemented tax on the wealthy. The 3.8 percent tax on people making more than $200,000 per year would give Republicans an estimated $170 billion in savings to either use on health care and could undercut Democratic criticism that the GOP plan cuts health care for the poor to pay for a tax cut for the wealthy.
Catastrophic health care plans: This is an idea by Sen. Ted Cruz that would allow states to offer a non-compliant Obamacare plans that don't cover essential health benefits – maternity care, hospitalization, mental health treatment – alongside an Obamacare compliant plan in the individual insurance market. While this is popular among conservatives, this could be expensive for the government because it is expected that sicker people who rely on subsides would buy the more robust Obamacare plans and healthier, younger people would b but the catastrophic plan.