Sen. Ron Johnson on Tuesday questioned whether Sen. John McCain's brain tumor might have affected his judgment when he voted against a Republican bill to repeal Obamacare.
Johnson, R-Wis., was asked by the hosts of a Chicago radio show why the Senate failed to pass a health care bill last month.
"I'm not gonna speak for John McCain, you know he has a brain tumor right now — that vote occurred at 1:30 in the morning, some of that might have factored in," Johnson said on the "Morning Answer" show.
Johnson issued a statement several hours later, saying, "I'm disappointed I didn't more eloquently express my sympathy for what Sen. McCain is going through. I have nothing but respect for him and the vote came at the end of a long day for everyone."
The GOP health care bill failed to pass on a vote of 49-51. Three Republican senators — McCain, Susan Collins of Maine and Lisa Murkowski of Alaska — and all Democrats voted against the bill.
McCain, who was diagnosed with brain cancer last month. voted around 1:40 a.m. and there were audible gasps in the chamber when he turned down his thumb to indicate his decision to go against the bill.
Julie Tarallo, a McCain spokeswoman, shot back at Johnson in a statement Wednesday afternoon.
"It is bizarre and deeply unfortunate that Senator Johnson would question the judgment of a colleague and friend. Senator McCain has been very open and clear about the reasons for his vote," she said.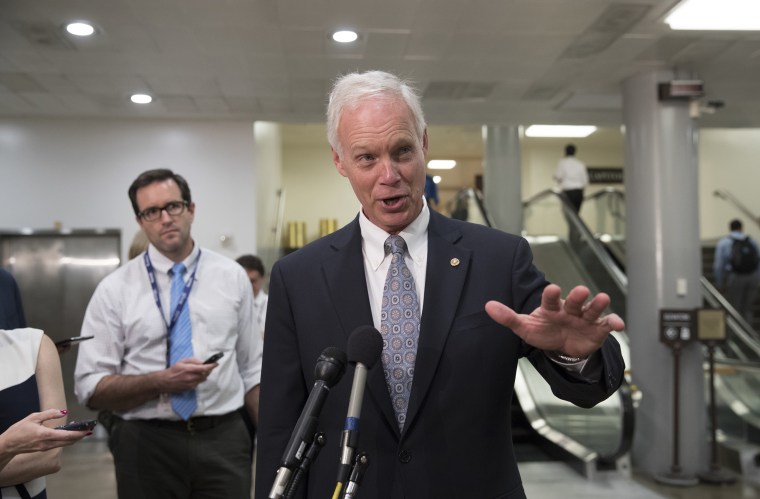 After his crucial health care vote, McCain said he voted against the bill because it should not "rammed through Congress" on a strict-party line basis.
Johnson also said he was frustrated with the way his Republican colleagues handled the repeal effort
"The entire process was awful," he said, "it was a political process and not a problem-solving process."