Sen. Steve Daines will attend his daughter's Montana wedding on Saturday — but remains ready to ditch the reception if he's needed back in Washington to vote for Supreme Court nominee Brett Kavanaugh, the lawmaker's office said.
For months, Saturday has been circled on Sen. Daines' calendar to walk Annie Daines down the aisle long before the contentious Senate brawl over Kavanaugh's confirmation.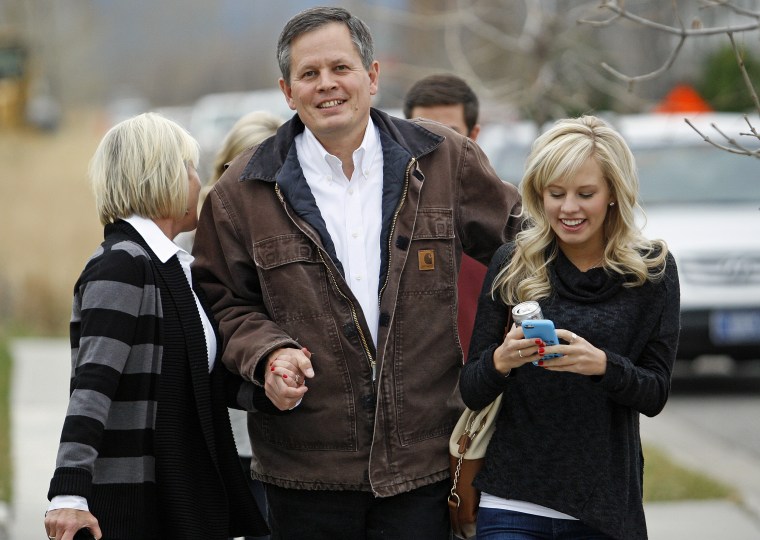 Daines, R-Montana, has said he's a firm yes vote for the nominee.
After Sens. Susan Collins, R-Maine, and Joe Manchin, D-W.Va., announced late Friday afternoon they plan to back Kanavaugh, it appeared the nominee had 51 supporters, one more than necessary.
So Daines could be cleared to stay in Montana for the reception, though his office said he's still ready to jet if needed.
"The senator will be at his daughter's wedding," Daines' press secretary Katie Schoettler said. "If his vote is needed, he has arrangements made for after the wedding,"
Daines said he spoke to Kavanaugh on Thursday night and promised he'd fly to Washington on Saturday if his vote made the difference. Daines was in Washington on Friday for the Senate's procedural vote to move Kavanaugh's nomination forward.
A private jet belonging to U.S. Rep. Greg Gianforte, R-Mont., is fired up and ready to take off with Daines on board.
"My good friend and colleague, Greg, has come to save the day," Daines said in a statement. "If I need to be in two places at once to walk my daughter down the aisle on her wedding day and to be the final vote to put Judge Kavanaugh on the Supreme Court, he's offered me use of his plane. I appreciate his generosity as well as his dedication to family and country."
Senate Majority Leader Mitch McConnell said he wants to hold a final vote on Kavanaugh's confirmation on Saturday, and wrap up the highly divisive battle.
Christine Blasey Ford, testified to the Senate Judiciary Committee last week that an allegedly drunken Kavanaugh tried to sexually assault her while they were teenagers in the Washington D.C. area in 1982.
Playing out in the backdrop of the #MeToo movement against sexual harassment and abuse of women, Kavanaugh's confirmation is being compared to the 1991 Supreme Court nomination fight over Clarence Thomas, who was accused of sexual misconduct by Anita Hill.
Kavanaugh has strongly denied Ford's allegations.
Republicans hold a 51-49 edge in the Senate. That 51-49 total in favor of President Trump's nominee Kavanaugh would still hold if Manchin follows through with his promised yes vote and Sen. Lisa Murkowski, R-Alaska, who is expected to vote no.
Schoettler declined to reveal exactly when and where the wedding is on Saturday, only calling it an "early afternoon" affair.
An announcement on bridal site The Knot lists Annie Daines' wedding to Brad Moss to take place Saturday at a church in Manhattan, Montana, with a reception immediately to follow at a ranch in nearby Three Forks.
That's 1,800 miles away from Washington.
CORRECTION (9:35 p.m. ET, Oct. 5, 2018): An earlier version of this article misstated the year of the hearings for Clarence Thomas' Supreme Court nomination. They were in 1991, not 1992.