Senators in both parties expressed frustration after they received a classified briefing Wednesday afternoon about a Defense Department intelligence leak and its fallout.
"I would, by and large, typify it as bureaucratic gobbledygook," Sen. Ron Johnson, R-Wis., a member of the Homeland Security Committee, told reporters after he emerged from the basement of the Capitol, where senators were briefed about dozens of classified Pentagon documents that were leaked online.
Sen. Lindsey Graham, R-S.C., used sharper language when he was asked about the briefing.
"It's just a s---show," he said.
"I didn't get a very good explanation of how this could happen," he added. "I'm just as confused now as I was before the briefing."
A Senate aide said Wednesday's briefers included National Intelligence Director Avril Haines; Deputy Defense Secretary Kathleen Hicks; the undersecretary of defense for intelligence and security, Ronald Moultrie; the vice chairman of the Joint Chiefs of Staff, Adm. Christopher Grady; and Deputy Secretary of State Wendy Sherman.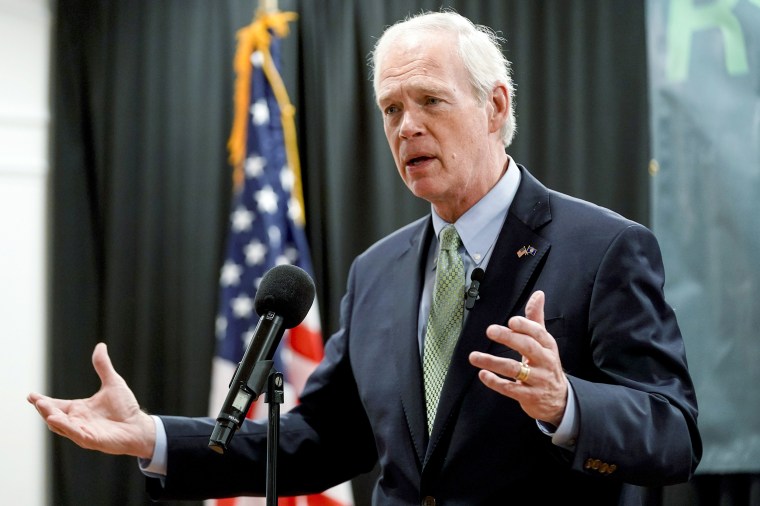 The briefing had been scheduled before federal authorities arrested Massachusetts Air National Guardsman Jack Teixeira last week in connection with the investigation into classified documents that were leaked on the internet.
Classified Defense Department documents that first appeared online last month revealed details into U.S. spying on Russia's war machine in Ukraine, confidential evaluations of Ukraine's combat power and intelligence-gathering on American allies, including South Korea and Israel.
NBC News obtained more than 50 of the leaked documents, many of which were designated "Top Secret," the highest level of classification.
In an interview before the briefing, Senate Intelligence Committee Chair Mark Warner, D-Va., said he expected to get answers about when the intelligence community discovered the documents had been leaked, in addition to details about when the documents started appearing on the internet.
Some of Warner's Democratic colleagues said the briefing failed to deliver on their expectations.
"I remain deeply unhappy and unsatisfied," Sen. Richard Blumenthal of Connecticut, a Democratic member of the Homeland Security panel, told reporters. "My impression coming out of that meeting is too many people have too much access to too much information without safeguards or guardrails."
Senate Majority Leader Chuck Schumer, D-N.Y., suggested that in spite of senators' frustrations, administration officials are taking the issue of leaked intelligence information "very, very seriously."
Sen. Tommy Tuberville, R-Ala., added that administration officials were "very concerned about what happened, and they're working."
Several lawmakers said the leaks prompted a need to examine reforms that could prevent future intelligence from being divulged publicly.
"I think we need to take a long, hard look, yes," said Sen. Jeanne Shaheen, D-N.H. "And I think we need a lot more information than we currently have."
Asked whether access to classified information needs to be curbed, Sen. Ted Cruz, R-Texas, responded, "I think there's a very good case for that."
Wednesday was not the first time senators have expressed exasperation after a closed-door meeting with Haines.
In January, lawmakers voiced concern over the government's system for labeling and tracking thousands of classified documents after Haines refused to show them copies of classified documents found at Donald Trump's Mar-a-Lago resort in Florida and Joe Biden's former Washington office and Delaware home. A select group of senators and House members have since began receiving access to those documents.