WASHINGTON — A new bipartisan proposal to step up pressure on the military in Myanmar — the most forceful attempt yet by the U.S. to intervene in the country's growing humanitarian crisis — was set to be unveiled Thursday in the Senate.
The proposal, obtained by NBC News, calls for sanctions on the military in the midst of an upheaval that has seen the displacement and killing of Rohingya ethnic minorities. It faces potential opposition, however, from some who fear such a move could damage the standing of Myanmar's civilian leader, Aung San Suu Kyi.
Skeptics of U.S. intervention say sanctions would put Suu Kyi, who was democratically elected two years ago, in a precarious spot because her party must govern jointly with the military leadership that is carrying out a crackdown that is drawing increasing international criticism. An estimated 800,000 Ronhingya Muslims have been forced into refugee camps in neighboring Bangladesh, according to the United Nations Migration Agency. And the Bangladesh foreign minister has said that as many as 3,000 people were killed, including women and children, in the last round of violence in August.
Supporters of the legislation, which mostly targets the Myanmarese military and its officials, say it will aid Suu Kyi by placing international pressure on the military without forcing her to be involved.
"We hope that whatever we do here supports her efforts to bring about the type of governmental reform necessary in Burma," Sen. Ben Cardin, D-Md., and co-sponsor of the new bill, has said about the situation. "I think she would welcome the opportunity to better control the security in all parts of the country."
But efforts to bring sanctions and accountability through the Senate ultimately rest on the majority leader, Mitch McConnell, R-Ky., a longtime supporter of Suu Kyi who has thus far sided with those wary of anything that could undermine her position, destabilize the country and diminish the newly installed democratic government.
John Sifton, the Asia advocacy director at Human Rights Watch, said McConnell's friendship with Suu Kyi was a major obstacle to the Senate imposing repercussions on Myanmar, formerly known as Burma.
The legislation is sponsored by Sens. John McCain, R-Ariz.; Dick Durbin, D-Ill.; Todd Young, R-Ind.; and Cardin, and for it to advance, McConnell must allow it to come up for a vote.
Related: More than 60 Missing as U.S. Steps up Pressure on Myanmar
Sen. Bob Corker, R-Tenn., chairman of the Senate Foreign Relations Committee, said during a news conference last month that McConnell has focused on Suu Kyi's strengths in the face of a worsening humanitarian crisis, calling her human rights record "pretty near zero."
"He is a champion for someone who has been a friend, and let's face it, in spite of what's being said on the Rohingya issue and just her human rights record, you do have to give her credit for being an incredible leader and pioneer in a country that has had tremendous issues," Corker said. "At the same time, we need to talk about some of these other issues."
The legislation, known as the Burma Act of 2017, is more stringent than an earlier resolution that was not brought up for a vote, but it purposefully avoids implicating or naming Suu Kyi, a move aimed at making her supporters, including McConnell, more comfortable with it. McConnell's office told NBC News they had no statement on the new resolution at this time.
The proposal would impose financial sanctions and visa bans on senior Myanmarese military officials; prohibit U.S. financial institutions from working with culpable officials; and ban the U.S. military from providing security assistance until the country's military can show "significant progress" on human rights. It also authorizes $104 million in humanitarian assistance for the Rohingya and reinstates a ban on the importation of gemstones like jade and rubies. And it holds that Congress "finds that the Government of Burma systematically discriminates against the Rohingya people," according to a summary.
McConnell did not allow a vote on a nonbinding resolution last month, authored by McCain and Durbin, which condemned the ongoing violence and called for an "immediate halt" to hostilities by Myanmarese authorities. But that resolution also urged Suu Kyi to live up to her inspiring words upon receiving the 1991 Nobel Peace Prize "with respect to ethnic reconciliation in Burma."
McConnell said he didn't bring the resolution to the floor because it was not appropriate for the Senate to "lecture" other countries and called Suu Kyi "the greatest hope" for the country as it transitions from a military dictatorship.
"My personal view is America kind of singling her out, and lecturing her when she's in a very challenging position, is not helpful," McConnell said. "I think she's the greatest hope we have to move Burma from where it has been, a military dictatorship, to where I hope it's going."
Suu Kyi's predicament is complicated. Few people in Myanmar, most of whom are Buddhist, are sympathetic to the Rohingya Muslims. And the military, which is leading the crackdown, still controls one-quarter of the Parliament. But critics say Suu Kyi could do more to admit, condemn or halt the military's actions.
Related: Aung San Suu Kyi Breaks Silence on Myanmar Violence
"The systematic campaign of violence and discrimination against the Rohingya is a horrifying humanitarian crisis," said Durbin in a statement.
McConnell has been a vocal supporter of Suu Kyi, who is 72, since she was kept under house arrest by the authoritarian government for much of the time from 1989 to 2010.
"Since first reading her story, I'd felt compelled, in my own small way, to make her cause my own," McConnell wrote in his book "The Long Game."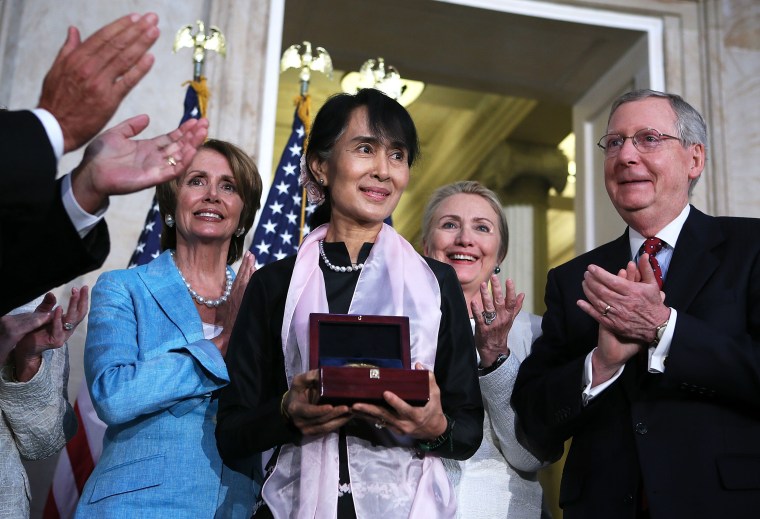 McConnell also played a leading role in squeezing Myanmar when its military ruled outright. He was instrumental in ushering in sanctions during the authoritarian regime, including the Burmese Freedom Democracy Act of 2003, which he co-sponsored with Sen. Dianne Feinstein, D-Calif.
He visited Suu Kyi in 2011, after she was released from house arrest, and later invited her to speak at the McConnell Center in Louisville in 2012 and awarded her the Congressional Gold Medal — the highest civilian award Congress can give.
"One of the things I was most proud of — something I consider to be among the greatest differences I've made since holding public office — was my work on Burma," he wrote.
While McConnell is hesitant to pressure the young democracy, McCain has taken a different approach.
McCain said he was a long-time champion of Suu Kyi and Myanmar's transition to Democracy, but argues the U.S. needs to act.
"I was one of the very first — I went to Burma when she was under house arrest," McCain said. " I'll take a back seat to no one as far as relationship with her is concerned."
"The systematic human rights abuses being committed against the Rohingya people in Burma demand a strong response from the United States and the international community," McCain said in a statement upon the release of his bill.
The difference of opinion between McCain and McConnell is reflective throughout the U.S. government. President Barack Obama, a vocal defender of the Rohingya while simultaneously championing Suu Kyi, lifted the final sanctions on the country even as violence against the Rohingya escalated in 2016.
Related: Adjusting to New Lives, Chicago's Rohingya Look to Aid Those Still in Myanmar
The State Department's Bureau of East Asian and Pacific Affairs is also reluctant to get involved. Three people who work closely on the issue say the office often overlooks human rights issues in favor of political and economic stability.
However, interventionists appear to be gaining steam within the administration. After reading news reports of Rohingya being raped and murdered, Secretary of State Rex Tillerson was shocked, the three people said, admitting that those accounts were much more serious than the East Asian bureau had relayed to him.
At a speech at the Center for Strategic and International Studies in Washington, Tillerson said he was "extraordinarily concerned," adding that "the world can't just stand idly by and be witness to the atrocities." If the reports are true, "someone is going to be held to account," he said.
The State Department announced Thursday that Tillerson will make a stop in Myanmar during his travels with President Donald Trump in Asia this week.
The U.S. ambassador to the U.N., Nikki Haley, has been pushing the administration to respond. In remarks to the Security Council last month, she accused the Myanmarese authorities of conducting "a brutal, sustained campaign to cleanse the country of an ethnic minority," a stronger assessment than the State Department has issued.
Myanmar's ambassador to the U.S., Aung Lynn, met with senators last week, including Durbin, who wanted her to say that the government would crack down on the violence and displacement of Rohingya, or the Senate would move forward with the legislation. She made no promise, according to a person familiar with the conversation.